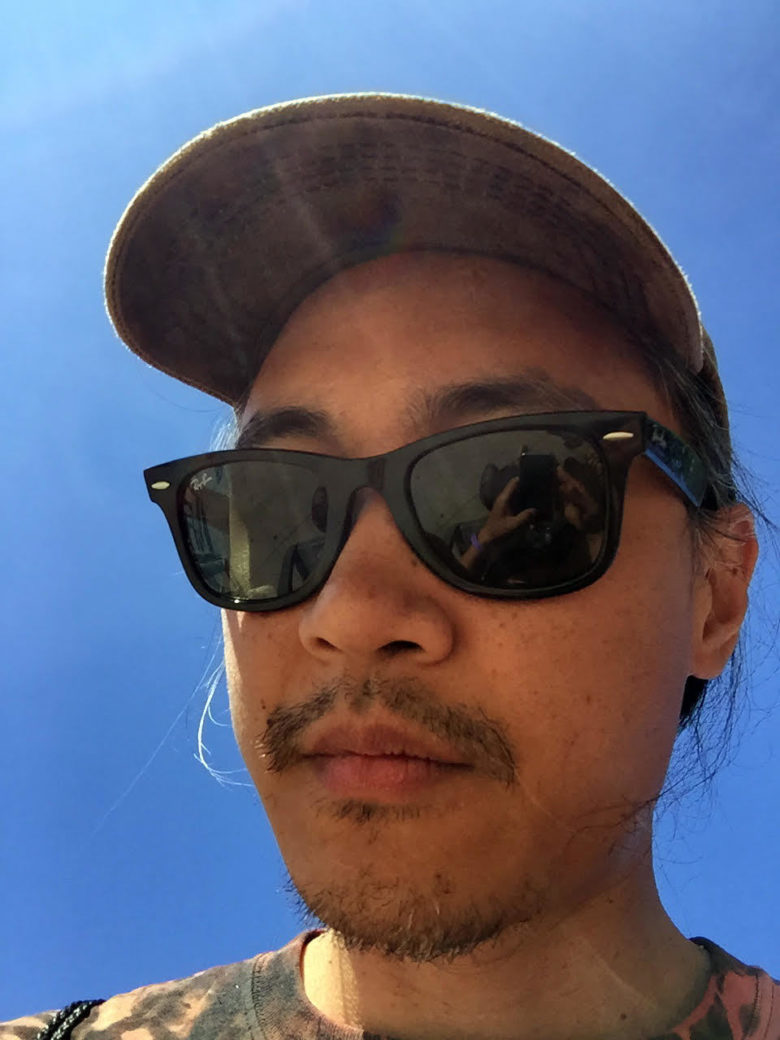 alvendia.net
Brandon Alvendia is a Chicago-based artist, independent curator, and educator. His interdisciplinary practice engages spatial and social architectures by creating platforms for experimentation, discussion and collaboration. He is the founder of multiple Chicago alternative spaces artLedge (2004-2007 w/ Caleb Lyons), BEN RUSSELL (2009-2011 w/Ben Russell), The Storefront (2010-2014), and art-publishing house Silver Galleon Press (2008-present). Brandon attended The School of the Art Institute of Chicago (BFA '03) and the University of Illinois at Chicago (MFA '07).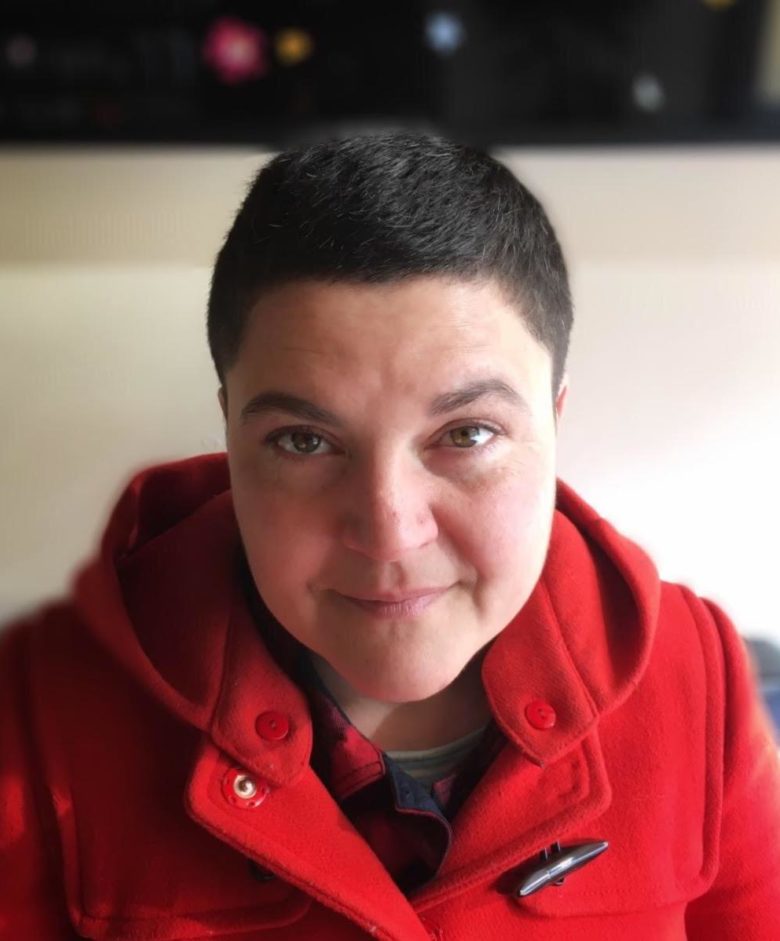 selinatrepp.info
Selina Trepp (Swiss/American b.1973) is an artist whose work explores economy and improvisation. Finding a balance between the intuitive and conceptual is a goal, living a life of adventure is a way, embarrassment is often the result. She works across media, combining performance, installation, painting, and sculpture to create intricate setups that result in photos, drawings, and animations. In addition to the studio-based work, Selina is active in the experimental music scene. In this context she sings and plays the videolah, her midi controlled video synthesizer, to create projected animations in real-time as visual music. She performs with a varying cast of collaborators and as one half of Spectralina, her long-running audiovisual collaboration with Dan Bitney.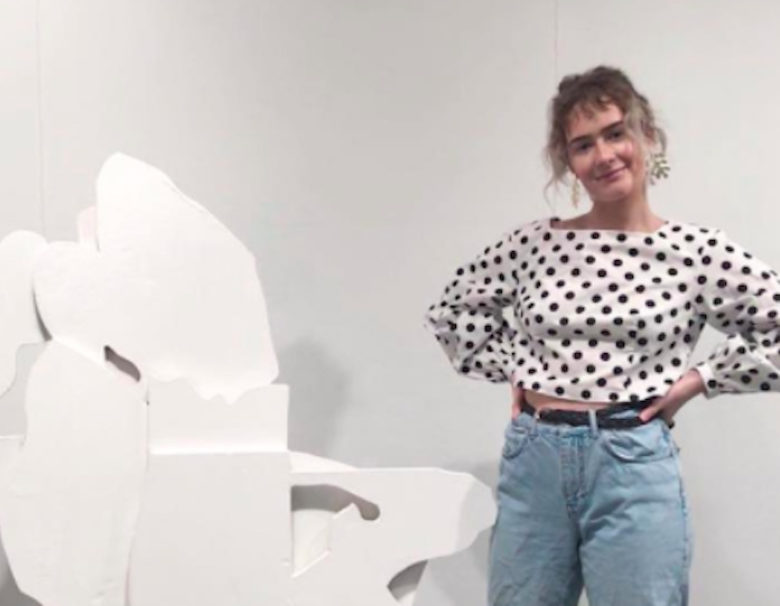 huckscarry.com
Nominated by DePaul University Throughout my practice, I have explored a variety of mediums but I am currently most interested in sculpture. I have also explored a variety of subject matter but focus mostly on the human form, portraiture, and non-objective work. I am a huge advocate for the use of a chance-driven approach. Image: Abstraction II: Lathered, aluminum mesh, linen, plaster, gesso, 10"x12"x6", 2017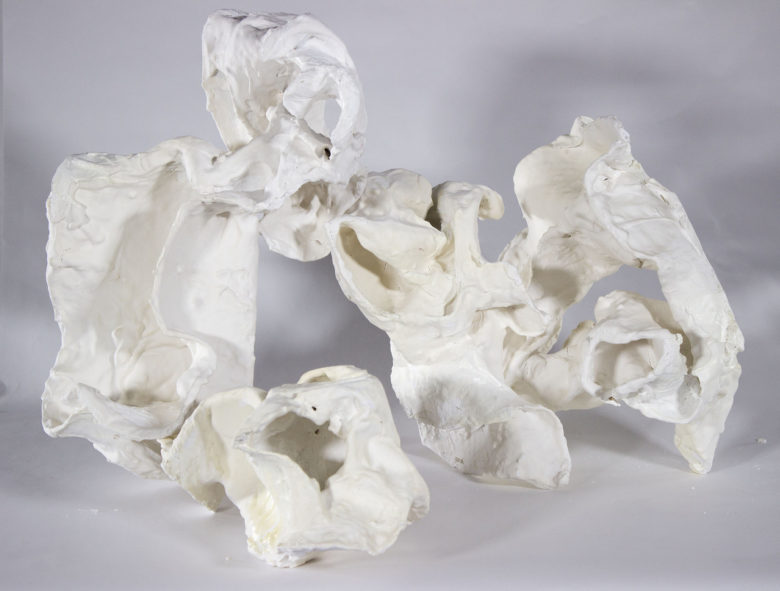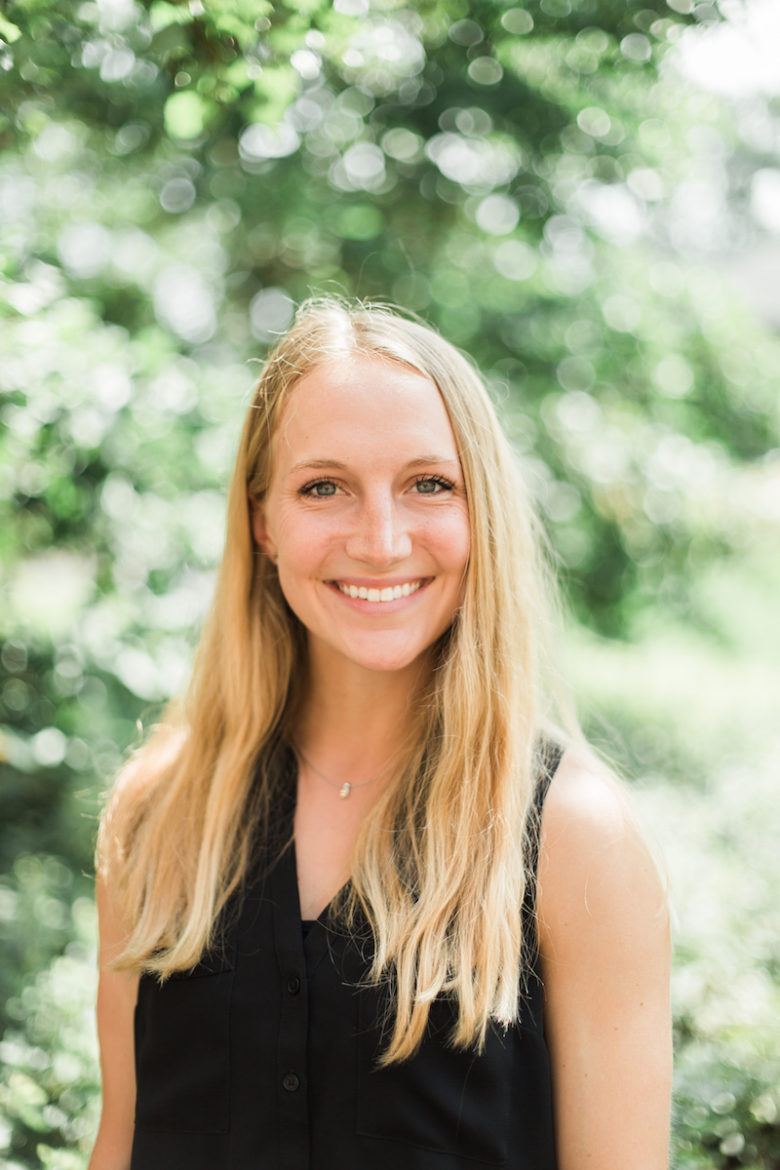 Nominated by North Park University Much of my work explores the movement of paint in relation to the body and the poetic possibilities of abstract painting. In the making of my paintings, each mark is attentively added in response to what is occurring within the piece. The finished state of the paintings, as they are presented, convey the rhythmic and contemplative qualities of the process. Without a preconceived meaning established when beginning a new painting, the significance of the piece is often revealed in its continuously unfolding results. The early, gestural process informs the rest as the painting builds up. Marks that vary in ways that are both big and small, transparent and opaque, clean and messy, or fluid and abrupt, creates a multi-layered experience for the viewer. Viewing the work becomes highly engaging with the emergence of color and space. The in and out flow of excitement, frustration, and meditation in the making of the paintings are elevated by their abstract nature. Unbound to the need of achieving a specific visual language, the paintings are comparable to poetry. Each piece requires spontaneity, discovery, and reflection in the process of making. By making an image that isn't tangible to anything else in reality, much like poetry does with words, creates a rich viewing experience. The result of each piece is then open to an interpretive emotional response that is unique to each viewer. Image: Mountainous Movements, acrylic on canvas, approximately 18"x24", 2018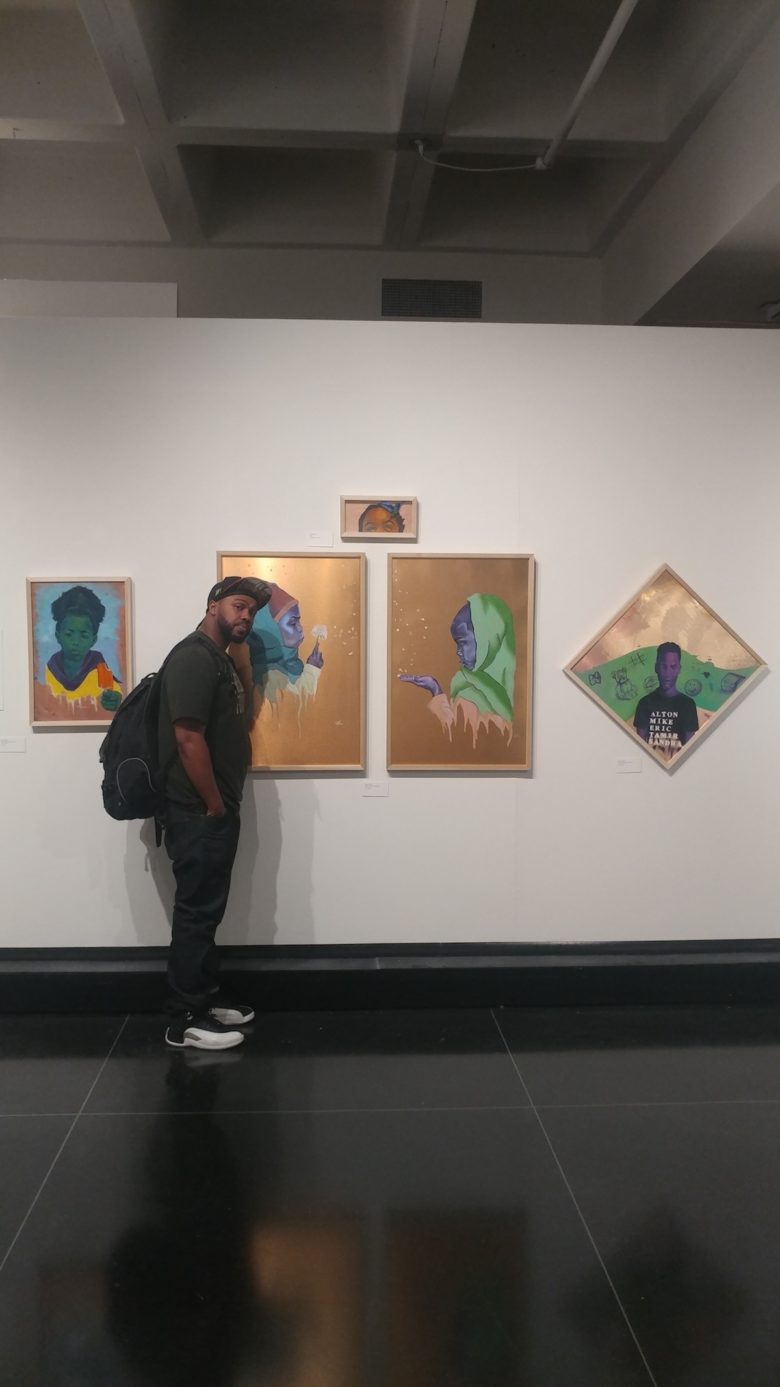 Nominated by Northern Illinois University  My mission is to create works of art that will leave a perpetual impression on the psyche of the viewer. Each work of art carries a message that challenges the persona of beauty, love, pain and the hidden stigmas of everyday life. In each painting, I tell a story through surrealist and realistic, figurative imagery. My current body of work emphasizes the use of different materials, such as copper and glass. The paintings are part of a series titled Divinity. This series captures moments in time and embodies the essence of Godliness. Image: Grown Folks Business, oil on canvas, 24"x16", 2017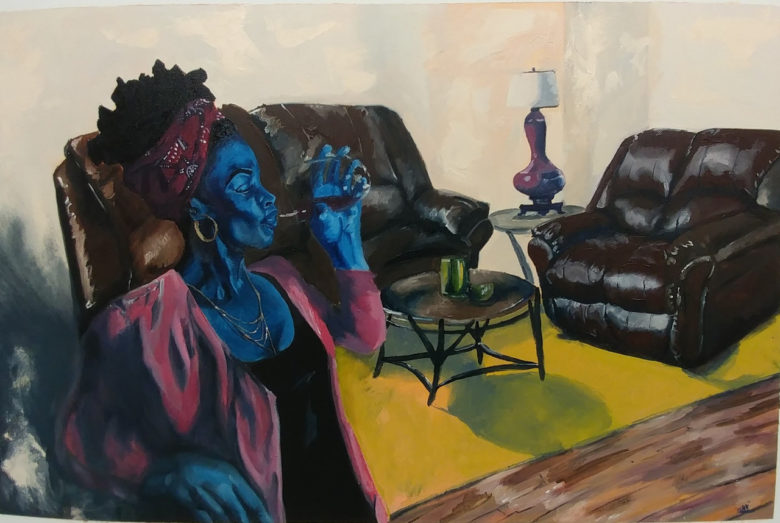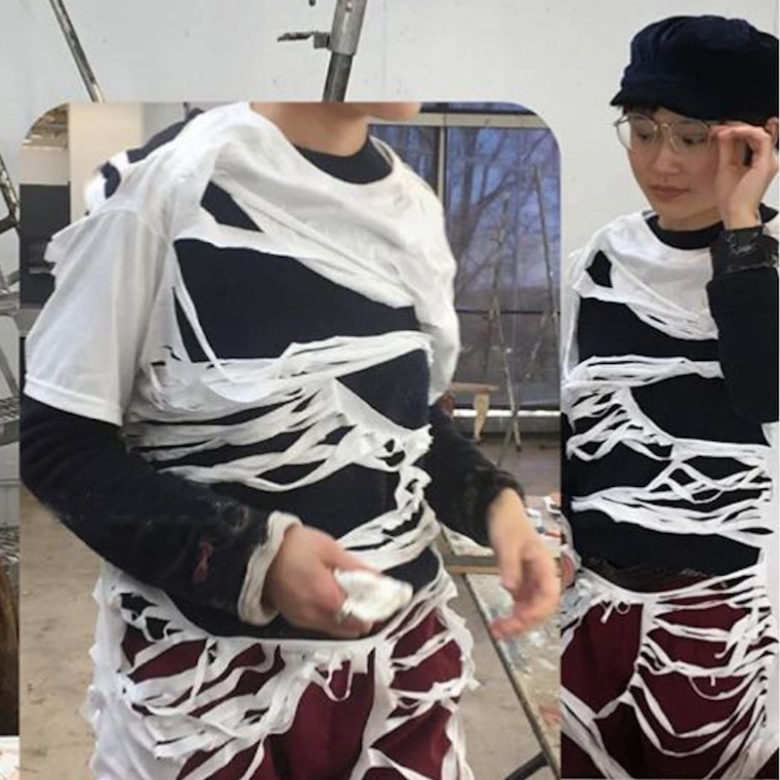 katgu.cargocollective.com
Nominated by the School of the Art Institute of Chicago The work begins when we lose sight of the real complexity of the living process; my attention lies in the simple and subliminal appearance of life. An aesthetic that affirms the gaps between the flow of identity and fixation of signs, the layers of ineffable feelings and those indelible preconditions that come before, the uncanny and the familiar, the unrealized and the lived. The gaps are acknowledged as the grief of absence that solicits oppositions, doubles, and loss. I make persistent attempts to bridge the gaps by "dissolving the familiar signs of life" as well as "acquainting with the nameless phenomenon," this inevitably lead to an increased sense of instability, complexity and oddity. As the result, artistic practice becomes inherent to me when the work is to make sense of my position as an outsider within. Painting is no longer a playful décor, but an urgent solution to forestall the barely acknowledged fear, and to avail myself of new perceptibility. Therefore, my painting practice naturally crisscrosses with a mixture of materials and processes that may or may not have established names; industrial insulation pipe, digitally rendered sounds, common household objects, worn or found cloth, words my parents said, google image-reverse search, photos from my phone, sponge rubber, written thoughts, furry fabrics and conventional paint remain surface in my paintings. Image: I Don't Know How to be a Woman, laser print on fabric, laser print on transparent paper, acrylic, stretcher bar 48"x60", steel rod, spray foam, sponge rubber, 80"x120", 2017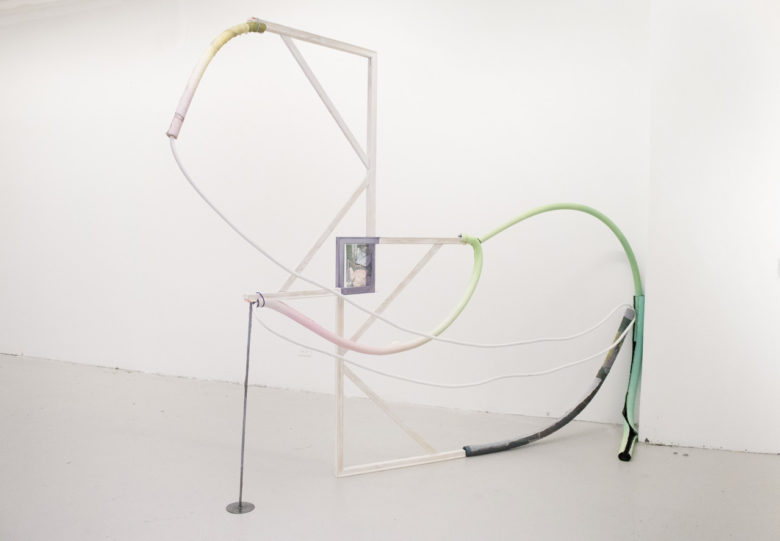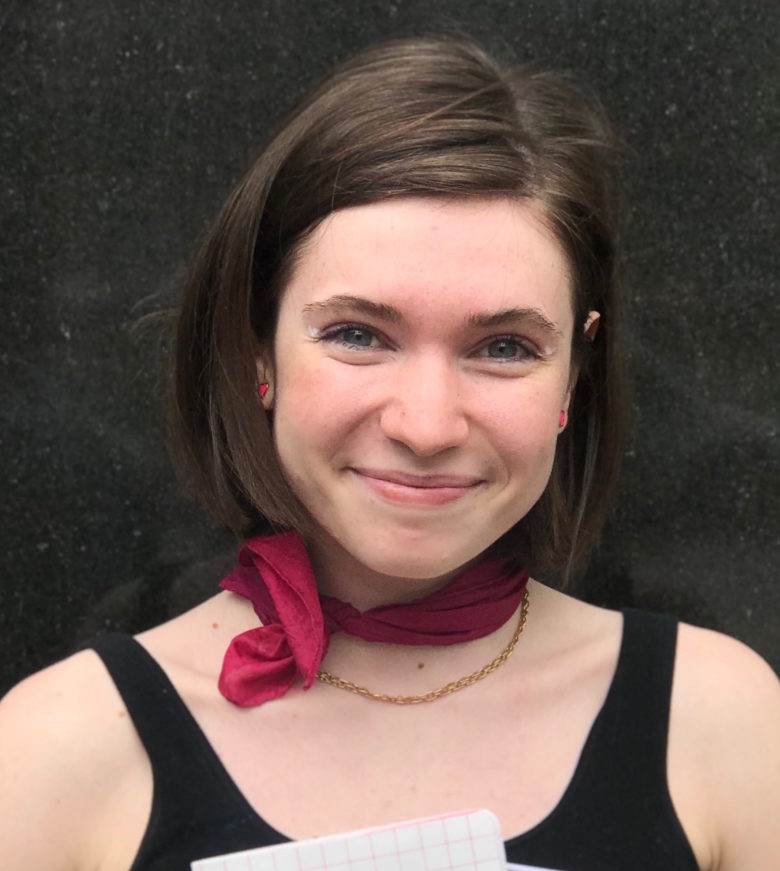 kateandersonartist.com
Nominated by Columbia College Chicago My work incorporates process-based mark-making to evaluate how time is marked, spent, and recorded. I embrace a broad interpretation of drawing processes as documentation of lines and traces. These actions are exhibited through sewing, textiles, gesture paintings, endurance-based performances, and handwriting exercises to highlight the fabrication of a routine within extensions of the drawing medium. In executing these process-oriented activities and investigating the development of muscle memory to inform new methods of pattern making, I am documenting the mastery of seemingly inessential skills. My work encourages the viewer to consider the act of making as a ritual-oriented experience which can challenge the value of time. Image: Red Pen: Letter R (1/26 drawings), artists book, 9.75"x15.5", 2017-2018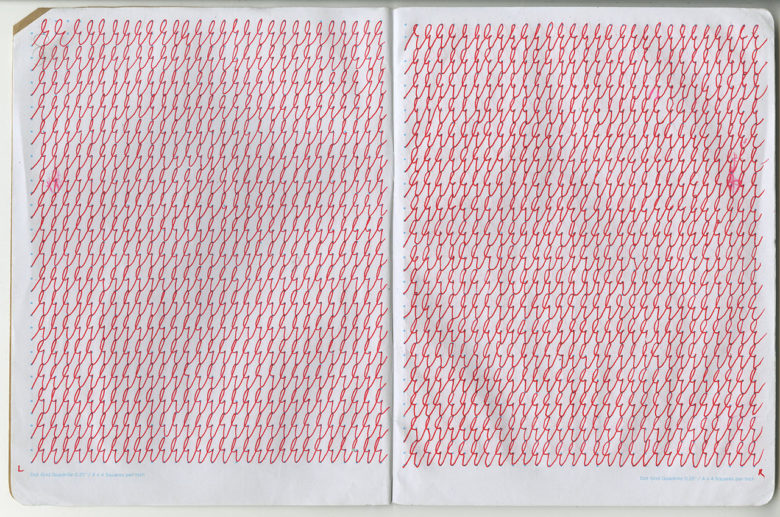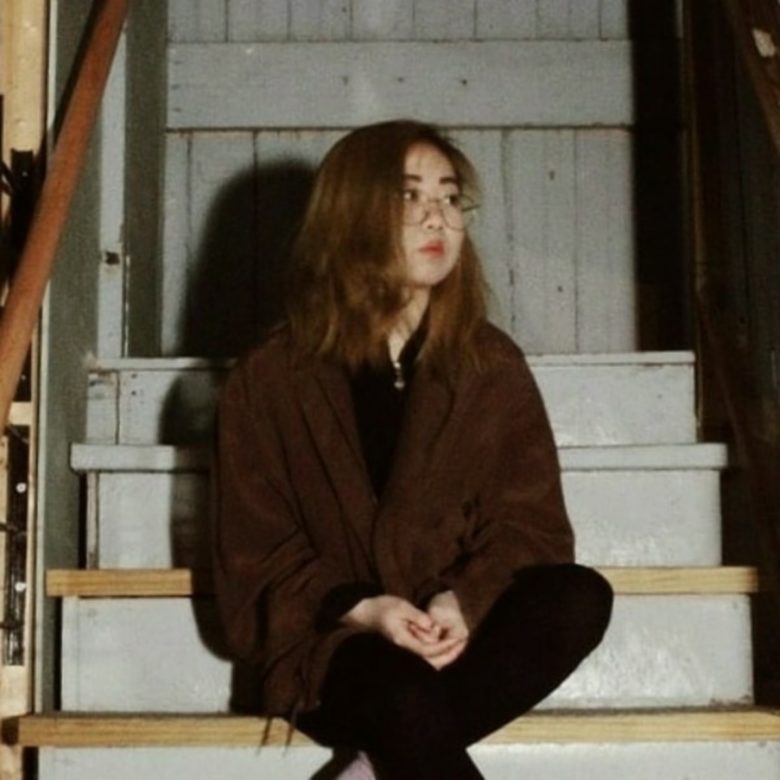 kikizhen.net
Nominated by the University of Illinois at Chicago Being brought to America at age 5 – I am constantly questioning my roots and identities between two cultures, whether to consider myself as a first-generation Chinese "American". I exploit the interpersonal views that emerge and cause confusion towards culture and identity. I find materials usage and memory to be essential in order to understand their limitations, positions, familiarity, and unfamiliarity. The forms and gestures of my works are impacted by the elements in life both externally and internally that express a reaffirmation of a story. Image: Mahjong, wood, 32"x42"x41.5", 2018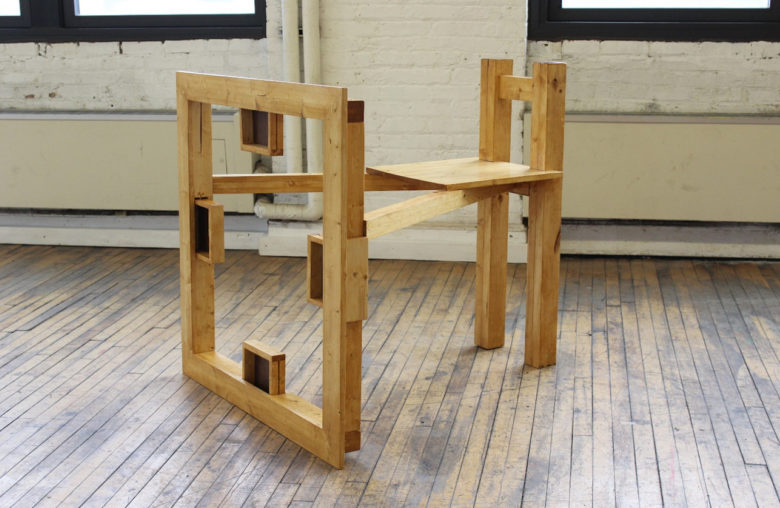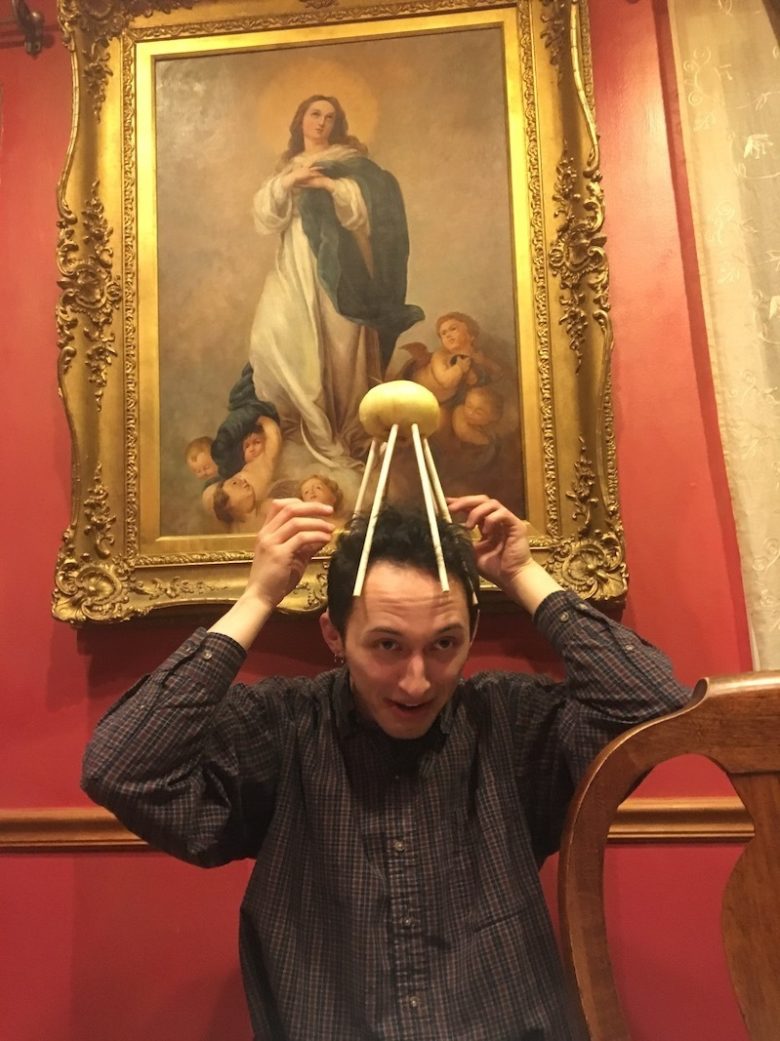 Nominated by the University of Chicago My art utilizes my intersubjective encounters as both an atlas and analytical tool. It is a source that mobilizes context and experience, specifically for me as they pertain to humor, longing, and queerness. I strive to fang relationality in a manner that engages the viewer with their others, and so too my art affixes onto itself a longing for touch. Texture is a dear friend of mine, physical and affective. It is the goal of my own artistic experimentation to generate an object that exists in an intermediate space of experience, between what is felt and what is shared, that delivers the feeling of contact. I feel that setting the generation of a new but familiar texture as a goal of my work effectively locates itself in an intermediate space of relation. Whether in image, object, or stream, I strive to give my work a distant touch through texture. And in an attempted generation of life, this means relationships— personality, trust, serendipity, novelty, and communication. I wish to understand my art as a cite for personal discovery. I hope for the depth offered by my own experience to enter a conversation, but not to interrupt the depth of potential relationships others find themselves making with my work. For this reason, I often find myself comfortable working with abstraction and distortion. I find a freedom in a concept without one body and am thrilled when I think of how one's personal relation to one abstract form is different from that of another. I understand here that the purpose of my art is to divert attention; to maintain an echo of the symbolic in its ultimate departure from the form of its natural surrounds, wanting for the ear to freely interpret its remains. Image: Projections, chairs, muslin, canvas, acrylic paint, 4'x2', 2018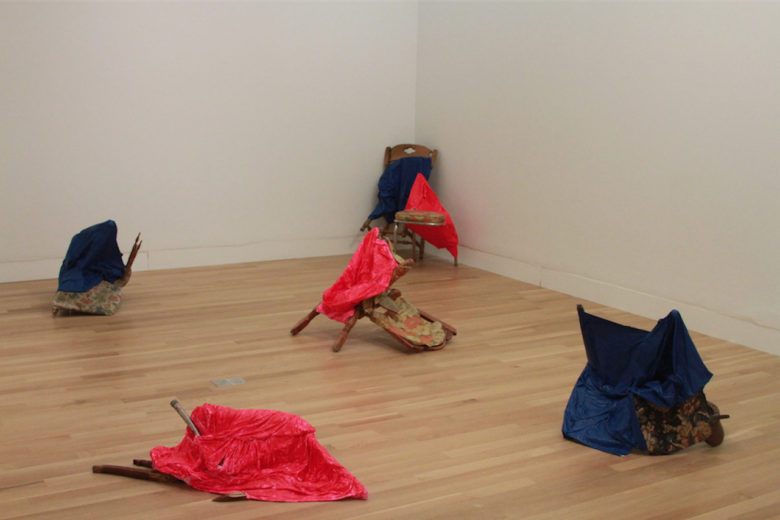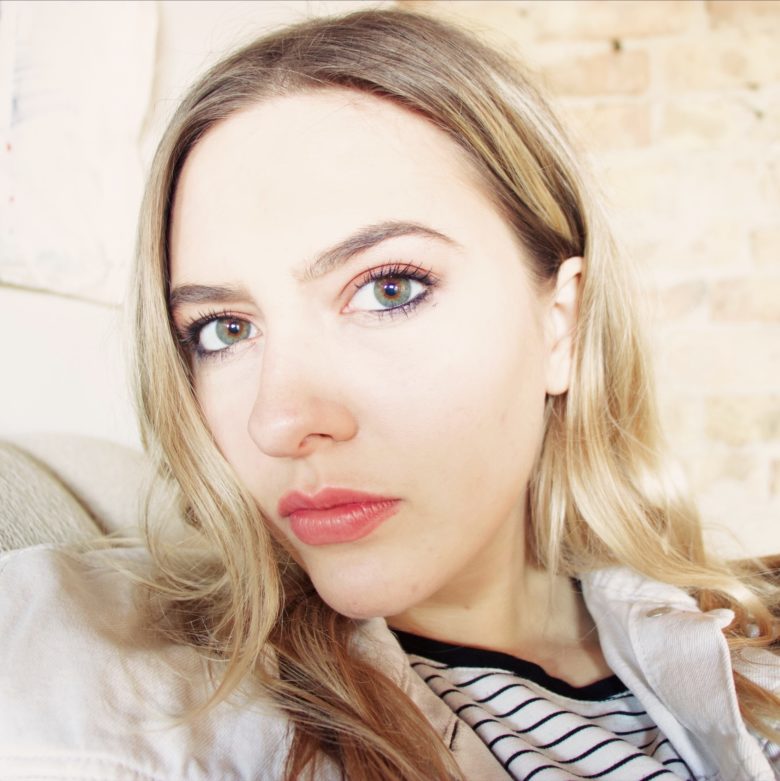 madelineschoonover.com
Nominated by DePaul University I am compelled to create art that represents my experiences as a young woman navigating through a patriarchal society. I have developed a method to take my complex feelings toward social issues, trauma, and grief and work intuitively to create work that captures my reality. I strive to make art that is aesthetically beautiful but embodies an ugly truth, painful memory, or darkness. I am interested in memory, gender archetypes, and sexuality. As a child, I would constantly draw women, and obsessed with how women were represented in children's books, animated movies, and art. I've discovered that I instinctively incorporate the female experience into my artwork. My art is programmed by femininity, and yet it seeks to dismantle it. My emotions bleed into my mark-making, color choices, and imagery choices. When I draw, paint, or sculpt, I allow myself to decode my encrypted feelings toward my surroundings through visual language. People often are usually caught off-guard by my work, probably because they are not expecting imagery of rape kits or sugar-coated razor blades within the bright colors and energetic marks. However, these contradictions are essential to my pieces. My pieces often start quite violently and rudely and end with a great deal of careful articulation. I experiment with layering oil paint, ink, graphite, collage, charcoal, pastels, and found materials to create tension and a visceral quality on a singular plane. Incorporating variety in media helps maintain my curiosity as an artist. Within a single piece of my work, one might find a grossly painted still-life, a sweetly rendered portrait, and embroidered text. These contradictions and surprises within my work challenge my viewers to understand my fickle relationship with my subject matter. Image: Untitled (Mythical Aunt), graphite, charcoal, ink, pastel, crayon, colored pencil, and thread on paper, 14"x11", 2018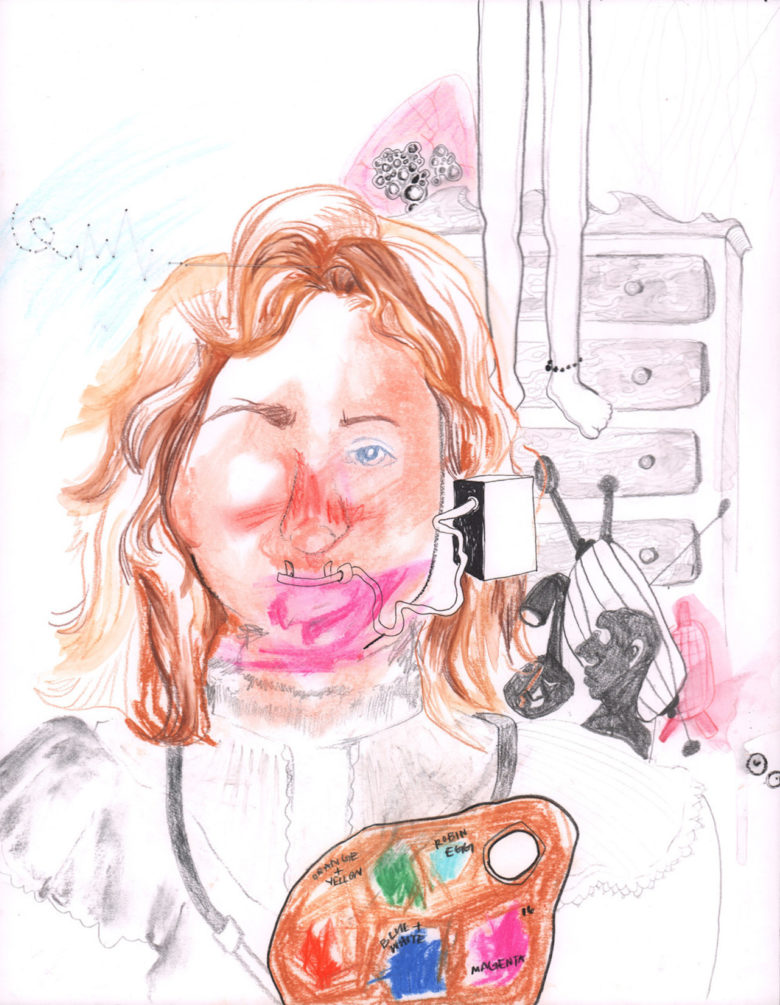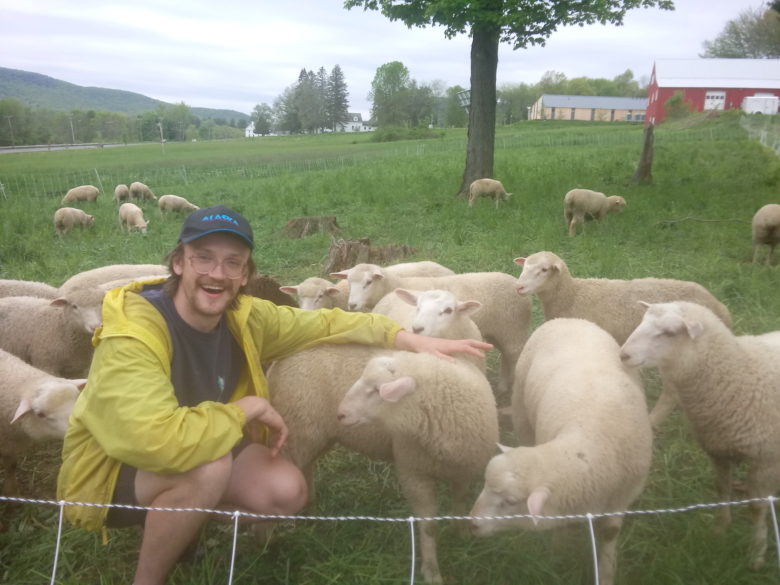 Nominated by the University of Illinois Chicago 1. Art is only and will only ever be information. 2. Art as information (conceptual/material formation) is not to be confused with its material construction, which enters economy. 3. In a perfect world information should always be "free" and bypass economy to the greatest extent it can. 4. Art is rarely, if ever, "free" to the consumer because of the relationships the producer (artist) and institutions that surround it have with the world. Art therefore almost always comes at a cost, betraying the very beauty of what it could be. 5. Cost arises not only from material cost (which is understandable, and hereafter negligible for it can be dealt with by the artist, patron, or audience equitably [the negotiation with state/society happens on the artists terms. Compromises may be inevitable]) but from "Intellectual Costs" or the value the artist puts on their own brain. 6. I believe the artist's thought is their civic contribution to society and any monetary compensation for said contribution immediately devalues the whole affair. 7. Money can move through the artist into materials, but never to the artist to satisfy their lifestyle, they must always work in society. It is okay though, society will help inspire better art. 8. As an artist I strive to examine/work with/contend with/understand to the best of my ability information in as many spectrums, places, and forms as possible. To always grow with and not against any information, to never believe any information to be ultimately true (relative truths are the only functional "truths") and to add no cost in sharing, spreading, using, this information. 9. I will always attempt find ways to be materially equitable with my audience and patrons, never value my ideas over a baseline $0. Image: Beverly Shores, Video Loop 9:40min, Indiana 2018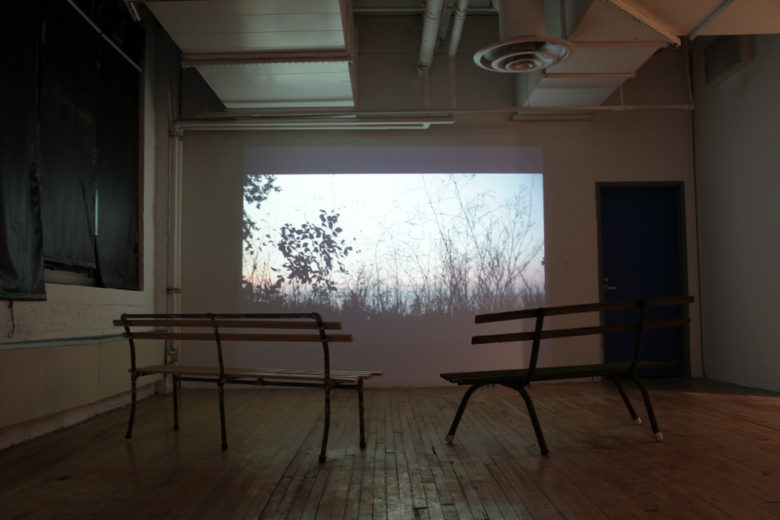 Nominated by Northern Illinois University Art has always been a healing process for me. I work every day to develop drawings that speak out about trauma and mental illness. My initial exploration of ideas began with a commitment to doing daily random portraits in my sketchbook. To get a better understanding of individuals who have experienced trauma or are living with mental illness, I am creating a visual narrative. Through an open interpersonal conversation about their lives, the intention is to offer their story paired with the drawing as insight into the nature of trauma and psychosocial challenges. I primarily create drawings in black and white using ink washes, charcoal, and graphite, and oil paintings.  The use of large brush strokes to obliterate the figure, and allowing the white of the paper to remain, work to construct contrast and mystery in the drawings. The paintings depict specific moments in the person's life. These are moments of strength and weakness that provide a glimpse behind the curtain. I am attempting to convince the viewer with each piece to consider the day to day effects of trauma and mental illness on the lives of people. This will develop compassion by the act of drawing, dialogue and witnessing necessary for healing and recovery. Image: Point of View, graphite, gesso, ink, and watercolor on BFK Rives, 18"x24", (year)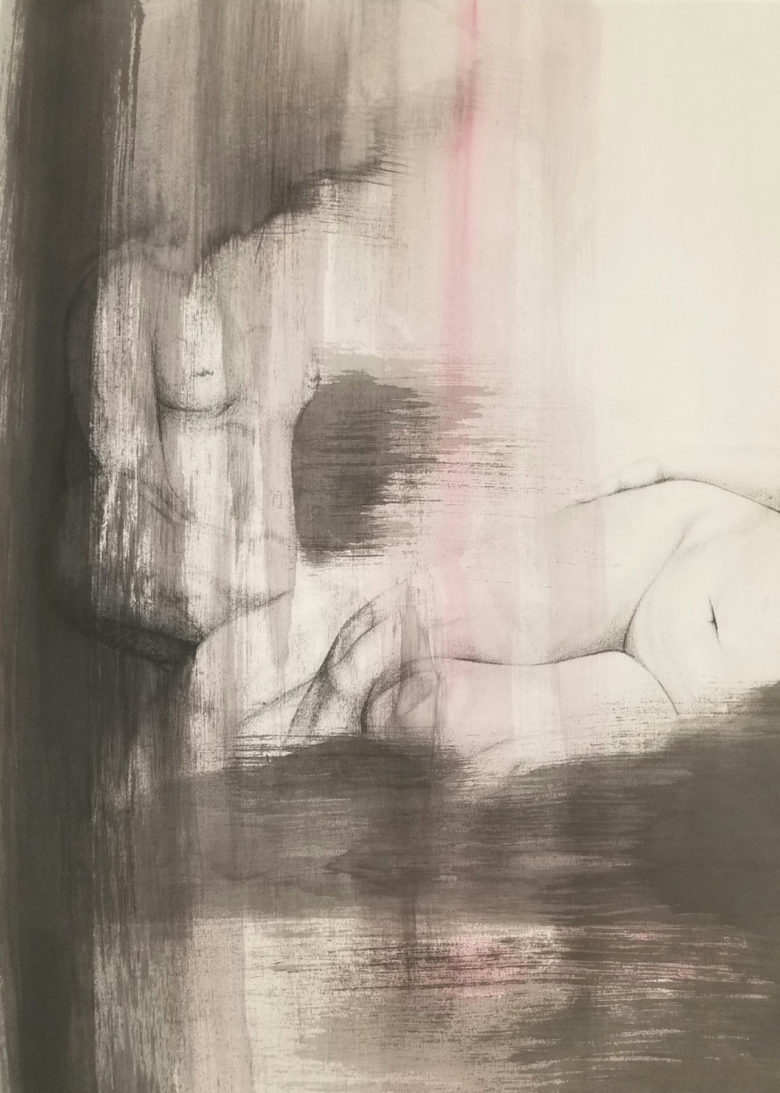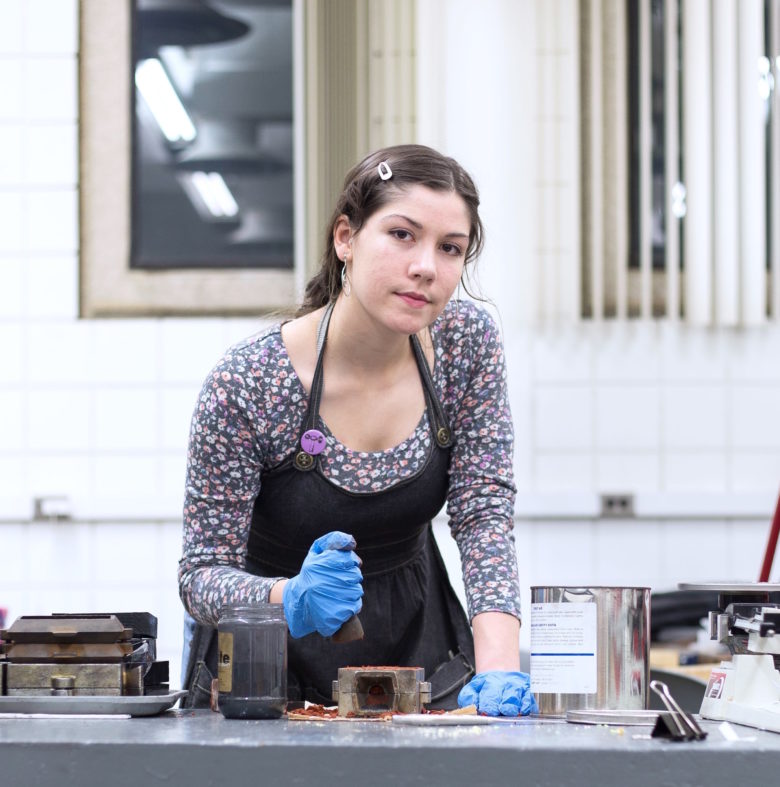 sarahoheron.weebly.com
Nominated by Northern Illinois University As an identified jeweler and metalsmith, I work both traditionally and non-traditionally. Mywork combines metalwork with natural found material. I am a collector by habit of naturalobjects, which I often have the most sentiment for out of my possessions. The objects I collectare integrated into the art pieces I make. I compare this process to the spiritual concept ofTransmigration, which is said to be the migration of a soul into a new body. I work around thenatural objects I collect and hope to transform their presence into a new existence. The jewelry I make is intended to adorn the human body, but is also suitable for display.I'm interested in the history of adornment through an anthropological lens and often ponder thequestion, why do humans adorn themselves? Along with the history of adornment, andanthropology I'm interested in the subject of science related to the process and material ofjewelry and metalmsithing. However, my work is not limited to jewelry, and neither is my media. I also create wearable and non-wearable sculpture, as well as two-dimensional worksuch as prints and drawings. The media I mostly work with is wood, fiber, resin, metal, andfound material to create my pieces. I am highly process driven, and I entertain myself on thethought of my practice as alchemy. Image: Deerest Necklace, silver, felt, cubic zirconia, deer jaw bone, 9"x7", 2018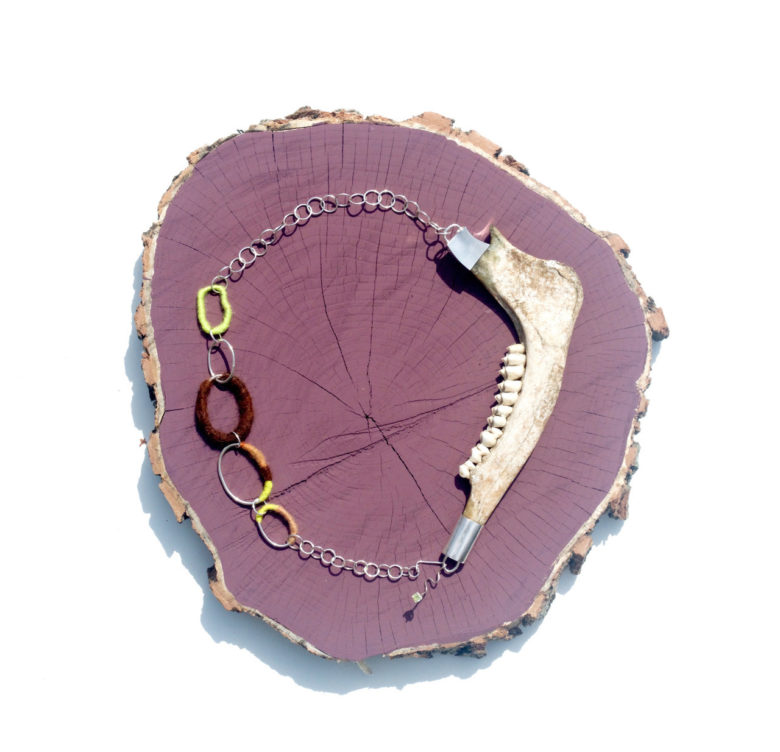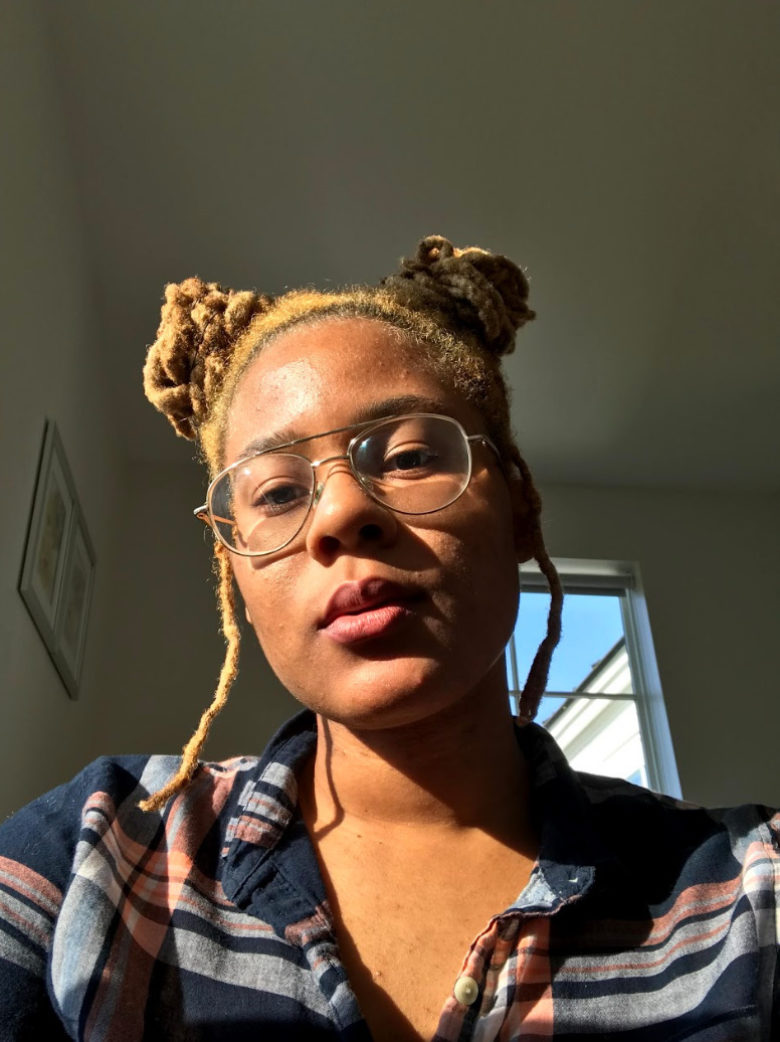 Nominated by Marwen At the core of my work lies a dedication to building community – a dedication to a collective creation for the advancement of a culture. Through photography, video, short stories, and poetry, I provide a platform for communities to be heard. Focusing often on underrepresented groups and silenced stories, my work is an open space for individuals to contribute to and feel validated in doing so. My work is for the people. As a Black woman, silencing or censoring myself would be the ultimate degradation of my being – I must speak and yet as a Black woman I am constantly aware of what it feels like to be silenced and censored. No person should be cast away, for every aspect of every person's being is valid and valuable. This is why I make work, and this is why I use mediums capable of freezing and re-creating time. My work is to capture the pure essence of an individual with little to no alteration. Often times, we are inundated with edited and filtered replications of ourselves with very little acknowledgment of our true beings. My work challenges the idea of having to cover up and hide from the world as if life is supposed to be an endless state of euphoria. The goal of my work is not to prove I am the only person capable of highlighting the purest forms of people and their stories, rather it is to spread a light in hopes of other people acknowledging and validating themselves in creative work or otherwise produced by them. Image: PYRAMID (cover image of photo series), 35mm film photography, digital scan, 2017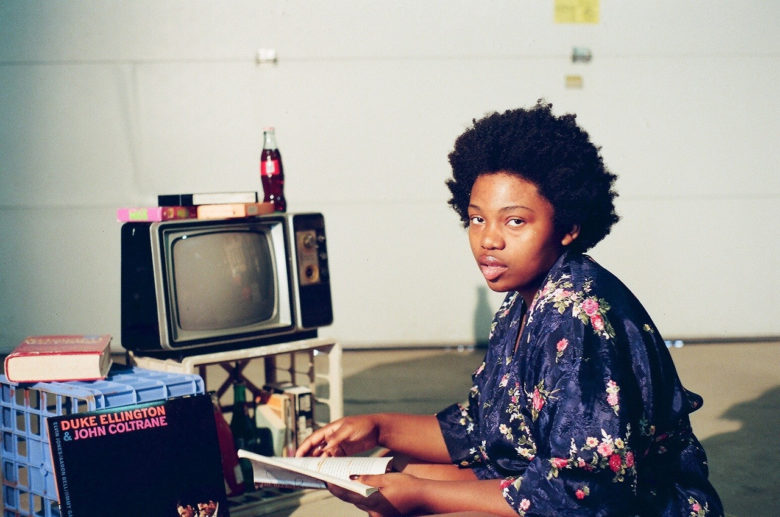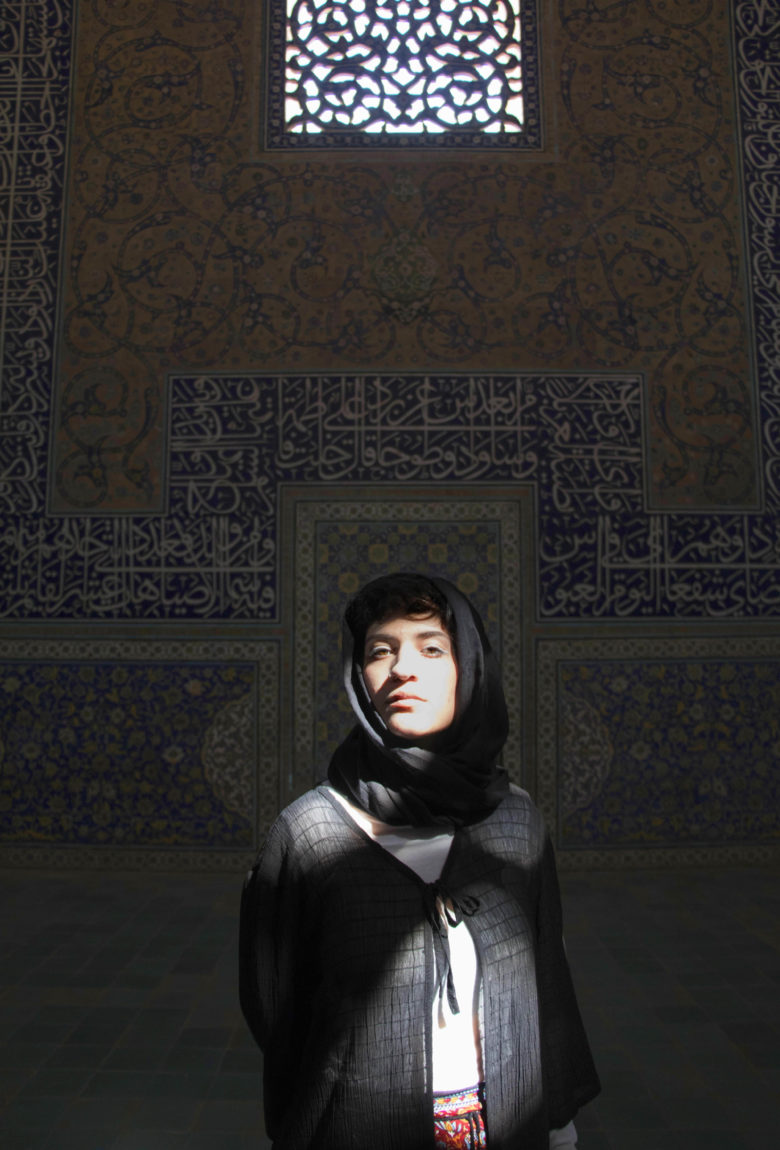 tannazmotevalli.com
Nominated by the School of the Art Institute of Chicago I was diagnosed with Cystic Fibrosis at the age of 2 and a half and my child-mind immediately equated that to a false understanding of my body, that no matter what I did, my body had a mind of its own which could not be negotiated with. How I came to being an artist is muddy, a fuzzy memory that alters in each retelling. All I can say is art began as a way for me to forget about my body, only to have it lead me back. Over time, my practice has gone from a form of escaping and further removing myself from my body, to confronting it and learning how to traverse everything my body contains – my femaleness, my queerness, my illness, my non-whiteness, etc. It is a slow process, acquainting myself with myself. I want to make work like an alchemist – agitating my material until it bends, breaks, and transforms; its transformation revealing its truth, or truths. I want to make work that is revelatory, over time. Inherent to the passing of time and the living of one's life, I want to make work that is never static and always malleable. Failure, the ultimate disruption of limitations we put on the human body and human life, serves as an incubator for my work. It is not necessarily failure itself that I am interested in, but rather the logic that allows failure to exist – the assumption that failing cannot be a place of success, productivity, or revelation, and thus could not possibly be natural. I'm interested in renegotiating what is success, what is productivity, what can be revelatory, and what can be complete(d).In my work on the technologically mediated body, the reproducing body, and the chronically ill body, the futility of human experience is redirected to remove ideas of normalcy from a lived vocabulary; or rather suggest that normalcy itself is futile. Image: Gently Off the Ground, performance, 2018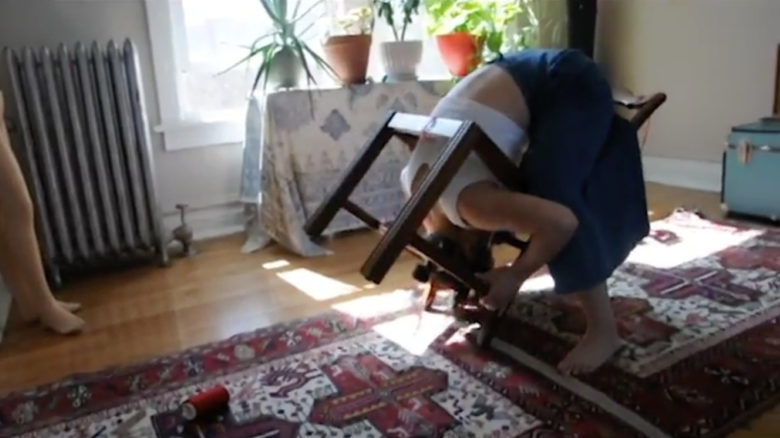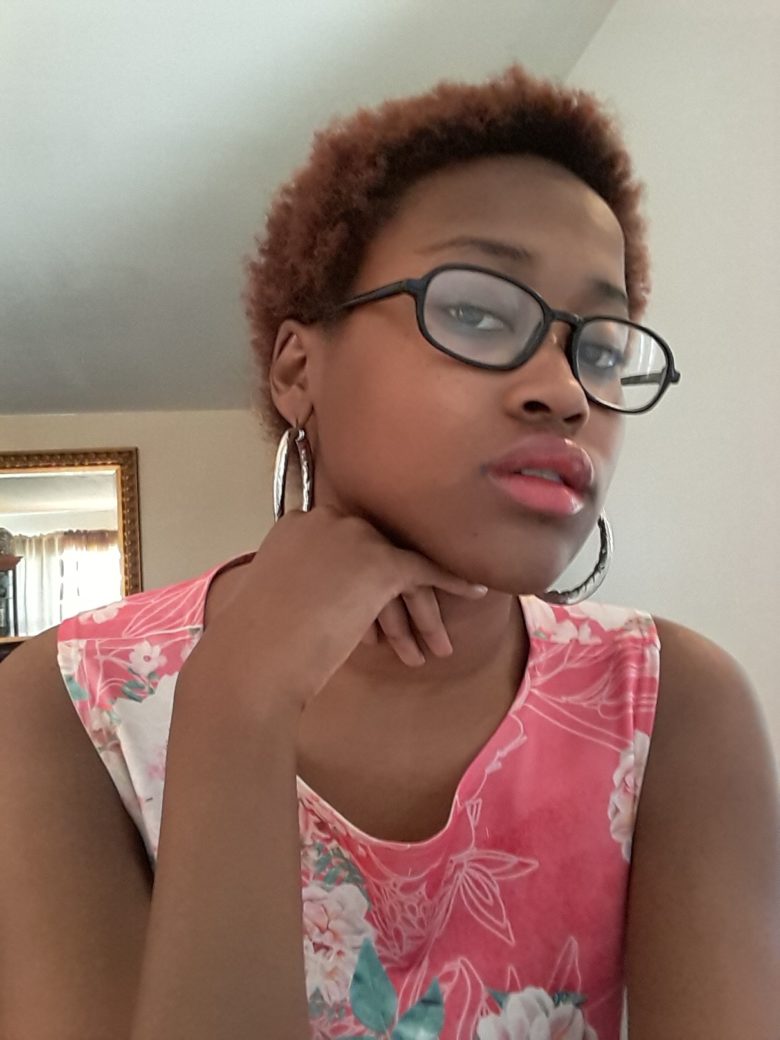 Nominated by Chicago State Univerisity My idea of art often focuses on the human form, it is where I often find beauty most often. As a black female artist that also means I find beauty in myself as well as my subjects who are usually women of color. I grew up in a time where black women were beginning to reclaim their beauty despite societal standards, and my work is a product of that. My art, in general, is not focused on physical beauty but the idea of sublime beauty, or a nonphysical beauty that I feel we possess. This means many of my pieces are not grounded in a physical plane, but rather in a space where my focus can be conveyed. Trying to convey the idea of different types of beauty in a way can be more free, in my experience, easier. The subject of my work changes often because of my graphic design major, which means sometimes my subject is not a woman, but instead is a book or poster that I need to create. When I am allowed my artistic freedom, or when I create work for myself, I often go many different directions. Being a graphic designer has allowed me to be able to express myself and style in a way that makes sense. Learning to format composition, text, and color often bleed into my work and has helped me grow as an artist.  Being able to create my images of beauty with the structure of graphic design has improved my art and helped me create many of my pieces. I want to be able to create with as much artistic freedom as I can and by learning what I can, I will be able to achieve that. In the end, many of my pieces have their own voice and identity that are often not related to my major, and this allows me to pursue many different artistic visions. Image: SZAE, digital media, 986x1268, 2018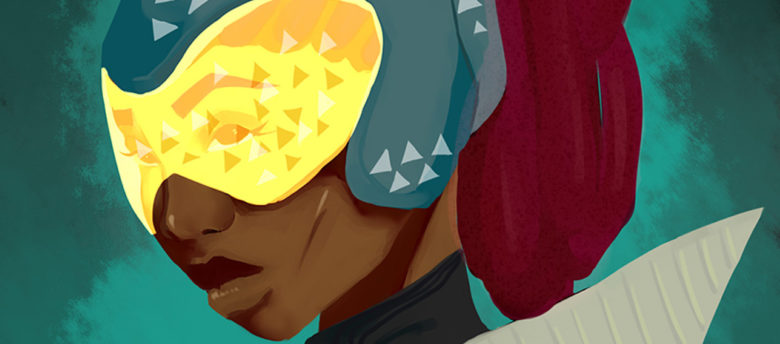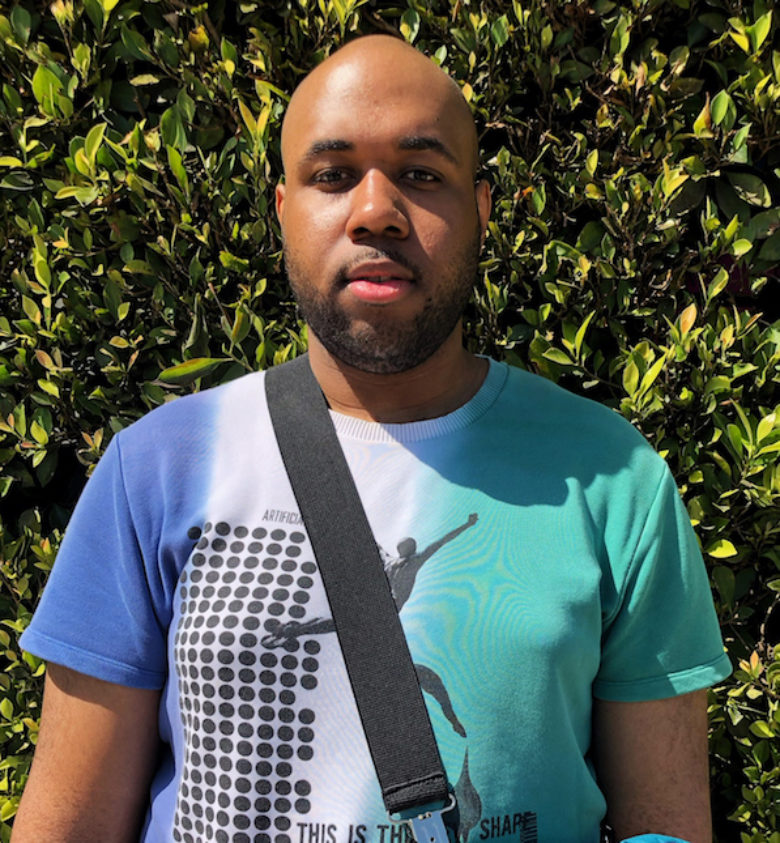 williesees.com/
Nominated by DePaul University Willie Burton is an artist from Chicago, IL. His work explores isolation and fragmentation through photography and textiles. Image: Awaken My Love, photography, 8"x11", 2018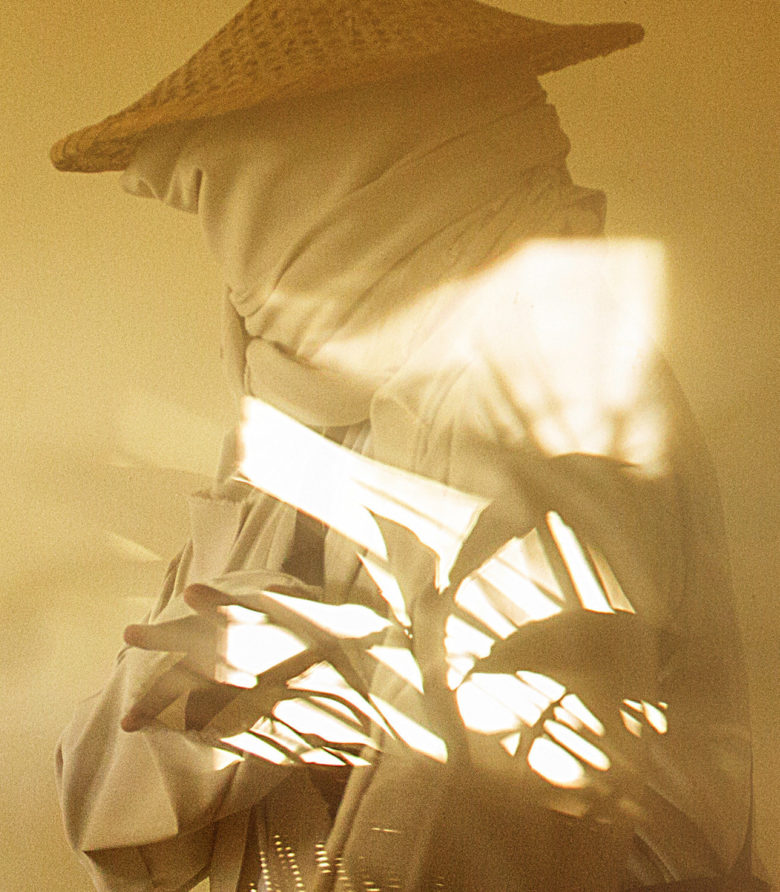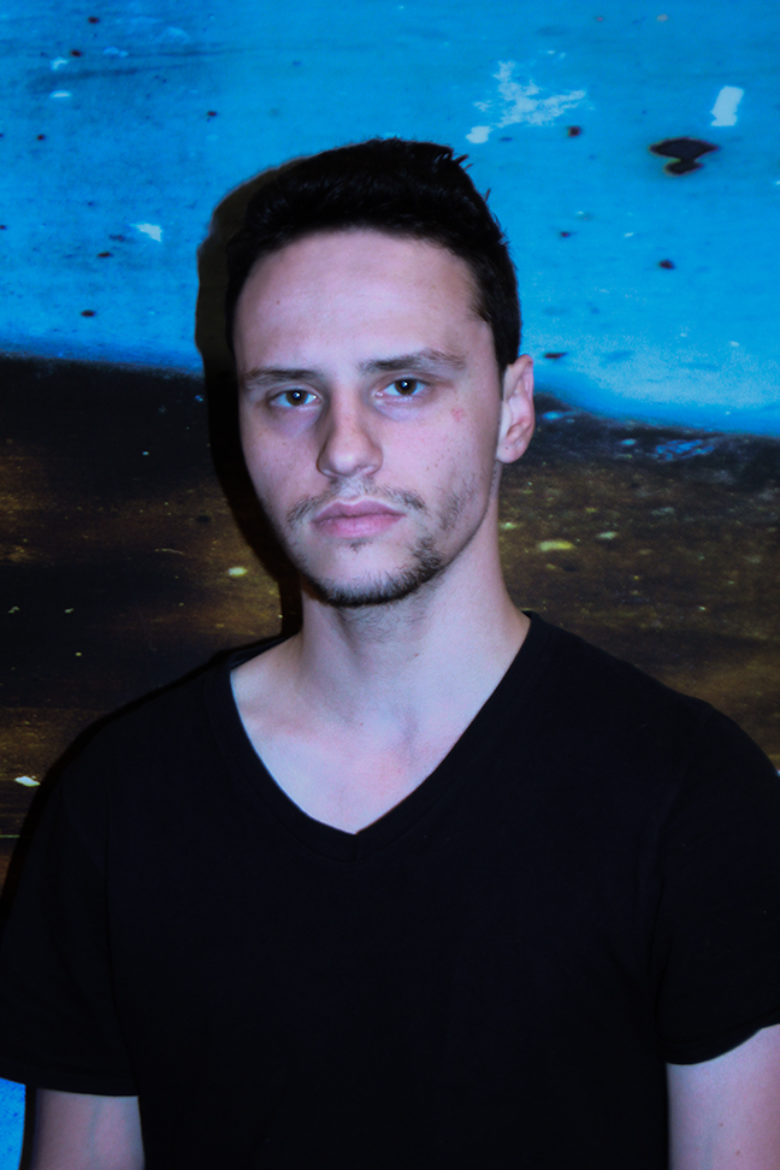 wyattbuescher.com
Nominated by Marwen I grew up around construction sites with my dad. They are familiar spaces to me, familiar yet because of my visual dyspraxia very inaccessible at the same time. I use my visual dyspraxia as an art generator to create this playful, frustrating, often time-consuming exploration of this particular space. I work with industrial materials to try and visually understand these sites that I have this tensioned relationship with. Photographic techniques and tools help with visually interpreting my hindered perceptions of the world, the physical print acting as this tangible, grounded, real thing that exists and is accessible not only to me, but to everyone. The shapes, forms, and colors start to make sense to me in relation to these sites as they are reused and recycled creating accessibility, and understanding. Image: Cognizance #3, photography, 44"x108", 2017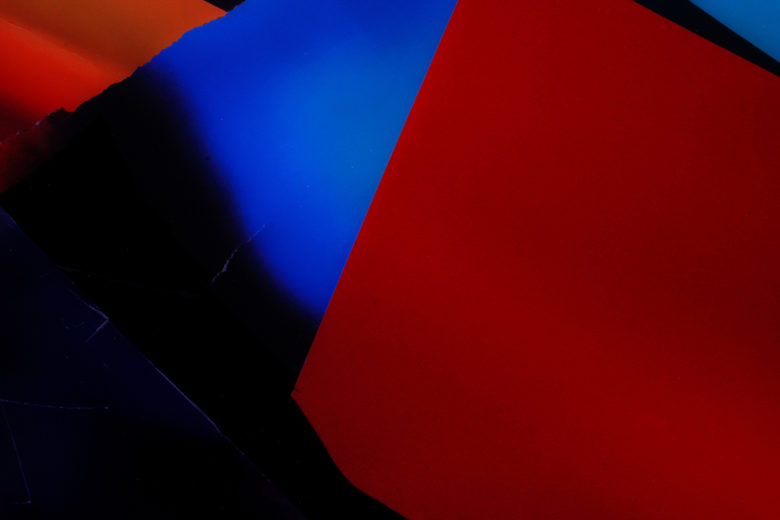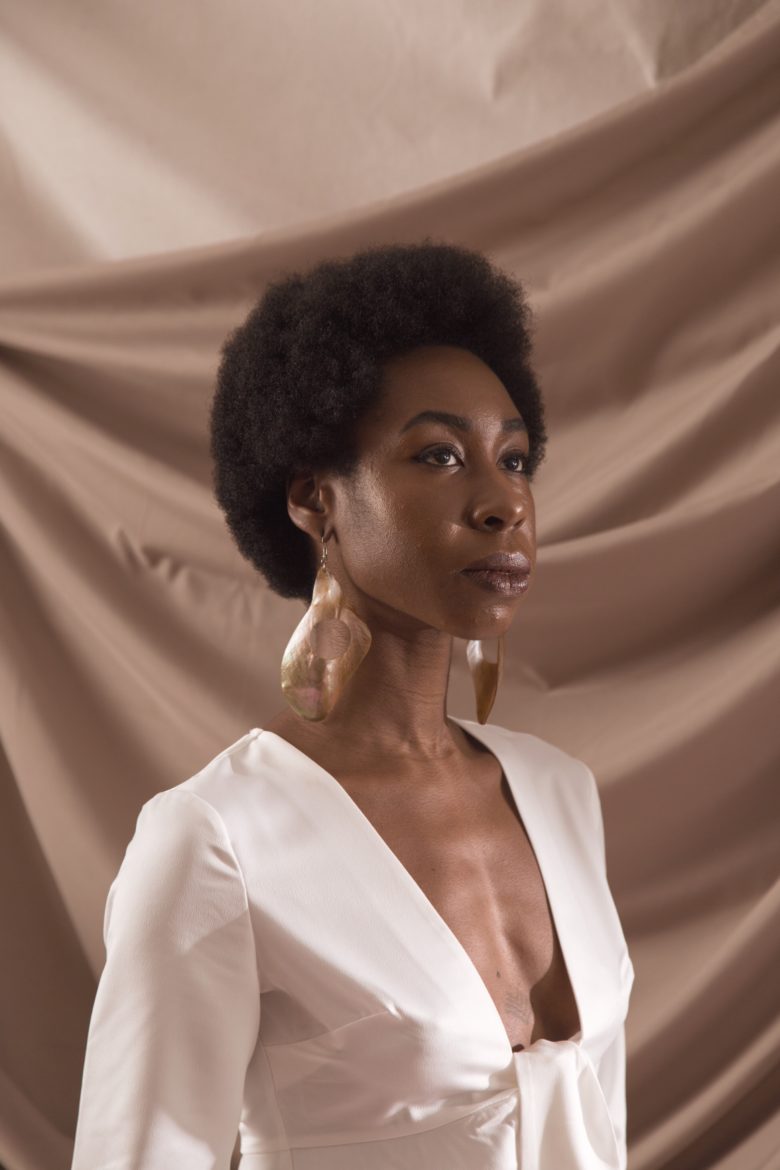 alexandriaeregbu.com/
Alexandria Eregbu is an artist, curator, and visionary. On a fundamental level, Alexandria believes that art and expression are essential functions of community. As such, her work has been most dedicated to providing creative experiences that empower black audiences engaging the arts. Her early interests in civic engagement were initially fostered through her involvement as Lead Teaching Artist with Teens Reimagine Art, Community, and Environment (TRACE)— a youth activism program facilitated through the Chicago Park District.
Most recently Alexandria held a two year position as Curator for Illinois Humanities' city-wide initiative, Envisioning Justice— which examined how incarceration affects Chicago communities and interrogated the failures of our criminal justice system. Previous curatorial projects include, The Annual: A New Exhibition for Chicago Art presented at Chicago Artists Coalition in partnership with EXPO Chicago, Tertiary Dimensions presented as part of PLATFORMS—a retrospective exhibition of Chicago's queer art collective, Chances Dances, and Marvelous Freedom / Vigilance of Desire, Revisited— a group exhibition that engaged the richness of Chicago's Surrealist past with new works from 13 contemporary artists of the African diaspora.
As an artist, Alexandria's practice draws from history, lived experiences, and her own imagination to deepen her connectivity to the natural world. Her multi-vocational practice has received generous support from the Chicago Cultural Center's Department of Cultural Affairs and Special Events, Rebuild Foundation, Independent Curators International, Joyce Foundation, Andy Warhol Foundation, and 3Arts. She received her BFA from the School of the Art Institute of Chicago.
Photo: Jackie Rivas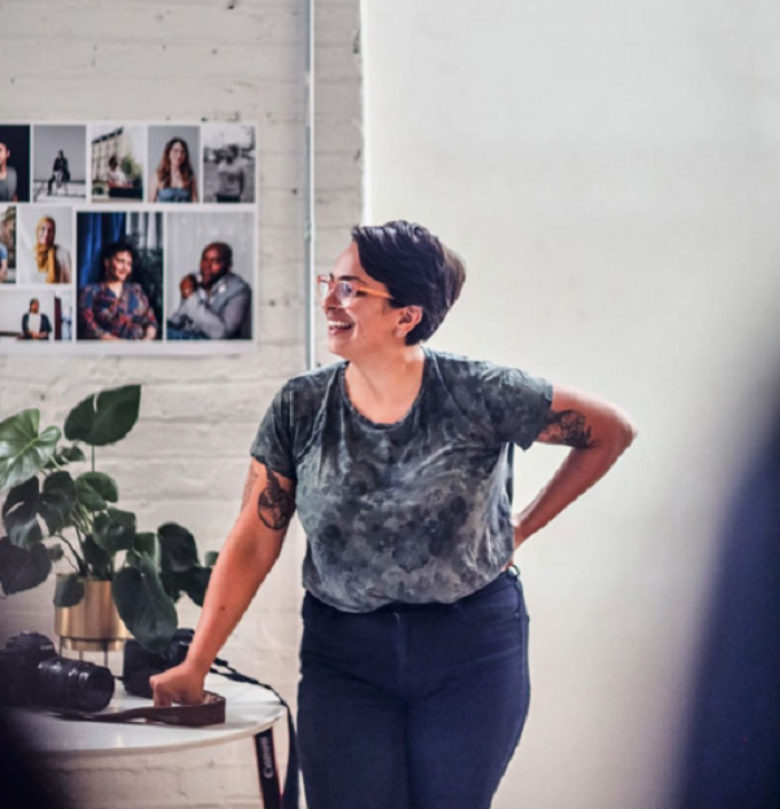 anjalipinto.com
Anjali Pinto is a photographer and writer based in Chicago. She received a BA in photojournalism from the University of Missouri, with special training at the Danish School of Media and Journalism. Her work focuses on the following topics: women, body image, feminism, lgbtq+ , poc, education, youth, non-profits, community development immigration, civil rights, human rights, government death, grief, mourning, memory sexuality, love, partnership food, drink and travel Anjali's clients include: New York Times, BITCH Magazine, Harper's Bazaar, Washington Post, Refinery 29, Food & Wine, Food Network, Rolling Stone, Chicago Magazine, Chicago Reader, Chicago Community Trust Recent articles: The Year that Changed My Life I Was Judged for Having Sex After My Husband Died A Year of Grieving Publicly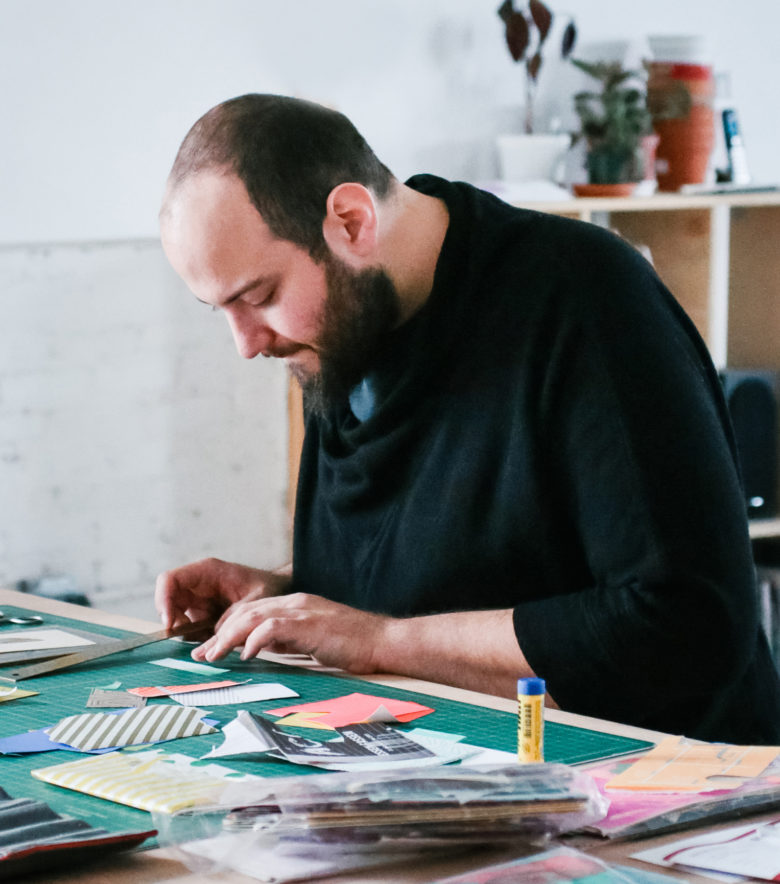 chadkouri.com/
Known for his vibrant, abstract compositions, Chad Kouri (b. 1985) examines themes commonly associated with visual literacy - specifically how we see, read, and remember the world around us. He is influenced by minimalism, jazz, conceptual and systematic art, design, and printmaking. His most recent works are meant to prompt introspection and imagination, inspiring a slower pace in our day to day lives as a form of self-care and personal grounding. Kouri is originally from a small town north of Detroit and is a co-founder of the Chicago-based art and design incubator, The Post Family.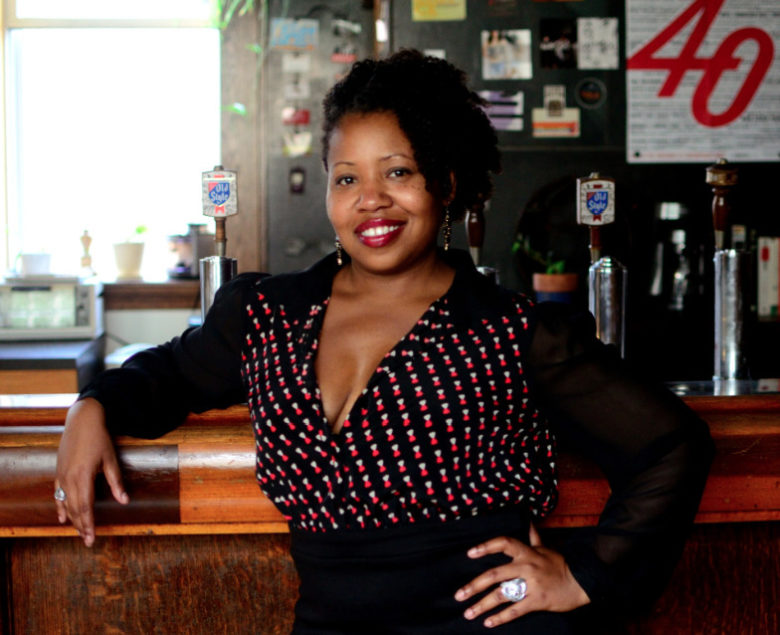 honeypotperformance.org
Lifelong Chicagoan/artist and Prince "fam" Felicia Holman is an independent cultural producer/programmer and facilitator, as well as a co-founder of Honey Pot Performance. As both artist and producer, Felicia presents and supports innovative interdisciplinary art that engages audience and inspires community. Recent projects include:
Felicia relishes her dynamic artrepreneurial life and sums it up in 3 words: 'Creator, Connector, Conduit'.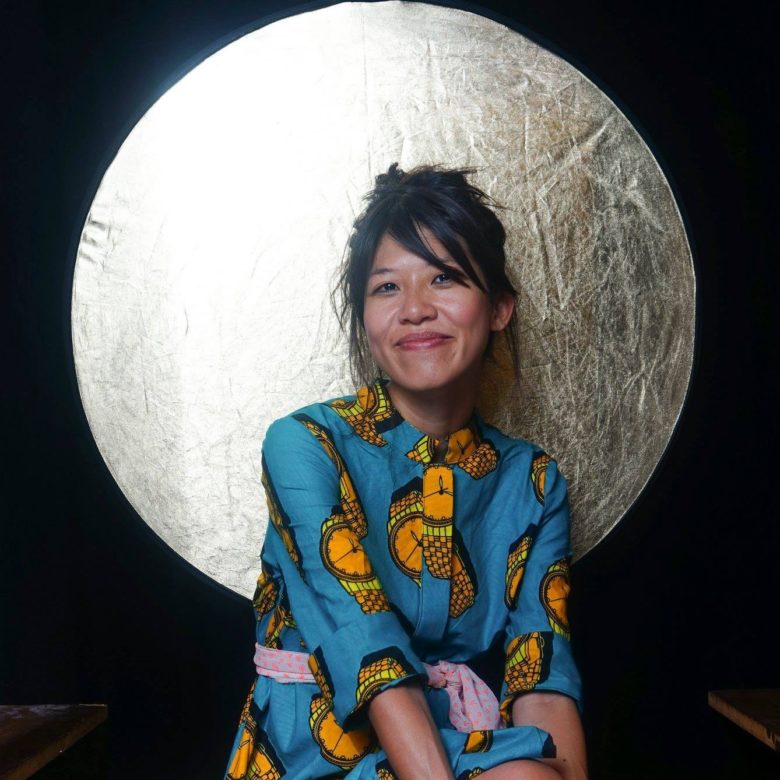 huongngo.com
Hương Ngô (Huong Ngo, Ngô Ngọc Hương, 吳玉香) is an interdisciplinary artist whose conceptual practice connects the personal and the political, giving material form to histories which have been rendered invisible and interrogating the ideological origins of their erasure.  Having grown up as a refugee in the American South, Ngô creates work that reframes the hybrid, the imperfect, and the non-fluent as sites of survival and knowledge. She is a graduate of the University of North Carolina at Chapel Hill (BFA Fine Arts, 2001), School of the Art Institute of Chicago (MFA Art & Technology, 2004), and was a studio fellow at the Whitney Independent Study Program (2012). She was recently awarded the Fulbright U.S. Scholar Grant in Vietnam (2016) for her research, begun at the Archives Nationales d'Outre-Mer in France and recently presented at DePaul Art Museum (2017), that examines the colonial history of surveillance in Vietnam and the anti-colonial strategies of resistance vis-à-vis the activities of female organizers and liaisons. Her work, which has been described as "deftly and defiantly decolonial" by New City and "what intersectional feminist art looks like" by the Chicago Tribune, has been exhibited at the MoMA (2018), MCA Chicago (2004, 2016, 2017), Para Site HK (2017), Nhà Sàn Collective (2016), the Queens Museum (2014), The Kitchen (2011, 2014), and the New Museum (2012) among others. She has been awarded the DCASE Individual Artist Program Grant (2017, 2018), the Illinois Arts Council (2018), Chicago Artists Coalition BOLT residency (2016-17), Rhizome Commission (2011), and has been in residency through the Camargo Foundation Core Program (2018), LATITUDE Chicago (2015), and SOMA Mexico (2014). She has taught at the MoMA, Pratt Institute, and Parsons The New School for Design and is currently Assistant Professor in Contemporary Practices at the School of the Art Institute of Chicago.  Hương will be a guest speaker for Artist Case Studies: Project Development on December 4, 2018.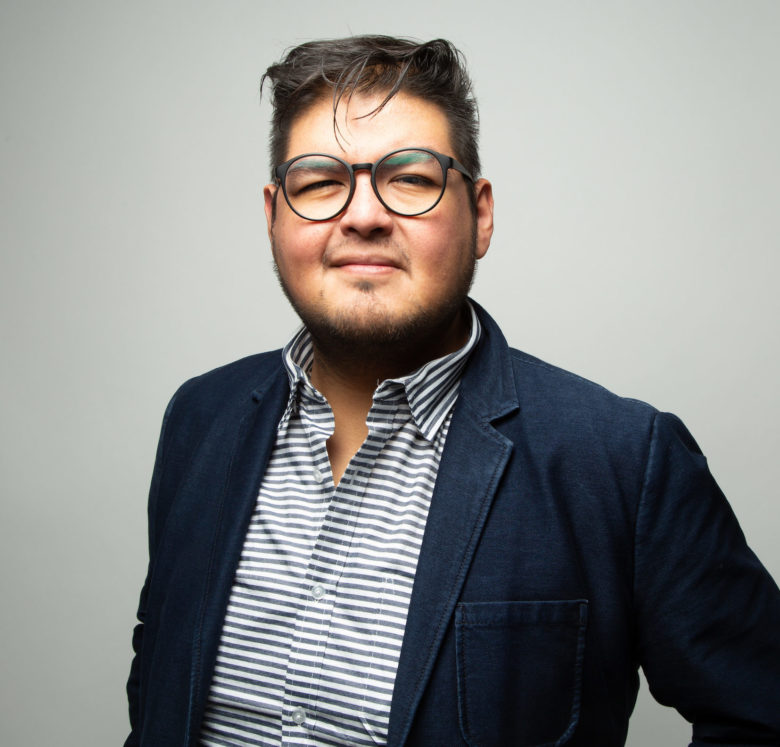 J. Gibran Villalobos is an administrator, curator, and art historian who is an alum of CAC's HATCH residency. In 2016 he was elected to attend the Advocacy Leadership Institute where he was invited to the White House Office of Public Engagement, the National Endowment for the Arts, and the Congressional Hispanic Caucus to speak to key issues affecting Latinos in Chicago. He served as the 2017 resident curator at the Chicago Cultural Center where he launched an inaugural summit of Latino artists and administrators across the United States. For this project, he received the Act Up Awards from the Chicago Community Trust, and a Propeller Grant. He has held the posts of Cultural Liaison for the Chicago Park District in the department of Culture, Arts, and Nature, and Public Programs and Partnerships Manager for the Chicago Architecture Biennial. He currently serves on the Auxiliary Board for the National Museum of Mexican Art and on the Board of Directors for the Chicago Artists Coalition. In 2019 he was recipient of the "Leaders of Color Fellow" by Americans for the Arts and was also named by the Field Foundation as recipient of the "Leaders for a New Chicago" award. He is currently serving as the co-Chair to the National Association of Latino Arts and Culture nationwide summit for 2020 in which more than 200 Latino artists and administrators will meet and gather in Chicago.  He is faculty lecturer at the School of the Art Institute of Chicago in the Department of Arts Administration & Policy and currently works as Assistant Curator in Performance and Public Programs at the Museum of Contemporary Art Chicago.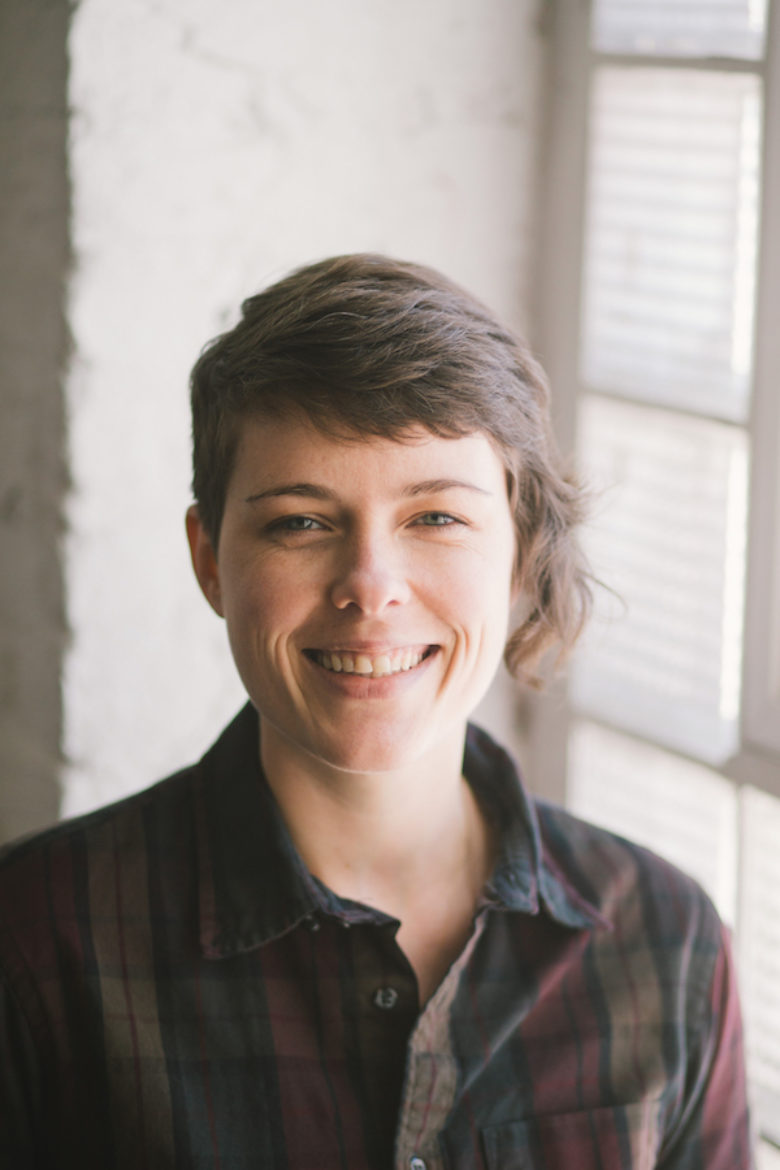 howcouldiknow.com/
Jessica Pierotti is an interdisciplinary artist, photographer, and educator with an MFA from the University of Illinois at Chicago and a BFA from the Rochester Institute of Technology. Jessica joined LATITUDE as Deputy Director in May 2016 and transitioned into the position of Executive Director in January 2017. She additionally works as an Instructor in the Photography Department at the School of the Art Institute of Chicago and the University of Illinois at Chicago.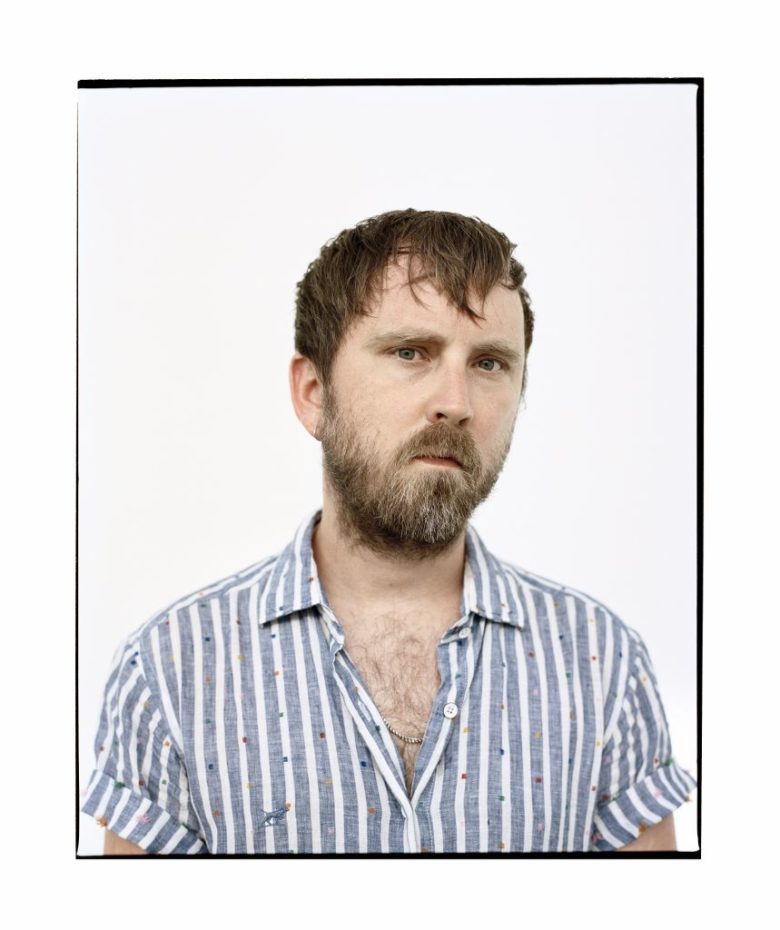 Latham Zearfoss
Latham Zearfoss produces time-based images and objects about selfhood and otherness. Often collaborative, these works ask: how do we come to know ourselves as social human subjects? Across media, the work is anchored in the belief that identity is a cumulative, political effect, inherited through a kind of collective bargaining. These themes find evocative, sensual resonances through dramatic shifts in color and light, reverberating soundscapes populated by disembodied voices, queerly uncanny iterations of the not-noticed and everyday, and "soft borders" - spatial markings of undetermined significance that invite participation, transgression, even penetration.
Latham Zearfoss works in Chicago, where they produce time-based images, objects and experiences about selfhood and otherness. Outside of the studio, they contribute to collective motions toward joy and reflection through social projects such as a queer dance party (Chances Dances), a critical space for white allyship (Make Yourself Useful), and an itinerant conference on socially-engaged art (Open Engagement). Latham graduated from The School of the Art Institute of Chicago with a BFA in 2008 and the University of Illinois at Chicago with an MFA in 2011. They have exhibited their work, screened their videos, and DJed internationally and all over the U.S.
Artist photo: Harry Culy
Image: Latham Zearfoss, Moving, Even Still; 2019, Cardboard, spray paint, tape, wheat-paste installation from ships in the night at the Engine Room in Wellington, New Zealand; 32 x 7 x 3 ft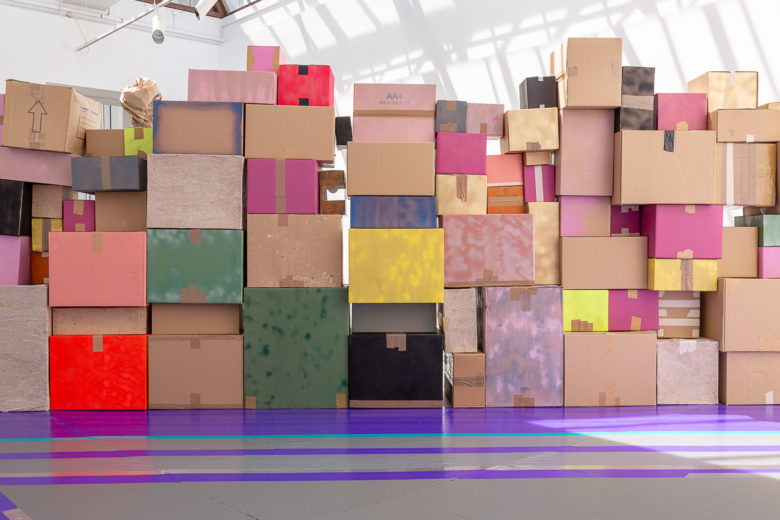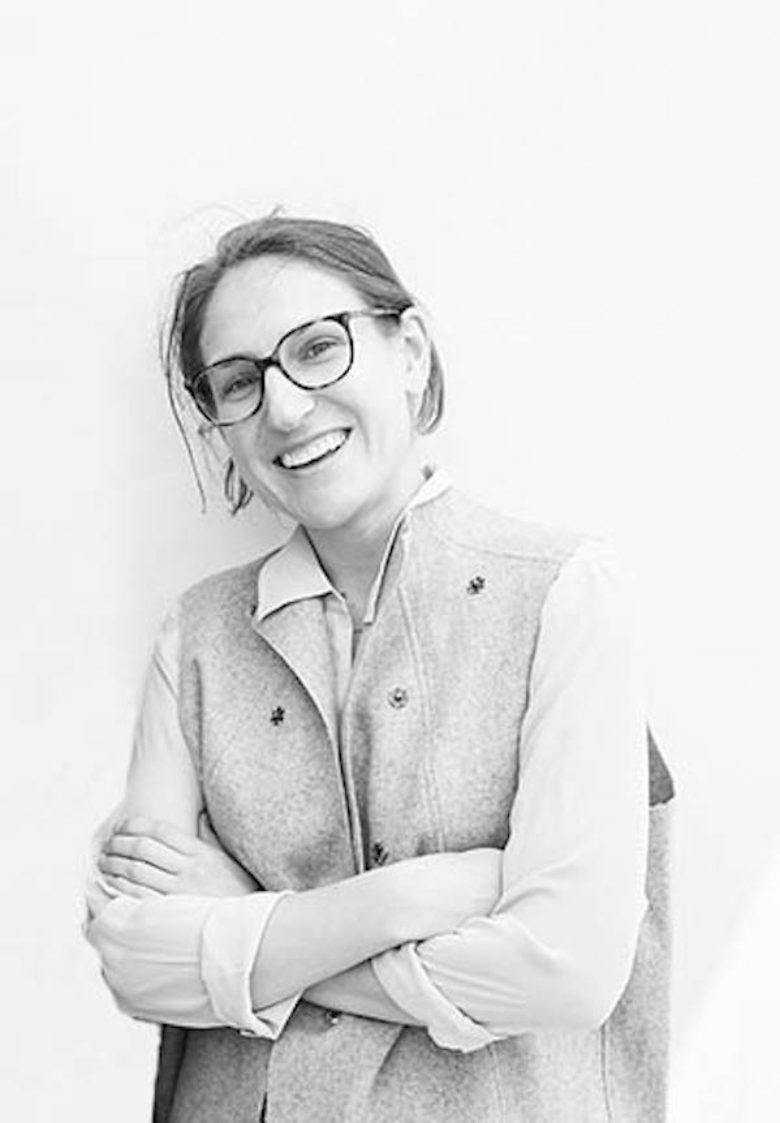 stkwo.com/
Lee Anderson is the founder of Starkweather, designer, creative strategist, and fashion advocate.  In addition to her design practice, she has produced small and large-scale events around the world for changemakers in the fashion and creative industries, such as Paris Fashion Tech Week, Pioneer Mode and FAAR, always with the goal of empowering those who envision a better way forward and providing them the community, skills and tools to build it.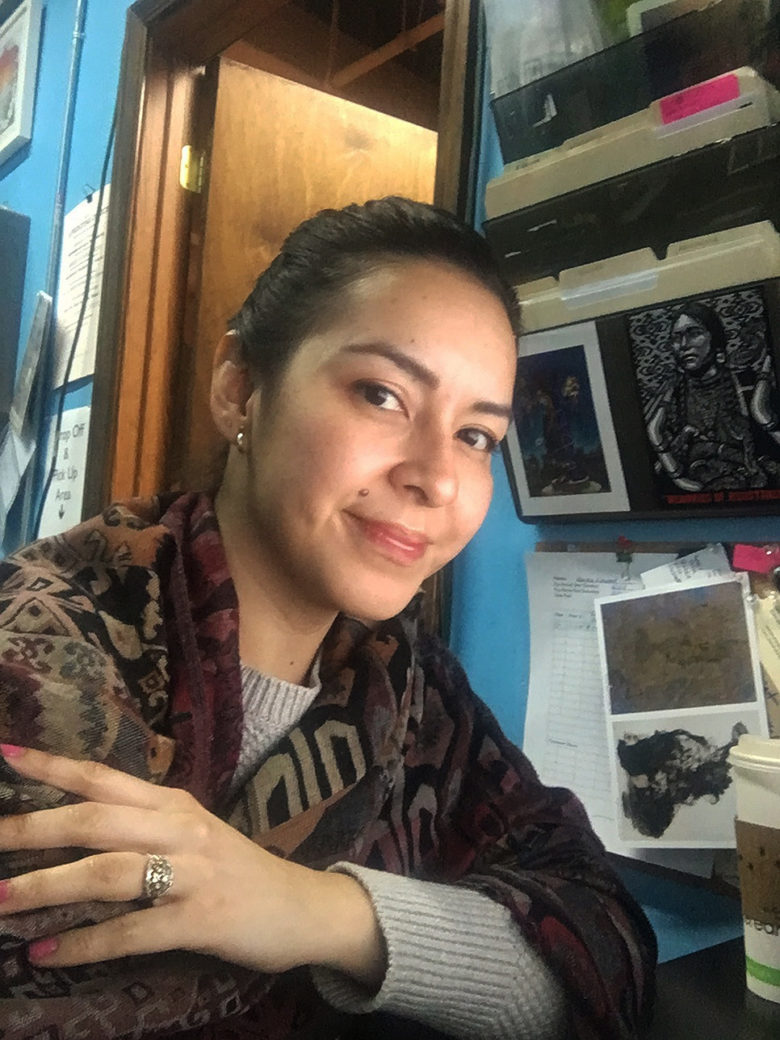 Marcela Andrade Serment is an arts administrator, curator, and researcher.  She is currently the Program Director at Spudnik Press Cooperative where she leads the strategic vision of the organization's programming and develops opportunities for artists to sustain and expand their practice. Prior roles held by Andrade Serment include Director of the O'Connor Art Gallery at Dominican University, Manager of Administration and Advancement at the Elmhurst Art Museum, and Auction and Development Assistant at the Museum of Contemporary Art. Andrade Serment holds a BA in Studio Art and French Studies from Dominican University and an MA in Arts Management from Columbia College Chicago. In 2009, she was an Andrew W. Mellon Fellow at the Summer Institute for Art Museum Studies at Smith College. She has been a guest speaker at local universities and collaborated with numerous organizations throughout the city of Chicago.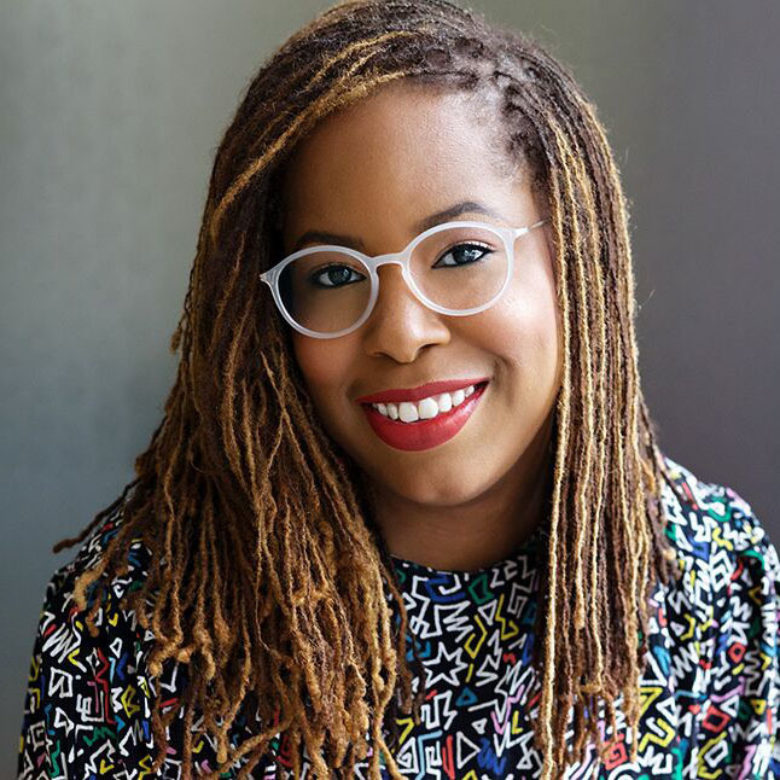 creativegeniuslaw.com/
Patrice N. Perkins is the founder of Creative Genius Law®, a business and intellectual property law firm and strategic legal partner exclusively for creative entrepreneurs, innovators, and change agents. They are game changers looking to impact the world in creative ways. Patrice's mission is to encourage clients to tap into the unrealized revenue potential of their intellectual property while using the law to protect and nurture creativity rather than stifling it.  She develops legal strategies and provides counsel in the areas of  business law, contracts and negotiation, intellectual property (trademarks and copyrights), social media, advertising, and marketing law. She's been recognized by the American Bar Association as a "Legal Rebel" for being a leading innovator in the legal industry. She's previously spoken at Chicago Creative Expo, Self Employment in the Arts Conference, Chicago Urban League, Chicago Artists Coalition, Blogging While Brown, Alt Design Summit, BlogHer, Eat Write Retreat, and AVVO Lawyernomics to name a few. She's appeared in popular media and blogs including FORTUNE, NBC, Women 2.0, Design Sponge, Young, Fabulous & Self-Employed, Carol Roth and is a member of the Board of Directors for the Chicago Artists Coalition. Patrice publishes Creative Genius Society, a business and law blog, and is the creator of the Quit Kit, a strategic planning system to help creative entrepreneurs ditch their 9 to 5 for full-time entrepreneurship. You can follow Patrice on Twitter and Instagram @creative_esq. Patrice will be a guest speaker for Know Your Rights: A Legal Toolkit for Creative Producers on March 5, 2019.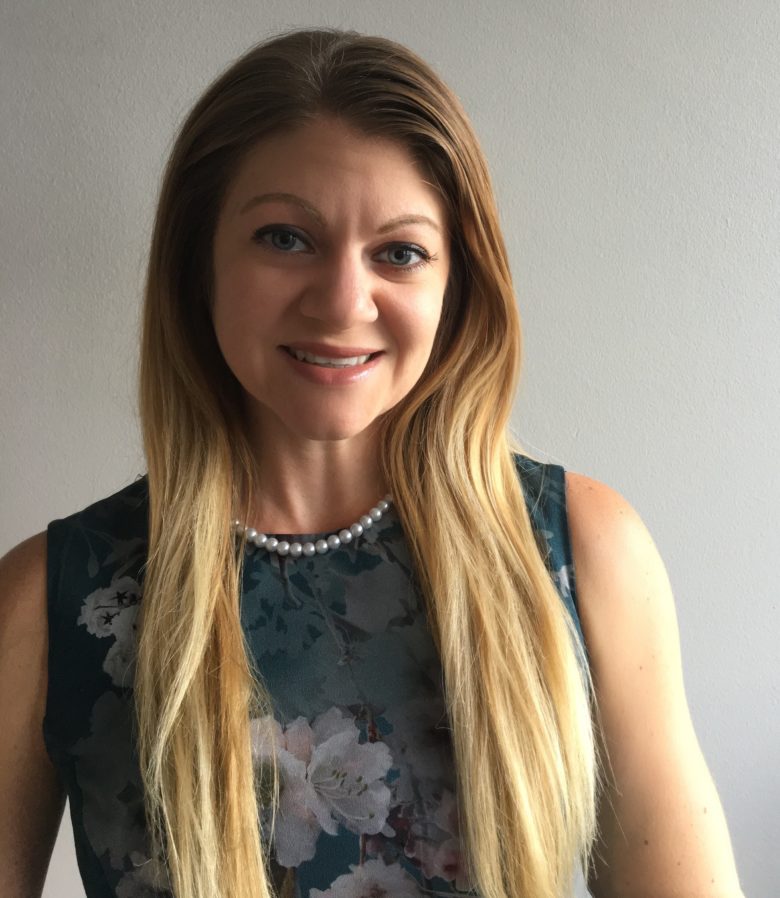 myhealthyfinancialsolution.com/
Sarah Lombardi has been in the accounting and finance field for over 15 years and holds a Master of Science degree in Accounting. She has touched over 100 organization's financials in some capacity over that time frame. As you can imagine, she has been involved in almost any financial scenario you can think of and has loved every minute of it. About 2 years into her career, she found yoga and became a certified yoga instructor. This fueled her passion around health and wellness and helping others lead a healthier lifestyle. One commonality she discovered to hold true is that money stresses people out and stress causes people to be unhappy and unhealthy. Through the tools she has developed in both her professional career and her yoga career, a sweet spot was created for helping businesses and individuals organize their finances in a calming, low stress and profitable manner. Hence the birth of Healthy Financial Solutions!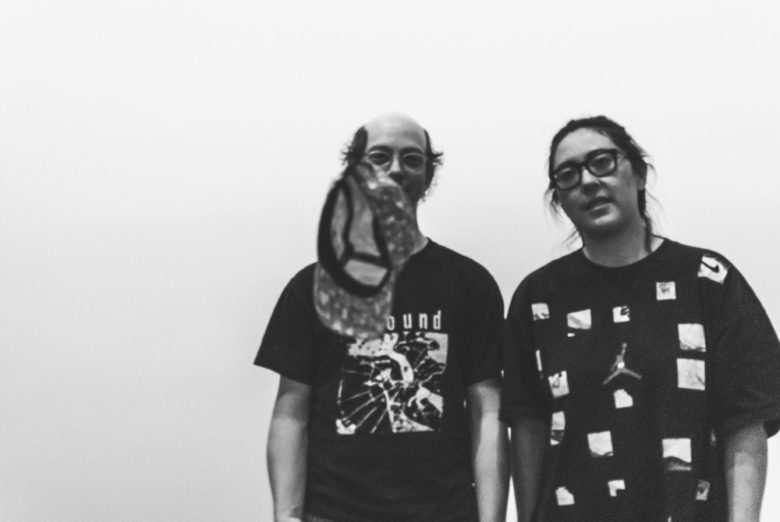 sonnenzimmer.com
Sonnenzimmer is the collective output of Nick Butcher and Nadine Nakanishi. Their work explores the contemporary and historic impact of the graphic impulse through publishing, exhibitions, graphic design, and performance. While the duo works in an array of media, their focus is on triangulating a deeper understanding of the role of graphic expression at large. In addition to their self-driven work, Sonnenzimmer actively engages in commissioned projects aiming to reshape preconceived notions of the graphic arts. Their work has been shown in The United States, Brazil, China, and Europe; with recent solo exhibitions at Vebikus Kunsthalle Schaffhausen, Switzerland, and Hatch Show Print in Nashville, Tennessee. They lead lectures & workshops in academic and commercial settings, including past visits to Aalto University, Finland; California Institute for the Arts, CA; Columbia College Chicago, IL; Cranbrook Art Academy, MI; Facebook Analog Research Laboratory, CA; Grafisches Forum Zürich, Switzerland; The Art Institute of Chicago, IL; Minneapolis College of Art and Design, MN; Pratt Institute, NY; Yale School of Art, CT.
Never miss a thing
Subscribe to our newsletter and get regular updates on news, events, grants, and the latest opportunities for artists
Support Chicago Artists
Make a gift to CAC today and join our growing community of supporters