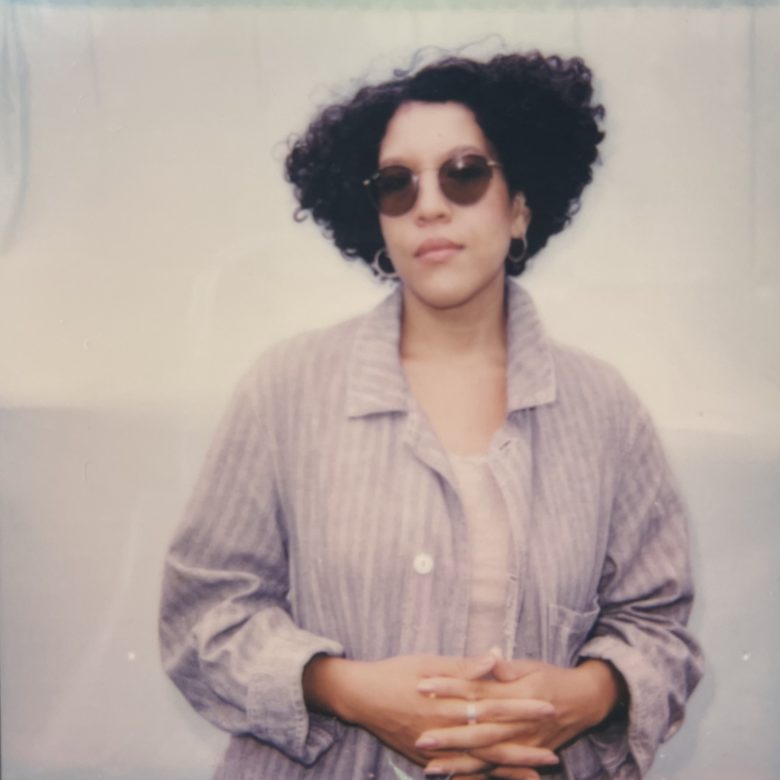 Born in the western united states, Stones' existing realm of work functions to identify portals between her lived experience and embedded generational knowledge to reinforce histories adjacent to, and in the making of her own. She leads in this pursuit with prioritization for her relationship to the natural world, spirituality, stewardship and curiosity. These themes, present and affirmed in most of her endeavors, are often brought forth through the application of analog photography, collage, mending, piecing, object-finding, horticulture, and prayer. Being that they are mediums also once practiced by her ancestors, she considers her orientation to these visual and elemental practices as inheritances; and favors them as individual entities working willfully in partnership with one another toward a more complete expression of communion, connection and liberation.
Image: Shelby Stone, "Untitled(twelve)", 2020-2021, cyanotype on canvas, 4'x3'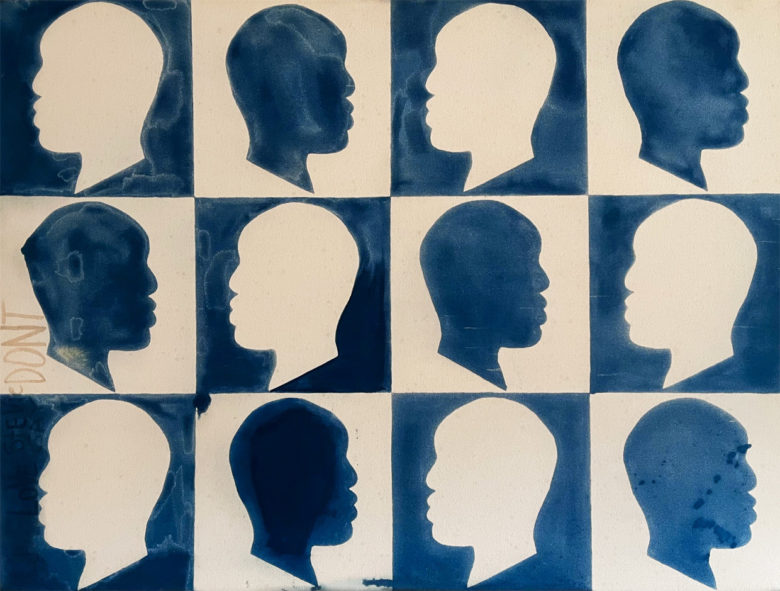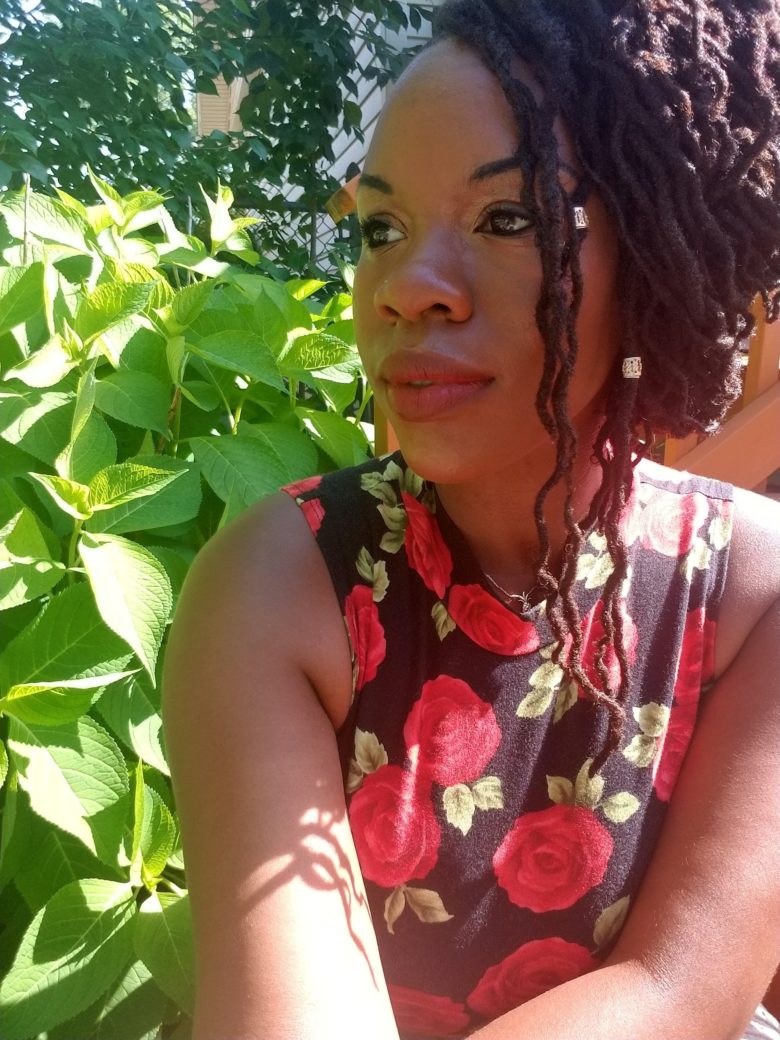 Sydney Stoudmire is a curator, writer, and educator based in Chicago. Her curatorial research is rooted in exploring the intersections between art + science, through a lens of curiosity, pleasure, and play--themes she recently explored as a 2017-2018 Curatorial Research Fellow with the Andy Warhol Foundation for Visual the Arts. Stoudmire's practice is rooted in pairing polarities in time + space in her aim to facilitate experiences that simultaneously engage the creative + rational mind. This integrative approach--derived from psychophysics, cognitive science, energy psychology, art therapy, and other evolving healing modalities--is intended to awaken the senses, and elevate audiences from passive observers to active participants.
As an arts administrator with 10+ experience in cause marketing, Stoudmire also equips creative institutions + social impact organizations with proven methodologies, tools, and strategies help them generate publicity, partnership, and monetary support, through her creative writing consultancy, Follow Your Art. Additionally, she assists creative entrepreneurs in leveraging their inherent cultural assets to launch profitable consultancies that allow them to directly impact the artists + causes they care about.
Beyond her research + curatorial practice, Stoudmire shares an undying love + wonder of nature with her delightful eight month old daughter, Nola. She committed to exemplifying a life of possibility to her by following her bliss, believing in magic, and cultivating curiosity within herself, so that her daughter may always be guided by her own.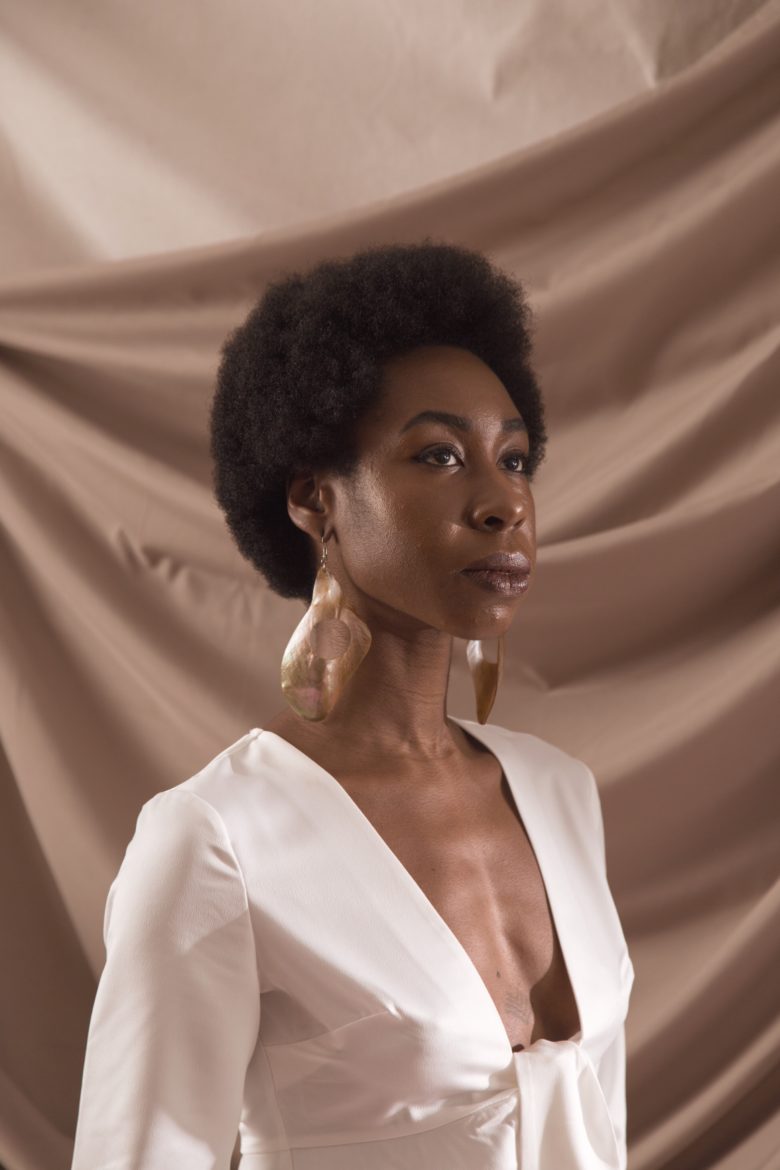 alexandriaeregbu.com/
Alexandria Eregbu is an artist, curator, and visionary. On a fundamental level, Alexandria believes that art and expression are essential functions of community. As such, her work has been most dedicated to providing creative experiences that empower black audiences engaging the arts. Her early interests in civic engagement were initially fostered through her involvement as Lead Teaching Artist with Teens Reimagine Art, Community, and Environment (TRACE)— a youth activism program facilitated through the Chicago Park District.
Most recently Alexandria held a two year position as Curator for Illinois Humanities' city-wide initiative, Envisioning Justice— which examined how incarceration affects Chicago communities and interrogated the failures of our criminal justice system. Previous curatorial projects include, The Annual: A New Exhibition for Chicago Art presented at Chicago Artists Coalition in partnership with EXPO Chicago, Tertiary Dimensions presented as part of PLATFORMS—a retrospective exhibition of Chicago's queer art collective, Chances Dances, and Marvelous Freedom / Vigilance of Desire, Revisited— a group exhibition that engaged the richness of Chicago's Surrealist past with new works from 13 contemporary artists of the African diaspora.
As an artist, Alexandria's practice draws from history, lived experiences, and her own imagination to deepen her connectivity to the natural world. Her multi-vocational practice has received generous support from the Chicago Cultural Center's Department of Cultural Affairs and Special Events, Rebuild Foundation, Independent Curators International, Joyce Foundation, Andy Warhol Foundation, and 3Arts. She received her BFA from the School of the Art Institute of Chicago.
Photo: Jackie Rivas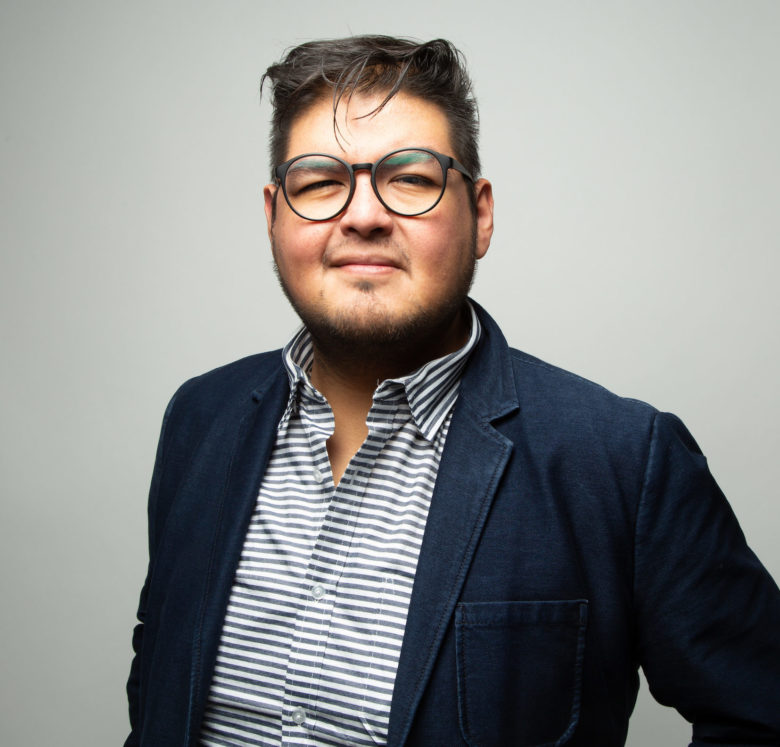 J. Gibran Villalobos is an administrator, curator, and art historian who is an alum of CAC's HATCH residency. In 2016 he was elected to attend the Advocacy Leadership Institute where he was invited to the White House Office of Public Engagement, the National Endowment for the Arts, and the Congressional Hispanic Caucus to speak to key issues affecting Latinos in Chicago. He served as the 2017 resident curator at the Chicago Cultural Center where he launched an inaugural summit of Latino artists and administrators across the United States. For this project, he received the Act Up Awards from the Chicago Community Trust, and a Propeller Grant. He has held the posts of Cultural Liaison for the Chicago Park District in the department of Culture, Arts, and Nature, and Public Programs and Partnerships Manager for the Chicago Architecture Biennial. He currently serves on the Auxiliary Board for the National Museum of Mexican Art and on the Board of Directors for the Chicago Artists Coalition. In 2019 he was recipient of the "Leaders of Color Fellow" by Americans for the Arts and was also named by the Field Foundation as recipient of the "Leaders for a New Chicago" award. He is currently serving as the co-Chair to the National Association of Latino Arts and Culture nationwide summit for 2020 in which more than 200 Latino artists and administrators will meet and gather in Chicago.  He is faculty lecturer at the School of the Art Institute of Chicago in the Department of Arts Administration & Policy and currently works as Assistant Curator in Performance and Public Programs at the Museum of Contemporary Art Chicago.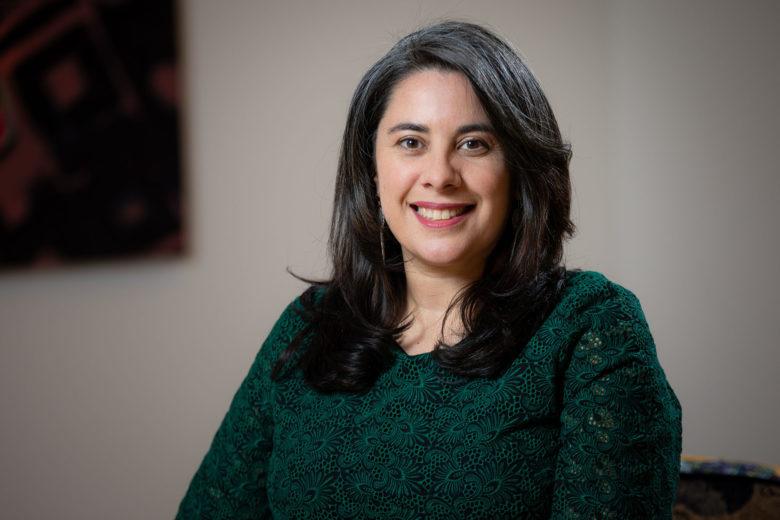 resources.depaul.edu/art-museum/
Julie Rodrigues Widholm is a curator, writer, and arts administrator. She is currently Director and Chief Curator of DePaul Art Museum (DPAM), where she leads the strategic and artistic vision to promote equity and interdisciplinary exhibitions, collections and programs in art museums in including a new multiyear Latinx Initiative. Prior to DPAM, Widholm was a curator at the Museum of Contemporary Art Chicago. During the last 20 years she has organized more than 100 solo and group exhibitions, including Julia Fish: bound by spectrum, Brendan Fernandes: The Living Mask; Barbara Jones-Hogu: Resist, Relate, Unite; Rashid Johnson: Message to Our Folks; Doris Salcedo; Unbound: Contemporary Art after Frida Kahlo; Amalia Pica; Escultura Social: A New Generation of Art from Mexico City, which have been presented at museums across the U.S. such as DePaul Art Museum, MCA Chicago, the Solomon R. Guggenheim Museum, Perez Art Museum Miami, the Nasher Museum at Duke University, MIT List Visual Arts Center, and Nasher Sculpture Center, among others. Widholm has authored or contributed to more than 25 publications.
In 2019 Widholm was named Chicagoan of the Year in Museums by the Chicago Tribune and was named one of Chicago's ART50 Visual Vanguard by New City in 2015, 2017, and 2019. During the 2016-2017 academic year, she was a Senior Fellow in the Institute for Curatorial Research and Practice at the School of the Art Institute Chicago. She has been an instructor, visiting critic, and graduate advisor at national universities and has given numerous public talks. She grew up in Brazil, Mozambique, Portugal, Germany, and across the U.S. 
Photo: DePaul University/Jeff Carrion
Kalena Chevalier currently serves as the Program Director for the Cultural Grants Program at the City of Chicago's Department of Cultural Affairs and Special Events. Kalena has 14 years of experience working in Chicago's arts and culture community. She has worked artistically and administratively with organizations including Goodman Theatre, Steppenwolf Theatre Company and Writers' Theatre, and most recently as the Associate Director of Development for Hubbard Street Dance Chicago, where she managed foundation and government fundraising efforts over seven years. She is also a playwright and her plays have been workshopped, developed and produced by several local storefront theaters. Kalena graduated from the University of Michigan in Ann Arbor with degrees in Theatre, Dramatic Writing and History. Kalena will be a guest speaker for Mock Proposal Review Panels on December 17, 2018.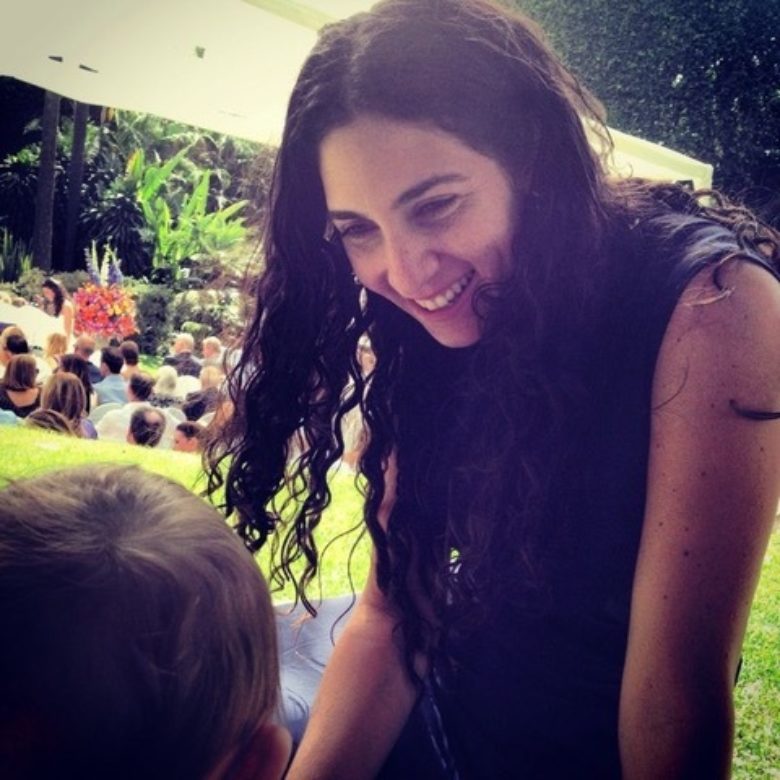 Karen Dana Cohen
Karen Dana Cohen was born in 1982 in Mexico City and lives and works in Chicago, IL. She received a BFA from The National Institute of Fine Arts in Mexico City (2005) and earned her MFA degree at Hunter College, New York (2011), where she based her art studio up until 2017. Her early work consists of scenes where family dynamics evoked visual tension in a composition. By experiencing her own family from abroad and beginning to grow into a family of her own she began exploring her painting practice as a more process-based research. The paintings of her recent work are often part of a specific arrangement based in gestures that she discovered inherited from women in her past as a mandate of femininity. The paintings offer an intimate narrative of the role immigrant women need to reinvent their whole self in order to survive, while at the same time defend their own identity through generations.  
Image: Karen Dana, There is a transplanted gathering in between my steps, 2018, Oil on canvas, 72" x 60"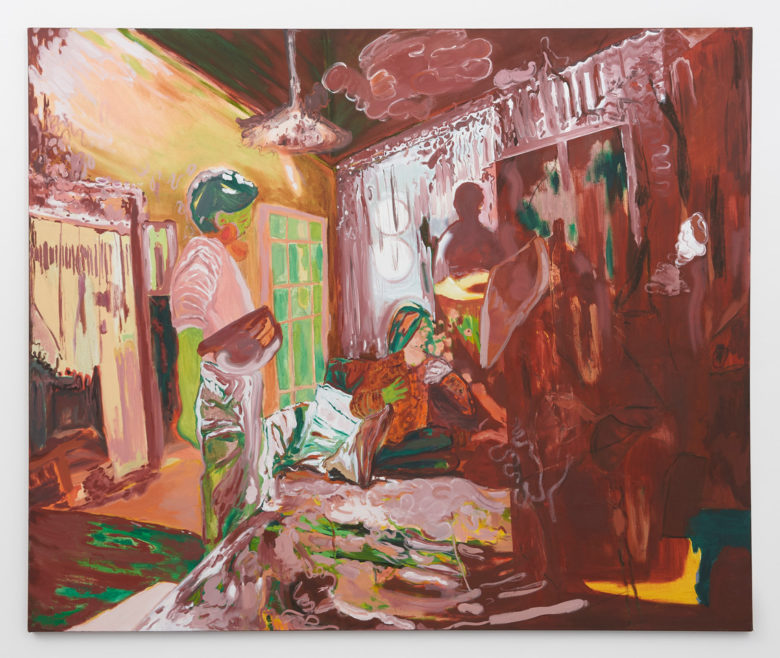 Kate Bowen is an artist, curator, and teacher living and working in Chicago. She is the Acting Executive Director at ACRE (Artists' Cooperative Residency & Exhibitions) and the Video Programming Coordinator at the Museum of Contemporary Photography. She received her MFA in Photography from Columbia College Chicago in 2011.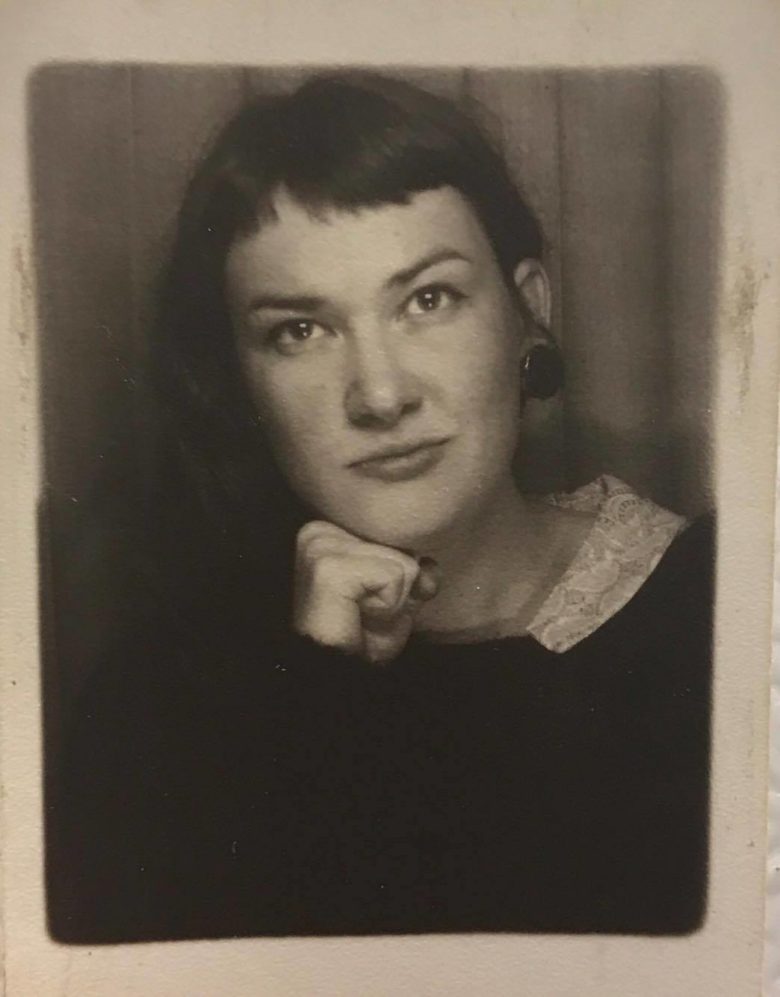 insidewithin.com/
Kate Sierzputowski is a freelance writer and arts organizer based in Chicago. Fascinated by artists' studio processes, she founded the website INSIDE\WITHIN in 2013 to physically explore and archive the creative spaces of Chicago's emerging and established artists. Kate regularly contributes art writing to Hyperallergic, Colossal, the Chicago Reader, and Chicago Magazine. She serves as half of the curatorial duo Episode with Tusk-founder Mary Eleanor Wallace, runs a small gallery on her ear called Chandelier, and has been a co-director of the artist-run gallery space Julius Caesar since 2015.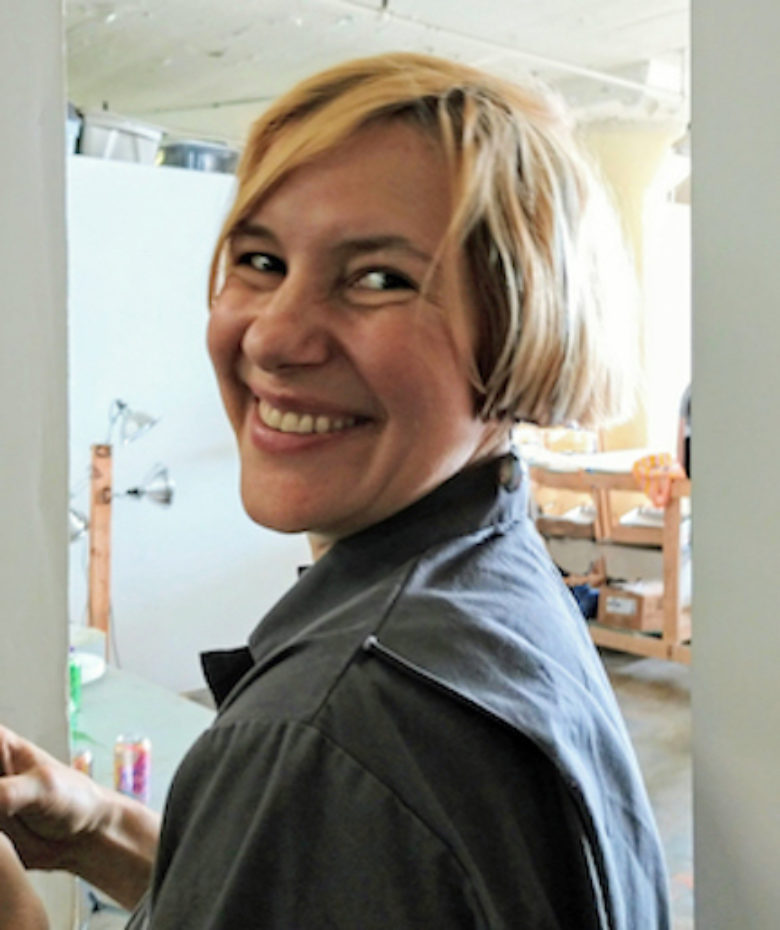 kristin.abhaltersmith.com/
Kristin Abhalter Smith is the creative director and founder of Roman Susan Art Foundation, a project incubator and platform for Midwestern artists. Since 2012 the space has worked with over 900 artists in the Chicago neighborhood of Rogers Park. Kristin has recently exhibited inflatable sculptures, garments, flags, and paintings at Flatland, Ignition Projects, OPEN Gallery, and STNDRD, and received a DCASE grant for her exhibit at DEMO Projects in Springfield, IL. Kristin received her MFA in Technical Theatre and Design from the University of Minnesota, and has twenty years experience designing, building, and painting for stage and motion picture.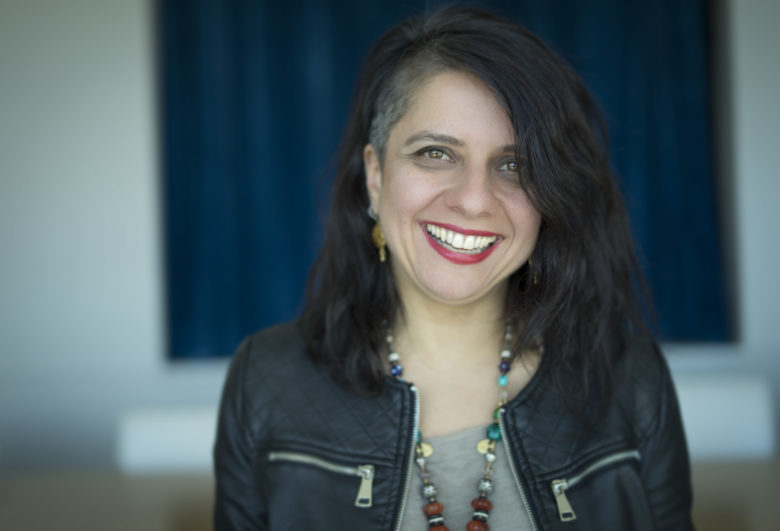 mywildest.com/
Laura Biagi, Ph.D., is a full time faculty in The Theatre School at DePaul University, where she also serves as the Artistic Director of the school's Summer High School Training Program. Since 2016, Dr. Biagi has been focusing her artistic practice and academic research on creating and teaching her method,  Inviting the Medicine  (ITM), a blend of devised theater techniques, wellness practices, and leadership training that promotes self-care to build creative, inclusive, and sustainable communities. Her 20018 TEDx Talk, "Reimagine Failure: Breathe, Belong Believe," is a reflection on the power of our words to shape our reality, and manifest our highest human potential. Dr. Biagi is an Instructor with the Inside/Out Prison Exchange Program and, since 2017, she has collaborated with the Steans Center at DePaul University and Cook County Jail (CCDOC) in Chicago to teach her academic course "Healing Narratives: The Power of Your Story." Learn more at www.mywildest.com and on Instagram @mywildestvoice
Michal Raz-Russo is the David C. and Sarajean Ruttenberg Associate Curator of Photography at the Art Institute of Chicago.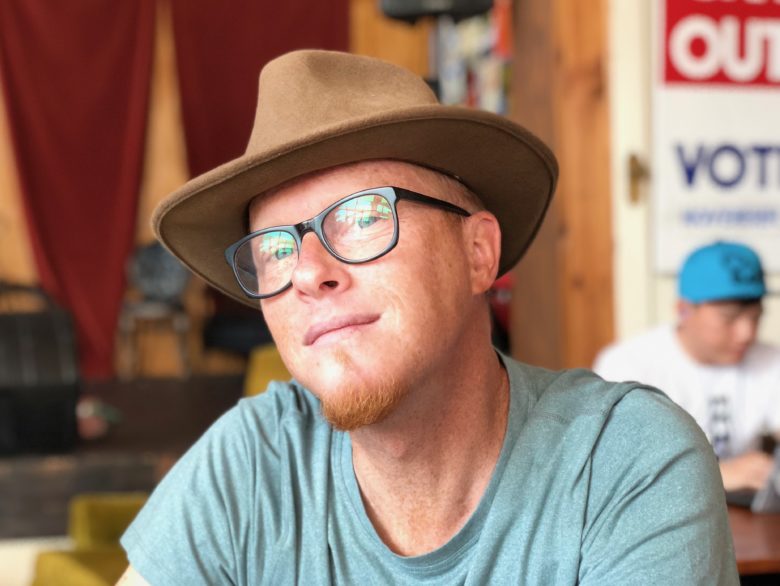 mikenourse.com/home.html
Mike Nourse has over 15 years of experience with formal and alternative learning settings.  He has taught as adjunct faculty at undergraduate and graduate levels for DePaul University and the School of the Art Institute of Chicago. He has managed studio programs at Marwen, and led citywide design and architecture programs for Chicago Architecture Foundation's partnerships with over twenty Chicago Public Schools. As the Director of Education at Hyde Park Art Center, Mike's work involves partnerships with over 25 schools, onsite programs for 2000 youth and adults, self-directed teen work, and professional pathways offerings for working artists. Separately Nourse is also the Executive Director of Chicago Art Department, a residency-based learning lab he founded in 2003 which features fully-funded residencies, exhibitions inside of three galleries, mural projects, and studio space for over 20 artists.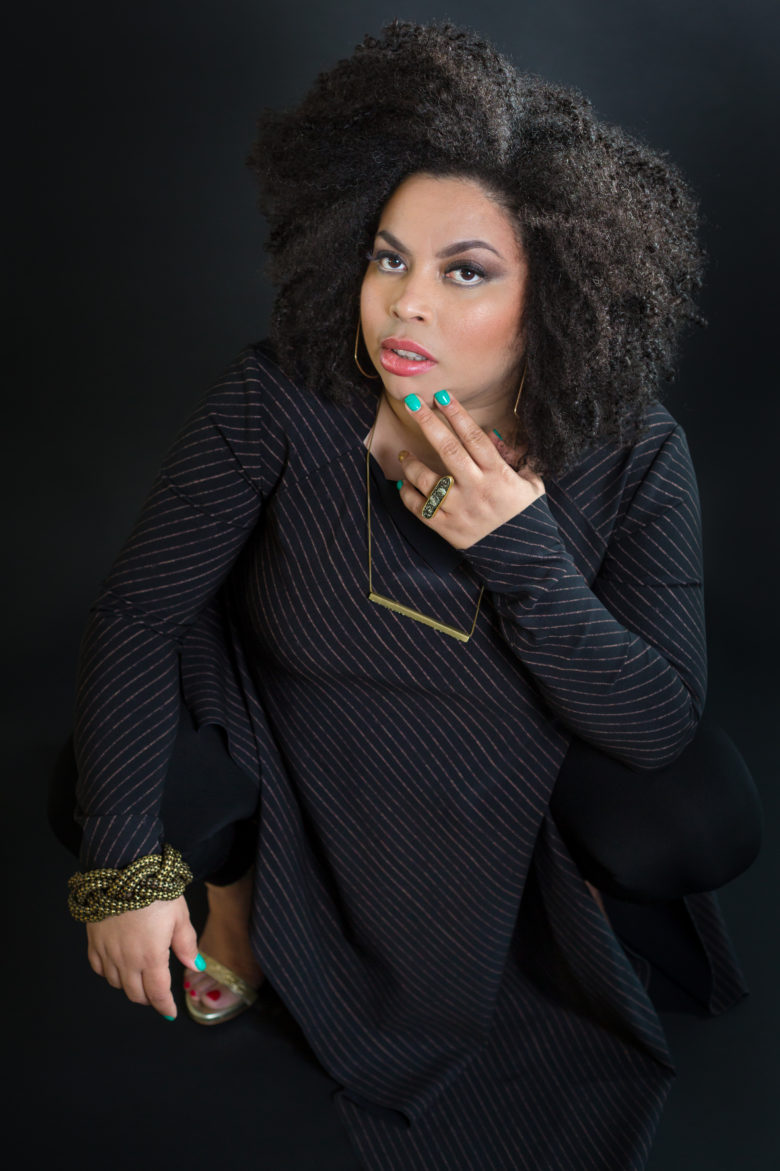 sadiewoods.com/
Award winning artist Sadie Woods has had an exciting career, showcasing her talents everywhere from academia to nightclubs, boutiques to museums. As a multidisciplinary artist, curator and deejay, Woods' work focuses primarily on cultural memory and preservation and producing collaborations within communities of difference.
Awards and residencies include: 3Arts Make A Wave; 3Arts Artist Projects; Propeller Fund; Ecole du Magasin Curatorial Program and Le Magasin—Centre National d'Art Contemporain de Grenoble, FR; Hyde Park Art Center Program; ACRE; Arts + Public Life Curatorial Collective; Nichols Tower Homan Square Artist Residency; High Concept Labs Sponsored Artist; Chicago Artists Coalition's HATCH Projects Resident Curator; Independent Curators International Collaborator, Dakar, SN; Bemis Center for the Arts Artist-In-Residence; Terrain-Hatch Projects Resident Curator; Terrain Exhibitions and Biennial; Ragdale Foundation Artist-In-Residence. She has exhibited her work at Chicago Cultural Center; Krasl Art Center; The New Gallery, NC; Roman Susan Gallery; Washington Project for the Arts, DC; Weinberg/Newton Gallery; Zhou B Art Center. She has had featured curatorial projects at Special Exhibitions EXPO, among others. Publications include Harald Szeemann Méthodologie Individuelle published by JRP Ringier with Le Magasin—Centre National d'Art Contemporain de Grenoble, in collaboration with the Department of Curating Contemporary Art, Royal College of Art, London.
Woods received her BA from Columbia College and MFA from The School of the Art Institute. She is currently Faculty at the School of the Art Institute, Residents Orchestrate Project Manager at the Chicago Sinfonietta, resident dj at TAO, and radio dj at Vocalo 91.1FM and Lumpen Radio 105.5FM.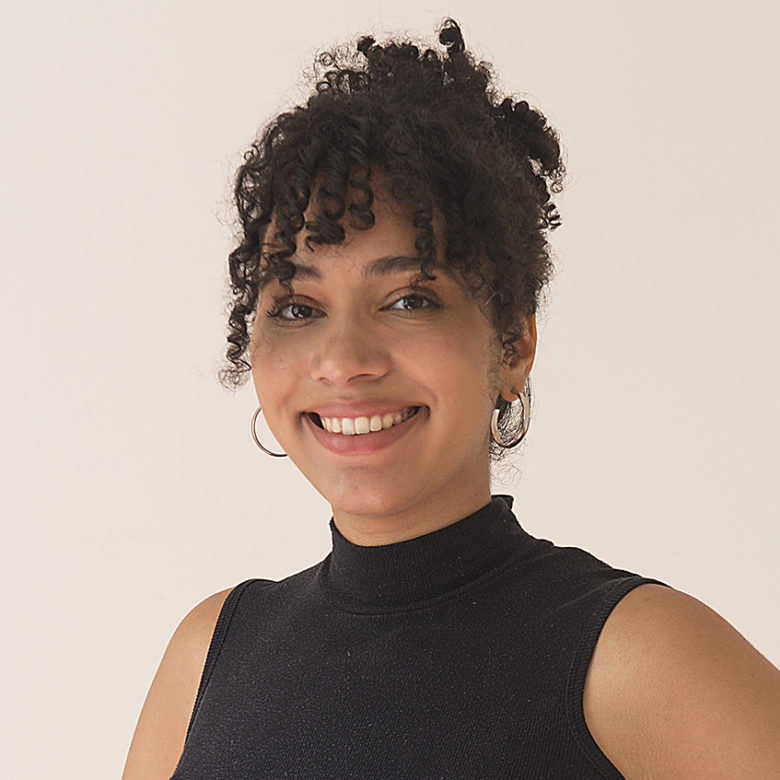 stephaniekoch.com/info
Stephanie Koch is an arts administrator and curator interested in institution building as curatorial practice. She is the Co-Founder of Annas, a Chicago-based residential studio and exhibition space focused on supporting collaborative projects and exhibiting process. Koch holds a BA in Political Science from the University of Chicago and an MA in Visual and Critical Studies at the School of the Art Institute of Chicago. Prior roles have included collections intern at Museum of Contemporary Photography, senior lab assistant at LATITUDE, Managing Director at Museum of Vernacular Arts and Knowledge, and curatorial fellow with ACRE.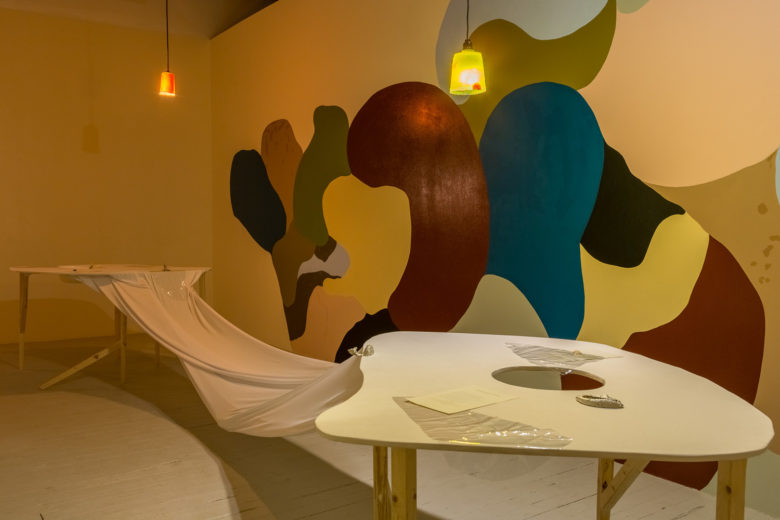 Never miss a thing
Subscribe to our newsletter and get regular updates on news, events, grants, and the latest opportunities for artists
Support Chicago Artists
Make a gift to CAC today and join our growing community of supporters