Thrown Stone, Spitten Image
Reception Opening
Friday July 19 / 5-8 PM
Work by
Mark Blanchard Cass Davis kwabena foli Kelly Kristin Jones
Curated by
Jeff Robinson
Chicago Artists Coalition is pleased to present Thrown Stone, Spitten Image, a group exhibition featuring new works by HATCH artists-in-residence Mark Blanchard, Cass Davis, kwabena foli, and Kelly Kristin Jones.
The exhibition runs from July 5 - August 15, 2019, with a reception on Friday, July 19, 5-8pm.
Idioms are expressions that convey a sentiment that cannot be understood solely from the words that make up the phrase. "A stone's throw" refers to the proximity between places that are close enough that you could throw a stone from one and it would land in the other; "spitting image" refers to the resemblance between counterparts that is so remarkable, it is as if the spit of one produced the other. But there are latent and hostile allusions resting on the surface of these phrases. Thrown Stone, Spitten Image considers the literal implications of two commonly used figures of speech to probe and contest issues of power, trauma, and freedom. The works of Blanchard, Davis, foli, and Jones respond to places that are interwoven with aggression and trauma by uprooting these misrepresentations. These artists displace and reform their subjects in order to redirect prevailing narratives.
Through digitally manipulated photographs, on-site interventions, sculpture, and performance, Kelly Kristin Jones reclaims public spaces from those state-sanctioned monuments that masquerade as art while concealing oppression and abuses of power. Her sculptural intervention allows visions of place to stand without threat. Each photographic effort carries the scars, seams and digital residue of efforts to remove, reinterpret, and restore both landscape and narrative.
The multidisciplinary practice of kwabena foli is rooted in a desire to perpetually break down and rebuild the body for both the individual and the collective. foli creates poetic verse and symbology and combines these languages with images of implicated albeit anonymous black residents from Chicago's Southside. He locates these visual poetics at public sites throughout the city and in dislocated sites such as the gallery. Through this act of placement and displacement, foli contests the erasure and silence of these native black bodies and restores power and authorship over a vernacular that has been co-opted from his community.
Cass Davis examines their Midwestern Evangelical upbringing as a means of understanding relationships between redemption, resurrection, embodied trauma, and the failure of the American dream. Often, Davis expands their practice into the very landscape the work references, undermining the primacy of the gallery in order to expand the conversation across polarized communities. By reimagining rural materials and spaces with hand-sewn, hand-woven, and hand-printed processes, Davis seeks to reclaim ritual in the hopes it might offer the queer and marginalized body a transcendent experience.
Mark Blanchard works in digital and virtual space to explore identity and consider misrepresentations of persons of color that prevail through mainstream media in America. Blanchard decentralizes those representations by building spaces that reconcile our identities and form strategies for navigating the systemic aggression toward brown bodies. In recent works, Blanchard extends these virtual experiences by creating platforms to more directly implicate the viewer and encourage them to express their own autonomy to enact their freedom.
Thrown Stone, Spitten Image is curated by Jeff Robinson.
Exhibition:
Mark Blanchard, Cass Davis, kwabena foli, Kelly Kristin Jones
Curated by Jeff Robinson
Thrown Stone, Spitten Image
July 5 - August 15, 2019

Opening reception:
Friday, July 19, 2019, 5-8pm
Image:
Cass Davis, Half-Staff, 2019, Hay, American flag, red velvet, hand screen-printed ink on fabric. 42 x 60 x 6 inches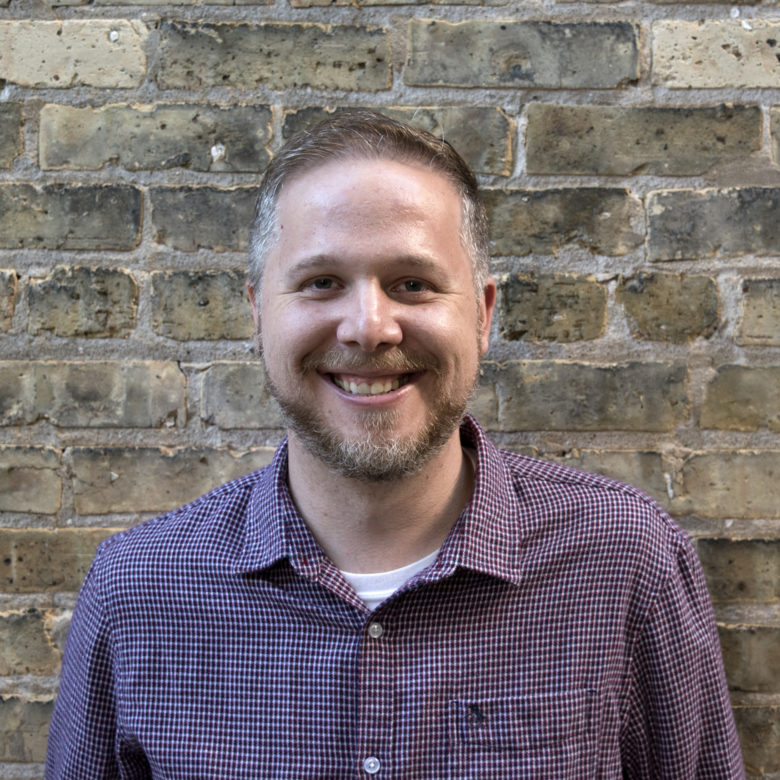 Jeff Robinson is a curator, artist, and arts advocate based in both Chicago and Springfield, Illinois. Robinson has curated and organized numerous exhibitions at the UIS Visual Arts Gallery, where he serves as Gallery Director, and at DEMO Project, which he co-founded and co-directed until its demolition in early 2018. In 2017, Robinson co-organized the Terrain Biennial: Outpost in Enos Park. He currently serves as Co-Vice President on the board for Terrain. His curatorial and studio practices have been featured on Daily Serving, in NewCity Magazine (Chicago), FLOORR Magazine (London) the Riverfront Times (St. Louis), and NPR Illinois, among others.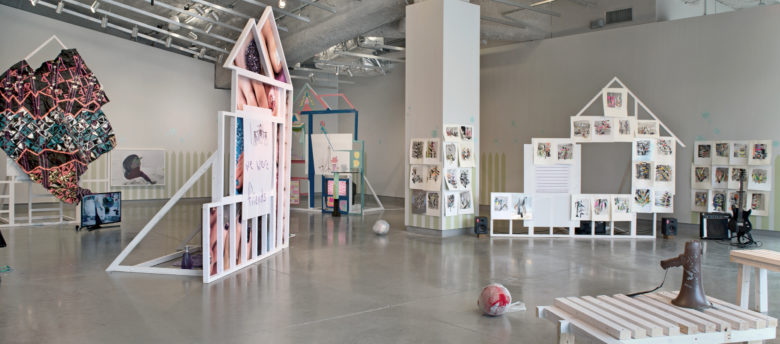 Never miss a thing
Subscribe to our newsletter and get regular updates on news, events, grants, and the latest opportunities for artists
Support Chicago Artists
Make a gift to CAC today and join our growing community of supporters