Thresholds
Reception Opening
Friday, August 4, 2023 from 5-8pm
Work by
Eseosa Edebiri Becca Thomas
Curated by
Vasia Rigou
Can solace be found in the threads of our past? In Thresholds, two artists, both imaginative world-builders, use fiber as a first language to create immersive and interactive environments within which they explore memory, identity and human connection. Soft materials, bright colors and a playful energy inspired by childhood nostalgia collide.
Eseosa Edebiri works with very tactile elements to create fantastical worlds that simultaneously evoke a sense of home. Playing with ideas of space, time, and potentiality, she creates portals—visible, conceptual or otherwise—to break through to the other side. Her intention? To touch on autonomy and chronic illness by reintegrating color in society. Leading viewers on a journey through the looking glass, she uses thread as a compass and as a metaphor for hope, change and a step toward healing from trauma that's not just personal, but intergenerational.
Becca Thomas is a queer disabled artist who takes their experience navigating society in a divergent body-mind as a point of departure. Through fiber art, they create a home when none is to be found, carry their grief, and build new worlds in which they can reside. What do you do when your world falls apart? Thomas chooses to make work that centers on the labyrinthine journey of grief induced by chronic illness and pain. It embodies the internal turmoil encountered when your entire existence is scrutinized for the sake of survival. And it reflects a contracting world—a consequence of systemic ableism and inaccessibility.
Through vividly-colored ensembles featuring family memorabilia, tongue-in-cheek quotes and intricate fiber techniques, Thresholds—an Ariadne's thread of sorts—highlights craft as a source of self-reflection—an intentional journey to acceptance, healing and ultimately transformation. Both artists, heavily drawing on personal narratives, aim to dismantle societal norms, pretenses and assumptions about trauma, chronic illness and disability. And by creating work that is deeply honest, and insightful, they challenge their (and the viewer's) state of being and perception of self.
Event access info: Masks are required for the opening.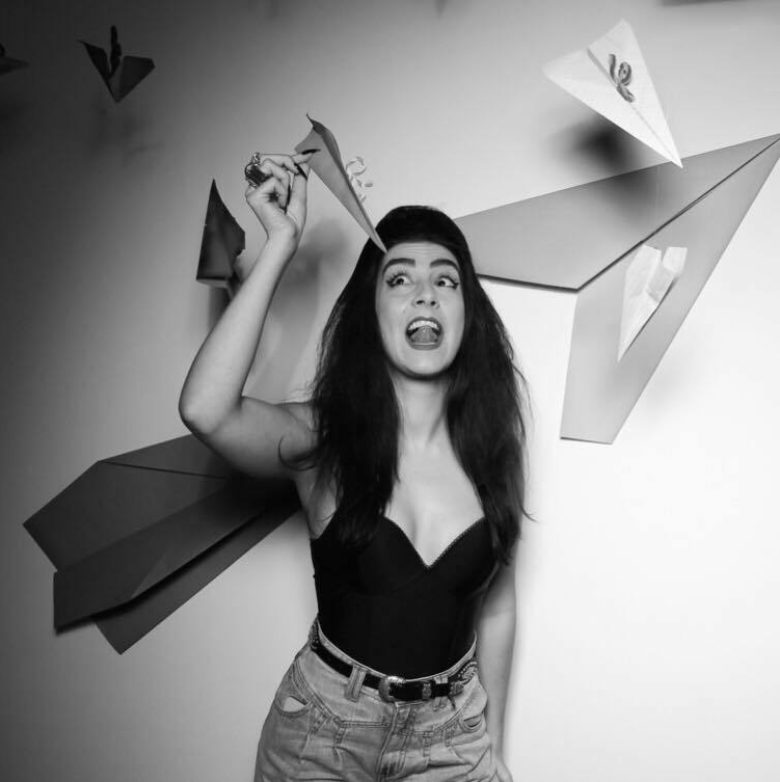 Vasia Rigou
Greek-born Vasia Rigou is a writer, editor, and curator. She grew up to appreciate art after years of carefully planned, culture-filled travel itineraries and museum-hopping around Europe with her family. Much of her work writing about visual art, culture, architecture and design, can be found at Newcity, Chicago's leading culture publication, where she serves as editor. She also regularly contributes to the Chicago Reader and to international magazines OnOffice and ICON. Her curatorial practice focuses on ideas of identity, intimacy and belonging, which she currently explores through the Chicago Artists Coalition's HATCH residency program. Her work can be found at rigouvasia.com.
Image:  Horizon, untitled #5, 2015. This piece is part of a series of 7 photographs, showcasing the horizon blending into the frozen lake landscape.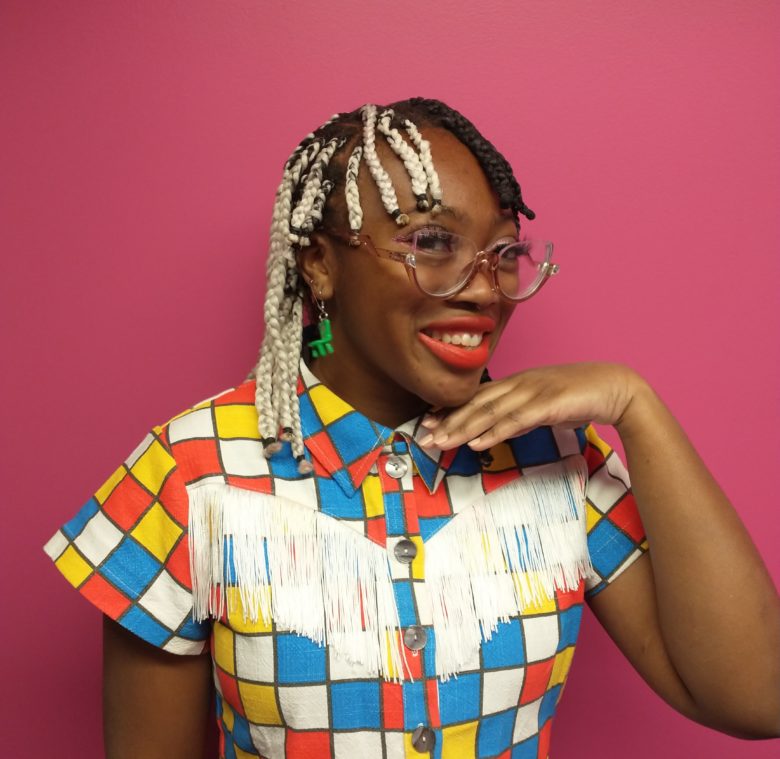 Eseosa Edebiri
Eseosa Edebiri was born and raised in Northern California. She received her BFA from The School of the Art Institute of Chicago and now resides in Chicago. 
Edebiri's work reflects an interest in autonomy and thoughts on intergenerational trauma while having a slight cheeky playfulness to it. She has a very tactile side to her practice, exploring touch and accessibility, aiming to create worlds and build settings as well. Giving representation to BIPOC is often present, all too often those stories are told after they've passed. We continue to see instances of police brutality and Edebiri aims to touch on those losses without desensitizing us to the trauma of it all, sharing sparks of joy and fleeting happiness that they do experience while they're alive.
Image: Eseosa Edebiri, Akugbe Series (from left to right):
Akugbe; Iyobọ Reaching, handmade latch hook rug, 2020, 3 x 4.5 ft
Kia Kukpe; Coming Together, handmade latch hook rug, 2021, ~5 x 6 ft
Akugbe; No Re Eha "Unity of Trinity" – Encompassing Togetherness, handmade latch hook rug, 2019, 4 x 5.5 ft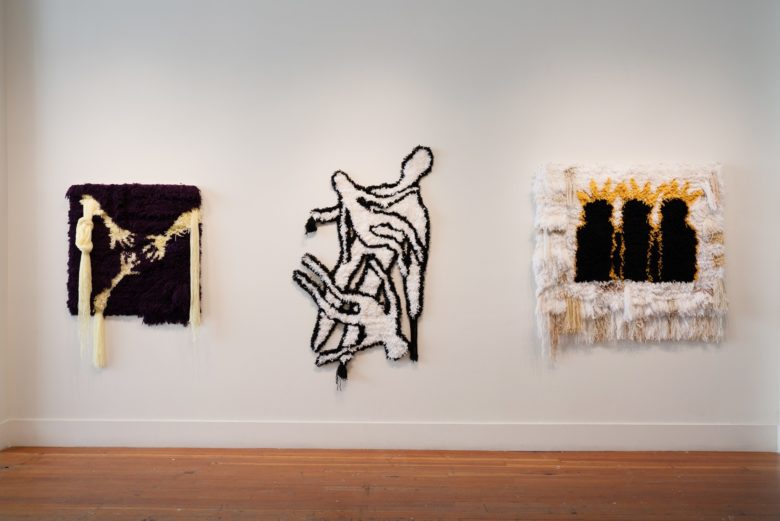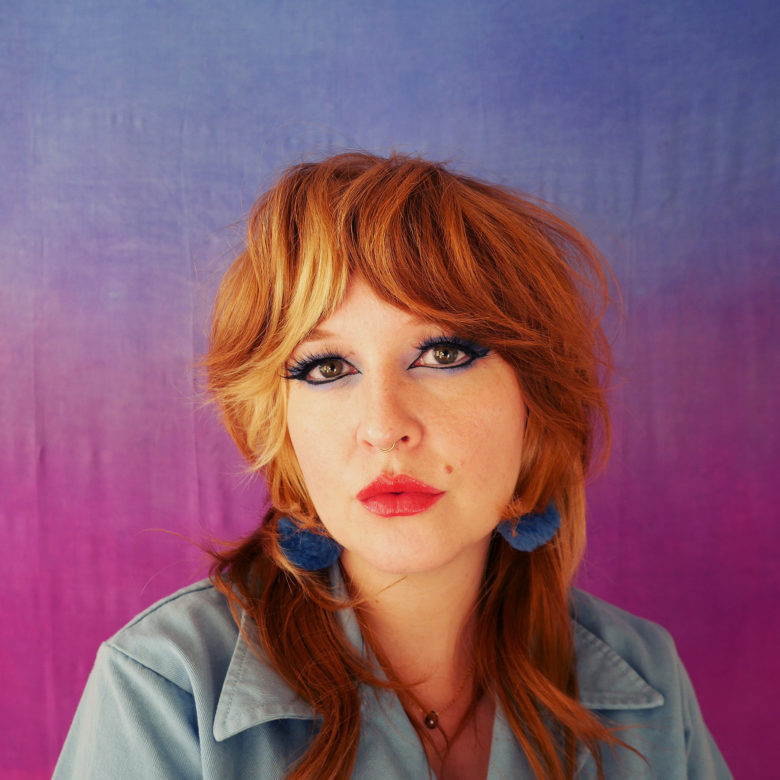 Becca Thomas
Becca Thomas is a queer, autistic, sick & disabled interdisciplinary artist based in Chicago. Through the medium of fiber in combination with other methods such as video, performance, photography, and sound, they navigate channels to explore identity and unsettle oppressive, hegemonic societal norms. 
Their practice is a celebratory reclamation of their sick body and neurodivergent mind, which fall under intense medical and societal scrutiny. They employ the somatic experience of fiber as a means of nervous system regulation and sensory exploration. Their work is founded on the tenants of radical access, care, and interdependence through the lens of disability justice.
Becca earned their MFA in Fiber and Material Studies from the School of the Art Institute of Chicago, and their BFA from Indiana University.
Image: Becca Thomas, rethink reality, search for the self, 2019, site adjusted installation: cotton, polyester, synthetic dye, found fabric, thread, silkscreen ink, poly-fil, foam, paint, spray paint, crt-tv, HD video, sound, lavender rice, dimensions variable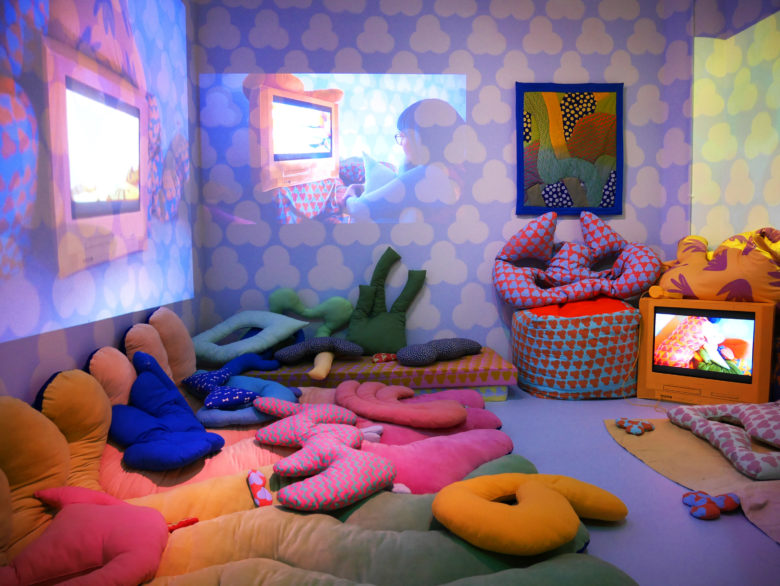 Never miss a thing
Subscribe to our newsletter and get regular updates on news, events, grants, and the latest opportunities for artists
Support Chicago Artists
Make a gift to CAC today and join our growing community of supporters