Layer, Mark, Repeat
Reception Opening
Friday, June 3, 2022, 5-8pm
Work by
Bryana Bibbs Sirimas Benz Amatayakul
Curated by
Cristobal Alday
Chicago Artists Coalition is pleased to present Layer, Mark, Repeat, a duo exhibition featuring new works by HATCH artists-in-residence Bryana Bibbs and Sirimas Benz Amatayakul, curated by Cristobal Alday. The exhibition will be on view from June 3 - July 14, 2022, with an opening reception on Friday, June 3, 5-8pm.
Would you do things again and again over an extended period of time without expecting a result? This very question is being pondered throughout Layer, Mark, Repeat. Both Bryana Bibbs and Sirimas Benz Amatayakul are exploring their own processes, and questioning why they do what they do repeatedly.
Take it one step at a time or in this case, one weft at a time. Bibbs' practice is used to work through the daily occurrences and struggles of life, but also past traumas. Every step is repeated daily, weekly, and even monthly. It can become second nature, even mindless after a certain point. However, through these repeated steps that it takes to "complete" a weaving is where the process of the past unfolds. By cutting and weaving together diary entries, Bibbs is emphasizing the importance of these recurring actions in her piece, After. What is being hidden in plain sight? Will repetition lead to salvation?
Amatayakul practices a way of shedding all her layers when the brush hits the canvas. By letting go of her personal signifiers, she establishes a relationship with the paint and other materials that extends beyond her thoughts. What is left is a raw pulp of ever-expanding possibilities. By going over layers of previous materials again and again, Amatayakul is adding to the notion of what is not visible right away. What is waiting to be revealed through the process? How do you know when to move forward?
Flashbacks of red appearing on strips of paper. Look beyond the wooden panels. Both Bibbs and Amatayakul take their repetitive processes and invite us to think about our own healing while we watch them try to work through their own. In a sense of exploration, both artists are using materials to build a connection between themselves and others, showcasing that although healing is an individual act, it takes a community to truly mend.
Image: After All This Time, Are We Healed?, spliced image using works by Bryana Bibbs and Sirimas Benz Amatayakul created by Cristobal Alday, 2022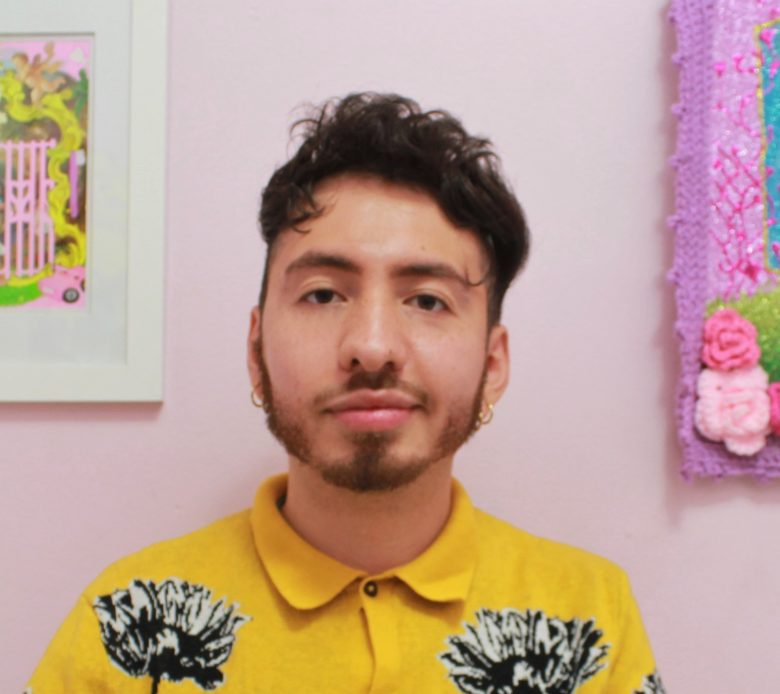 Cristobal Alday is a queer Latinx curator and creative from the south west side of Chicago. He focuses on photography, and film particularly dealing with queerness, familial dynamics, and space. He graduated from Northwestern University with a B.A. in Latinx Studies and Art History where he conducted his thesis project on the use of the tortilla and how artists used it as a form of resistance within their practice. He is currently using his space at home to curate. Prior to that he has held curatorial and art handling roles at the National Museum of Mexican Art, the Art Institute of Chicago, the Mary & Leigh Block Museum of Art and studied film at Fundación Universidad del Cine while studying in Argentina where he co-created a documentary focusing on the underground queer tango scene.
Secondary Image:  Personal collection exhibition Self (Re)Presentation, featuring works of art by Moises Salazar and Jeffrey Augustine Songco around the theme of materiality and its ties to queerness.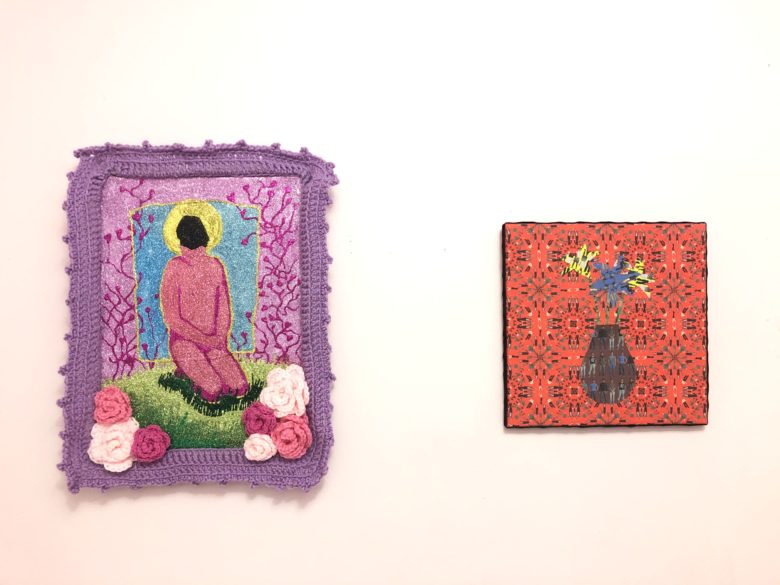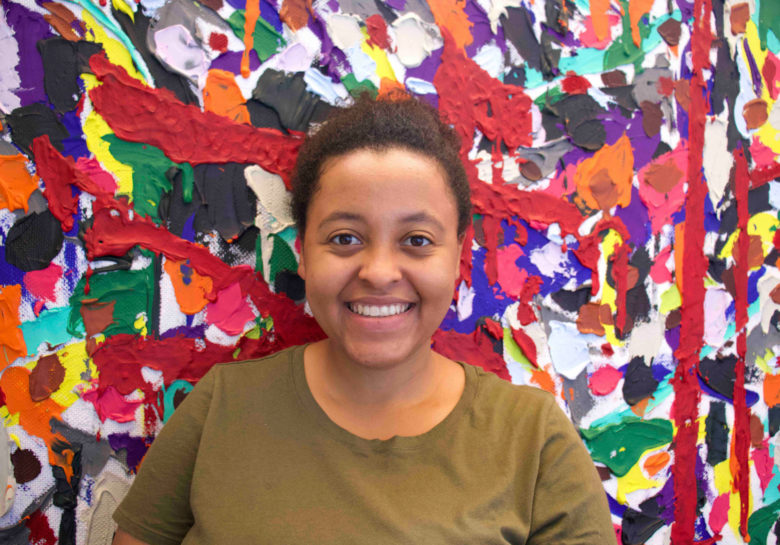 Bryana Bibbs
Bryana Bibbs is a Chicago-based textile artist, painter, and art educator who earned her BFA with an emphasis in Fiber and Material Studies at The School of the Art Institute of Chicago. Her work comes from her personal life, struggles with daily occurrences, the ultimate strive for comfort, and trying to figure out life one step at a time. She is the founder of the "We Were Never Alone Project – A Weaving Workshop for Victims and Survivors of Domestic Violence" and is currently an artist at the Bridgeport Art Center in Chicago, Illinois. Bryana's work has been on view at the Evanston Art Center, ARC Gallery, and the Bridgeport Art Center.
Image: Bryana Bibbs 9.21.20. (2020). Handwoven, hand-carded, hand-spun wool, angelina fiber, and recycled sari silk. 18 x 11.5 inches.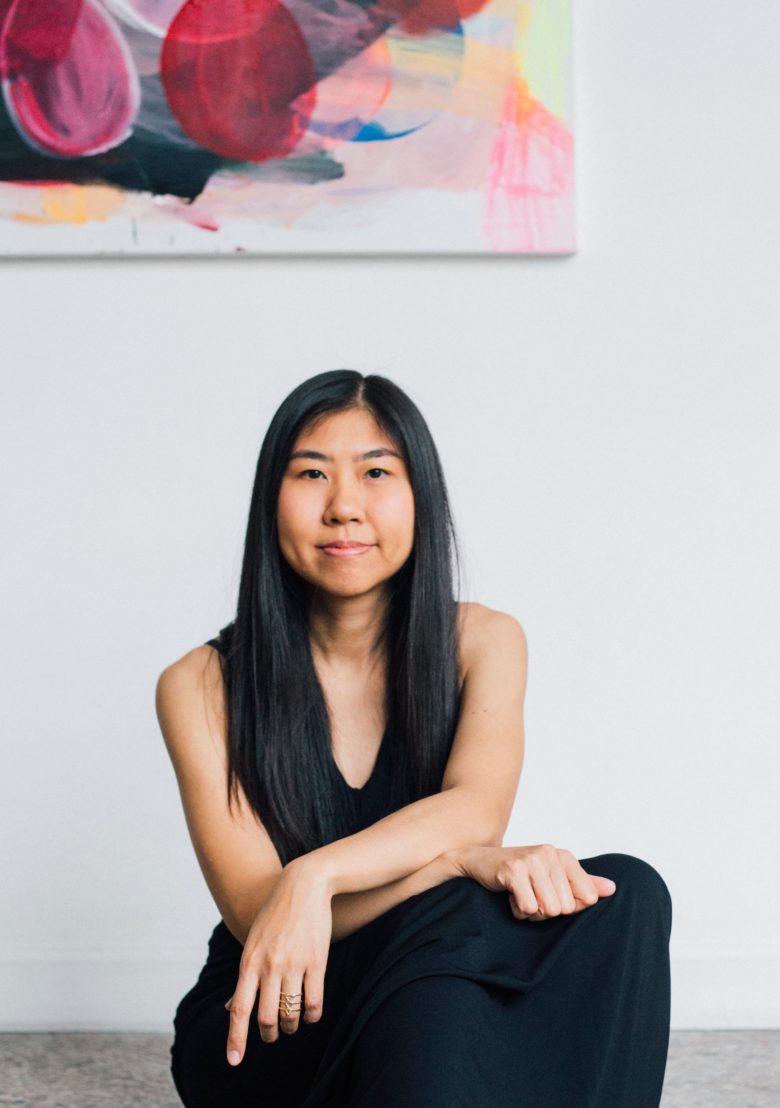 Sirimas Benz Amatayakul
Sirimas Benz Amatayakul (b. Bangkok, Thailand) is a process artist working primarily with acrylics. Her unrelentingly and unashamedly playful work is influenced by her academic yet colorful upbringing. She is currently exploring the family dynamics and intergenerational trauma of Asians through her work. She paints as a means to document, question, defy, and honor the culture that she grew up in. She pushes elements in her paintings to the point where they stop making sense to the human mind as a symbol of her freedom to express herself.She received a Master's Degree in Integrated Marketing Communications from Medill School of Journalism, Northwestern University in 2007 and a Certification in Expressive Art Facilitation from Open Studio Project in 2015. She is also a founder of Dear Artists Project, a platform whose mission is to nurture and support women artists to become whole, healthy, and successful on their own terms.
Image: Sirimas Benz Amatayakul, Will you marry me when I'm old? (2019). Acrylic on canvas, 36 x 48 inches.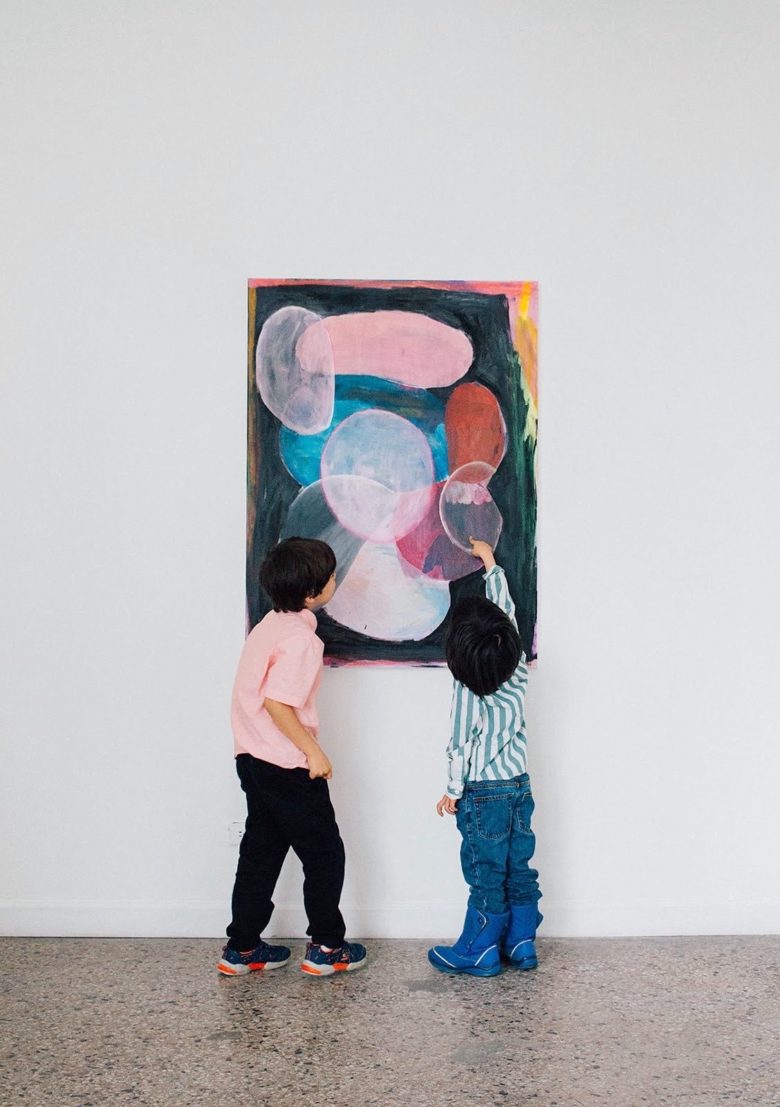 Never miss a thing
Subscribe to our newsletter and get regular updates on news, events, grants, and the latest opportunities for artists
Support Chicago Artists
Make a gift to CAC today and join our growing community of supporters