Latham Zearfoss | EXPO CHICAGO 2021
Reception Opening
EXPO CHGO ONLINE Friday, April 8, 2021
Work by
Latham Zearfoss
Chicago Artists Coalition is proud to present new works by Latham Zearfoss (BOLT 2019-20, HATCH 2012-13), curated by Orianna Cacchione, on the Hook platform, opening April 8 and running through April 12. EXPO CHGO ONLINE is complemented by virtual public programs, including select artist studio visits, convenings for established and aspiring collectors, and programming in partnership with leading local museums and institutions.
stems is a new suite of sculptural works by Chicago-based artist, Latham Zearfoss, anchored equally in provocative text and repurposed plant matter. With whimsy and empathy, stems unearths the circumstances and openings that death and dying make possible: rebirth, communion, compassion, new life, and especially, joyful ecstatic remembrance.
In tarot, the Major Arcana card known as "Death" rarely refers to a literal loss of life but to a significant transformation. In this way, the Death card signifies a port – an opening up of fresh possibilities, a becoming of sorts, a change of state, or perhaps a regeneration.
Death is Universal. In seeds, Latham Zearfoss presents an interlocking suite of works as a meditation on death in a year of public and private mourning. Connected by a common material - wood - a found crosscut of a trunk is flanked by four hand sculpted paper pots filled with soil and mulch, each planted with a dwarf sunflower and set on shelves comprised of scavenged wood. Regeneration operates beyond the empty promise of industrial recycling as sunflowers – a natural remediator – sprout from the hand sculptured, naturally dyed paper pots. Once planted, the sunflowers will deepen their roots and in the process, rupture their nurturing pots, which will further decompose, and ultimately disappear. This poesis of interdependence suggests that profound change is intimately tethered to both healing and loss.
Death to the Universal. A tree is a symbol of connection structuring genealogies and relationships – a family tree, the tree of life. It contradicts the universal as the sublimation of difference but rather seeks to find what is in common, or perhaps the commons itself. In the midst of the ongoing struggles to end white supremacy, the tree shown here in four of its material forms recalls mycorrhizas, threadlike fungi that wrap around the roots of trees allowing them to communicate through underground networks in the forest, making a claim for empathic communion with other life forms.
Image: Latham Zearfoss, trunk, 20" x 29", found tree trunk, neon, electricity, 2021.
Please join us for EXPO CHICAGO's EXPO CHGO ONLINE (April 8–12, 2021), a curated digital exposition of contemporary and modern art and culture.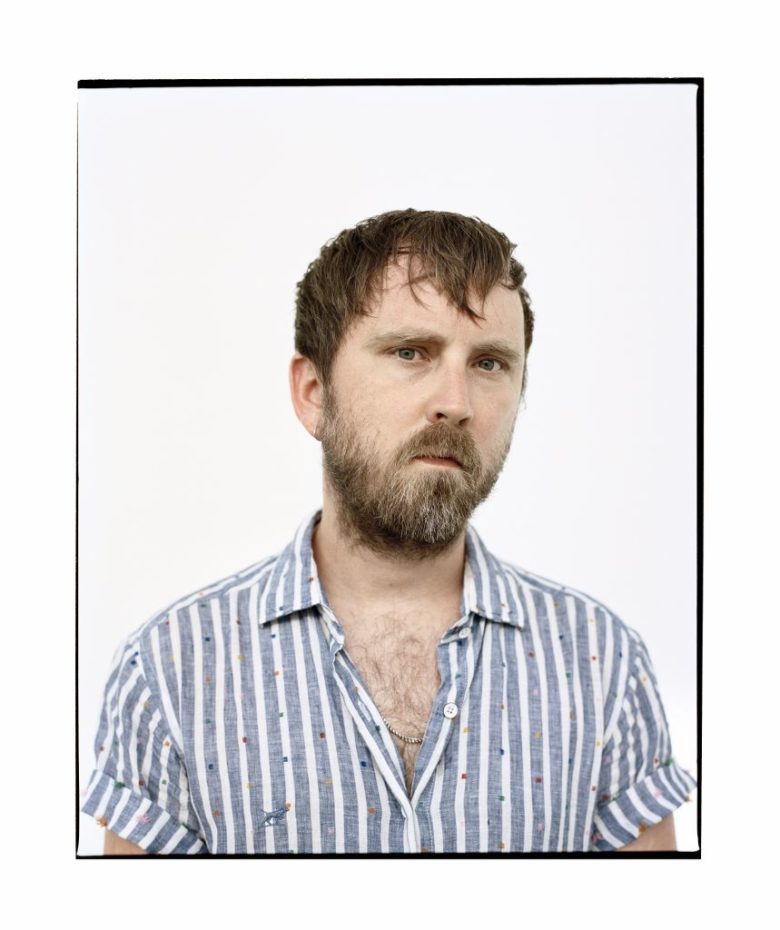 Latham Zearfoss
Latham Zearfoss produces time-based images and objects about selfhood and otherness. Often collaborative, these works ask: how do we come to know ourselves as social human subjects? Across media, the work is anchored in the belief that identity is a cumulative, political effect, inherited through a kind of collective bargaining. These themes find evocative, sensual resonances through dramatic shifts in color and light, reverberating soundscapes populated by disembodied voices, queerly uncanny iterations of the not-noticed and everyday, and "soft borders" - spatial markings of undetermined significance that invite participation, transgression, even penetration.
Latham Zearfoss works in Chicago, where they produce time-based images, objects and experiences about selfhood and otherness. Outside of the studio, they contribute to collective motions toward joy and reflection through social projects such as a queer dance party (Chances Dances), a critical space for white allyship (Make Yourself Useful), and an itinerant conference on socially-engaged art (Open Engagement). Latham graduated from The School of the Art Institute of Chicago with a BFA in 2008 and the University of Illinois at Chicago with an MFA in 2011. They have exhibited their work, screened their videos, and DJed internationally and all over the U.S.
Artist photo: Harry Culy
Image: Latham Zearfoss, Moving, Even Still; 2019, Cardboard, spray paint, tape, wheat-paste installation from ships in the night at the Engine Room in Wellington, New Zealand; 32 x 7 x 3 ft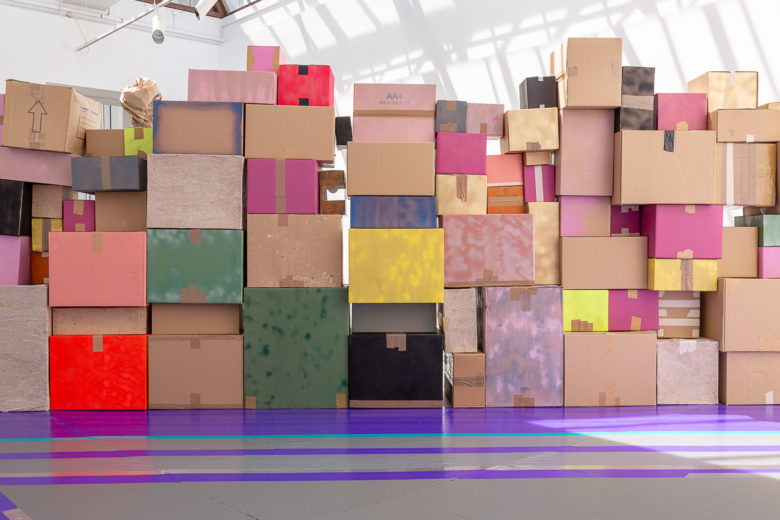 Never miss a thing
Subscribe to our newsletter and get regular updates on news, events, grants, and the latest opportunities for artists
Support Chicago Artists
Make a gift to CAC today and join our growing community of supporters