As gesture
Reception Opening
Friday, May 17, 2019 / 5-8 pm
Work by
Ashley Freeby Gina Hunt
Curated by
Alexis Brocchi
Chicago Artists Coalition is pleased to present, As gesture, a HATCH exhibition featuring work by artists-in-residence, Ashley Freeby and Gina Hunt.
The exhibition opens on Friday, May 17, 2019 with a reception from 5-8 pm.
In Guy Debord's The Society of the Spectacle, he wrote that "the purpose of the spectacle is to make history forgotten within culture." Yet forces of culture and society challenge the notion of history, or collective memory, continuously. The main challenging force is the gesture - the technical movement of the hand or body, the capturing or recreation of a moment long- lost, the memory that moves into the realm of reality. In the exhibition As gesture, Ashley Freeby and Gina Hunt reintroduce that movement and sensation through labor intensive and thoughtfully mapped works with an attention to presenting a contemplative moment. Using tools of the narrative and theater, a history is constructed and remembered. The intentionality of circumstantial elements can reimagine and reinterpret current realities. Exploring identity, illusion, and memory as an open system of connected and performed gestures in this collaboration, we regain the power to navigate and experience traditions, transmissions, and transference within perceived and lived moments naturally occurring around us.

Always mapping, tracing or marking, Ashley Freeby's process is translating an image or event from a certain point in time. In past works like "...writing his dream inside a rectangle," the artist traces and represents the rectangular patch of asphalt that was the site of Michael Brown's death with hand- painted gravel and the simple shape itself. Moving into new territory, Freeby experiments how creating earth through new forms, new materials, and new environments memorializes the victim in a special way. Exploring "earth monuments" through similar layered ways of working in the past, natural elements are the components of beautifully, vulnerable and sensitive sculptural segments. With equal attention to the technical, historical, and illusional, Gina Hunt helps shed light on the possibilities of our visual experiences in our current moment and space. In past series such as Transmitters, Hunt has manipulated materials, such as colored scrim and twisted canvas, to reimagine their visual realities. Now pushing her work beyond greater boundaries, Hunt is constructing a Color Space Modulator, a multi-panel painting creating a stage for the expansion of performative experiences of color and light, with inspiration from one of Laszlo Moholy-Nagy's famous works. Circumstantial elements created by the artist through theater techniques such as the use of lighting and color projections, are the small gestures that push forward and help us reconsider histories of the systems and meanings in the world around us.
As gesture is curated by Alexis Brocchi.
image (right): Ashley Freeby, Remnant no. 01 (detail), 2018, Latex paint on plastic sheeting and black tape, 8' x 20'
image (left): Gina Hunt, Color Space Modulator (installation detail), 2019, Color gels, LEDs, acrylic, cut canvas, maple, 66" x 14' x 8' (approximate)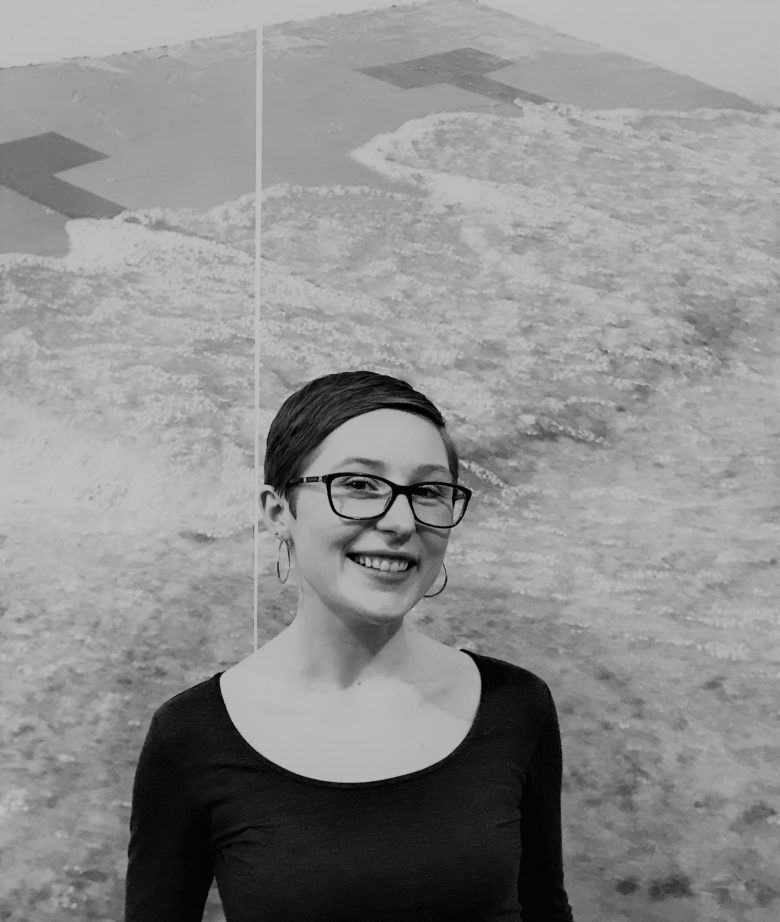 Alexis Brocchi is a curator, arts organizer, and artist based in Chicago. By conducting research as a creative practice, she explores accessibility of information and the search for knowledge through nontraditional methods. The connecting thread of her practice is a desire to investigate systems of ideas and how they affect the world we inhabit. She received her Bachelor of Arts in Arts Administration and Art History from Columbia College Chicago. Brocchi is currently the Exhibitor Relations Manager at EXPO CHICAGO and Assistant Director at The Overlook. Most recently, she curated As gesture and co-curated EXPO CHICAGO's 2019 Override | A Billboard Project in collaboration with Chicago's Department of Cultural Affairs and Special Events (DCASE).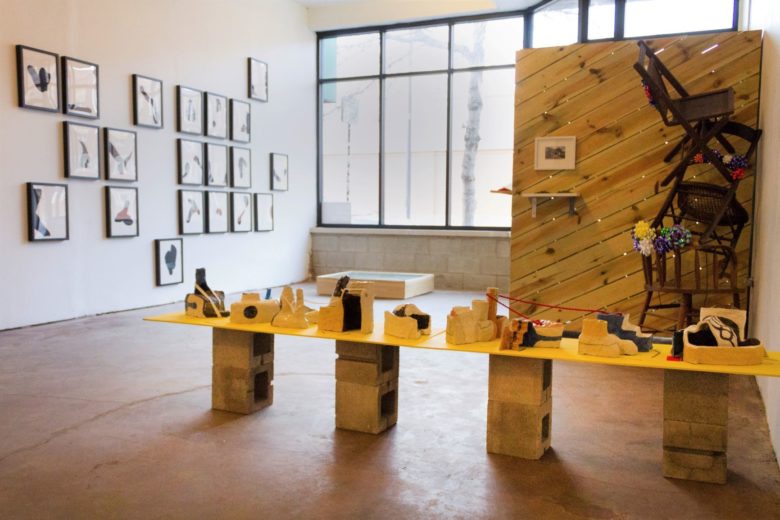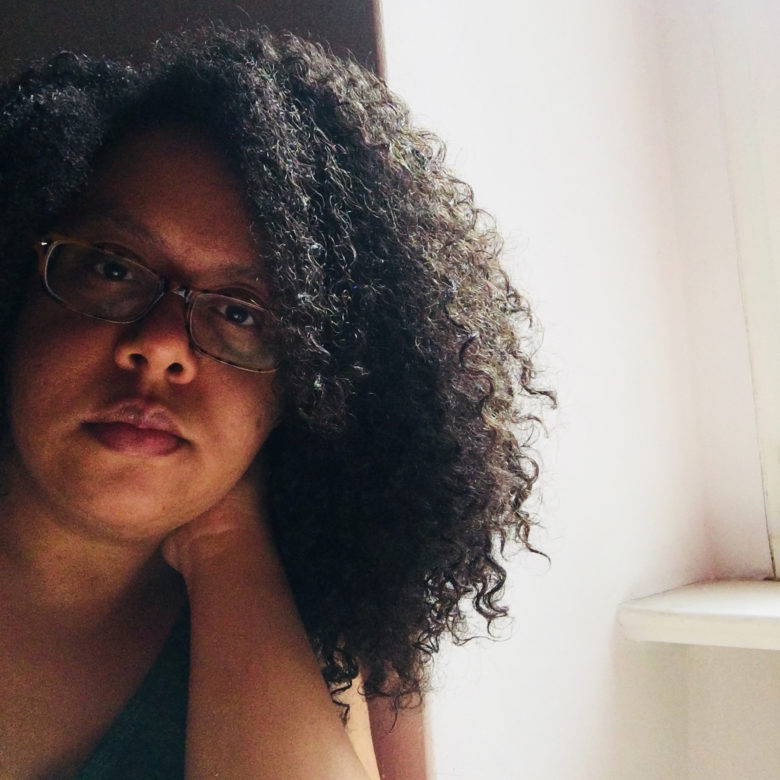 ashleyfreeby.com/
Ashley M. Freeby anchors her interdisciplinary, labor intensive practice in her curiosity for truth telling. Beginning with an acute exploration of American history she investigate a collective, more inclusive story around the current society we live in. By rooting her practice in historical events and our current political time, we develop an understanding of how the injustices against people of color throughout history inform our understanding of American society today. Freeby has participated in exhibitions in Germany, Canada, Chicago and Pennsylvania. She received residencies from the Institut für Alles Mögliche in Berlin Germany and The Vermont Studio Center where she was awarded An Artist Opportunity fellowship (forthcoming). She earned a MFA from the School of the Art Institute of Chicago in 2018 and a BA from Bucknell University in 2015.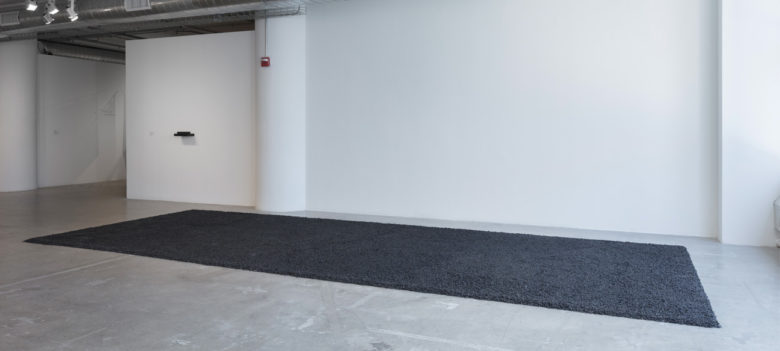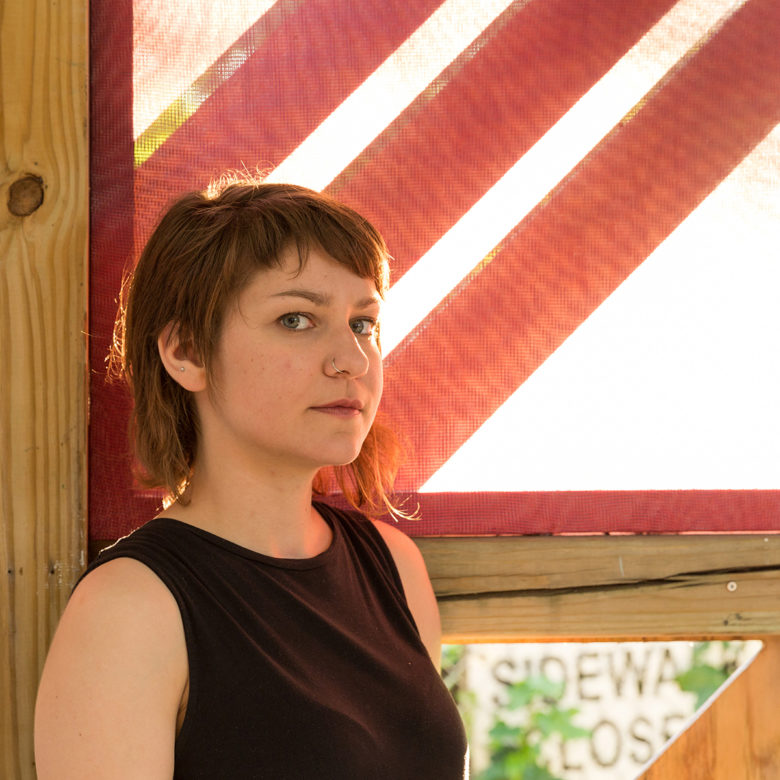 gina-hunt.com/
Gina Hunt creates paintings, sculptures, and site-responsive installations as interdisciplinary platforms to research the complexities of vision and the subjectivity of visual experience.  She works extensively with theater scrim, which becomes a filter and mediator of light, creating an analogy to how visual information is transmitted from the source to the viewer. Hunt has been awarded residencies at Virginia Commonwealth University in Qatar, Hinge Arts, and the Badlands National Park. At each residency, she developed temporary, site-specific sculptural installations integrated within landscape and architecture. Gina has recently presented solo exhibitions at The Franklin, 65Grand, University Galleries at Illinois State University, and Virginia Commonwealth University in Qatar. Her work has been included in group shows at STNDRD, Chicago Artists Coalition, Alan Koppel Gallery, Cleve Carney Art Gallery, Drew University, Baby Blue Gallery, Practise, DEMO Project, E. Tay Gallery, Elmhurst Art Museum Hoffman LaChance Contemporary, Front Room Gallery, and The Soap Factory.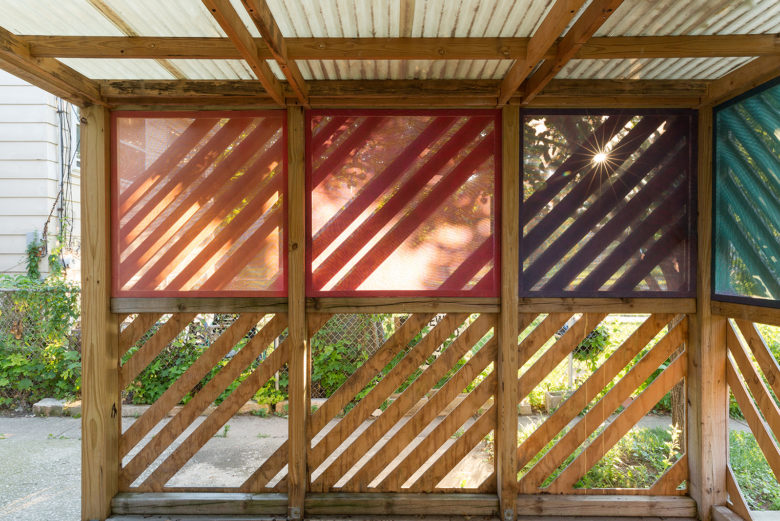 Never miss a thing
Subscribe to our newsletter and get regular updates on news, events, grants, and the latest opportunities for artists
Support Chicago Artists
Make a gift to CAC today and join our growing community of supporters