A Form By Which To Be Possessed
Reception Opening
Friday, October 1 2021 | 5-8PM
Work by
Maryam Taghavi
Open hours: Wednesday – Friday, 11AM - 5PM | Saturday 12-4PM
Chicago Artists Coalition is pleased to present, A Form By Which To Be Possessed, a solo exhibition of new works by the BOLT artist-in-residence, Maryam Taghavi. The exhibition will have an opening day on Friday October 1, 2021 from 5-8pm. Walk-ins are welcomed.
In this exhibition, Taghavi's multitude of paintings exploit a single character; a sigil, an occult letter-form believed to cast a spell upon its viewer. The sigil derives from a book of talismans, The Secrets of Qasemi ( by the 15th-century Persian poet and scholar, Hussein Va'ez Kashefi), in which the power of flight is promised to its viewer.
As a letter-form, the sigil operates outside the ordinary systems of language and meaning-making, opening it to unexpected possibilities. Taghavi is driven by the sigil's transgressive qualities to transform it into numerous shapes and arrangements that make up new spells to cast. Similar to the sigil, each painting functions as an interface to behold the flight; an escape from reality, an exhilarating state of suspension, and a reach for the metaphysical powers however temporary the touch may be.


Programming for A Form By Which To Be Possessed

Saturday, November 13, 6pm
Chicago Artists Coalition | 2130 W. Fulton St, Chicago, IL 60612
As a special exhibition finale, musicians and composers Ramin Roshandel and Jean-François Charles collaborate with Shams Asna to transform the talismans into the sonic field. The paintings in this case function as scores.
Ramin's setār improvisation along with Jean-François' live-electronics creates an atmosphere in which a series of musical events such as repetitions, repetitive gestures, vowels, words, as well as text-based rhythms happen; these are in response to the talismans that have been presented in the paintings. Shams Asna sings/reads the consonants and vowels of the letters and numbers of the talismans in tahrir (melodic embellishments), a common technique in Persian āvāz (singing).
French composer based in Iowa, Jean-François Charles is also a clarinetist and live electronics designer. He creates at the crossroads of music and technology, as in the collaborative soundtrack to Dziga Vertov's movie The Eleventh Year (with Nicolas Sidoroff and four other musicians, 2015) or in his musical chemistry work with Scientific Glassblower Benj Revis (Aqua ignis, 2018). His opera Grant Wood in Paris was commissioned by the Cedar Rapids Opera Theatre and premiered April 12-14, 2019.
As a clarinetist, he has performed with classical, jazz, and other sound artists, from Maurice Merle to Douglas Ewart or Gozo Yoshimasu. He worked with Karlheinz Stockhausen for the world première of Rechter Augenbrauentanz (Stockhausen-Verlag CD #59). His album Electroclarinet was awarded prizes at the Global Music Awards in both categories Contemporary Classical Album and Composition/Composer. The music was reviewed as full of drama and drive (Dolf Mulder, Vital Weekly) or colorful and jazzy, giving the listener a plethora of timbral explosions (Lori Ardovino, The Clarinet Journal).
He studied at the National Institute for Applied Sciences (INSA) in Lyon, then at the Strasbourg Conservatory with Italian composer Ivan Fedele and clarinetist Armand Angster. He earned his Ph.D. in music composition at Harvard, where he studied with Hans Tutschku, Chaya Czernowin, Julian Anderson, Michael Gandolfi, Helmut Lachenmann, and Gunther Schuller. His article A Tutorial on Spectral Sound Processing using Max/MSP and Jitter published in the Computer Music Journal has helped many electronic musicians integrate spectral sound processing into live performances, compositions, or their own software creations.
After serving as deputy director at the Montbéliard Conservatory then Brest Conservatory (France), he joined in 2016 the School of Music at the University of Iowa as Assistant Professor in Composition and Digital Arts.
Ramin Roshandel's compositional work is based around incorporating 'experience' as a fundamental concept through a non-experimental approach in performance. Considering phenomena such as instability, cultural identity, and communicational language on one hand, and being inspired by Persian music microtones as a setār player on the other, has led him to consider improvisatory, indeterminate, and abstract structures in his music to contrast or converge with post- or non-tonal forms.
Over the past year, he has been one of the co-recipients of the Iowa Arts & Culture Resilience Grant, Public Art Matching (from the City of Iowa City), and the Arts Across Borders Grants (The University of Iowa) for creating two site-specific collaborative pieces, The Parking Space and Mammal Hall.
He has been awarded The University of Iowa Digital Scholarship and Publishing Studio summer scholarship and is a SICPP (Summer Institute for Contemporary Music Practice) and New Music On the Point alumnus. His pieces have been performed by Anna Elder, Will Fried, JACK Quartet, Ensemble DalNiente, Kamratōn Ensemble, and LIGAMENT duo, as well as in precept.concept.percept Composition Workshop, Dancinema Festival, Opine Dance Film Festival, Charlotte New Music Festival, the Society of Composers' Summer Student Mixtape (featuring a group of selected BIPOC composers), and Cleveland Uncommon Sound Project's Summer Sounds. Roshandel was the setār soloist of Jean-François Charles' opera, Grant Wood in Paris in its premiere.
He is currently a PhD candidate in Music Composition at the University of Iowa, where he has studied with Josh Levine and Sivan Cohen-Elias and is currently working with David Gompper. He holds a Master of Music in Composition from the University of Tehran and a Bachelor of Arts in Iranian Music Performance from Tehran University of Art.
He has two analytical papers on Hossein Alizadeh's Neynavā and Elliott Carter's Dialogues published in Persian journals.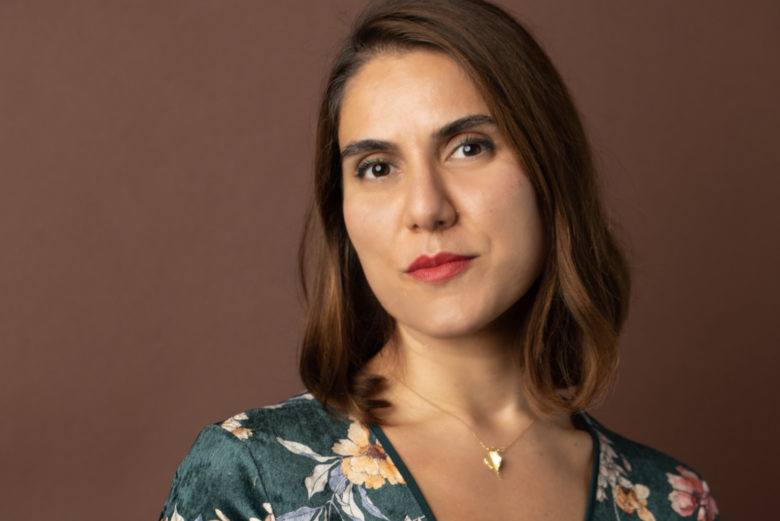 Maryam Taghavi
Maryam Taghavi is an  artist and educator residing in Chicago. Her work is a study of forms of language beyond their ordinary meaning making systems. She is interested in how language is a multisensory experience and situates her work  across disciplines of photography, installation, video, publication, drawing, and performance.  She has exhibited nationally and internationally at institutions such as LAXART, Queens Museum, Exterressa Museum, Chicago Cultural Center, Sullivan Galleries, EXPO, Driehaus Museum, and Sazmanab Gallery among others. She is  currently a resident at the Chicago Artists Coalition. 
Image: Maryam Taghavi, A Flight into the Abyss, 2019. Acrylic glass, fabric print, digital print on fabric. Installation dimension: 20 x 10 ft.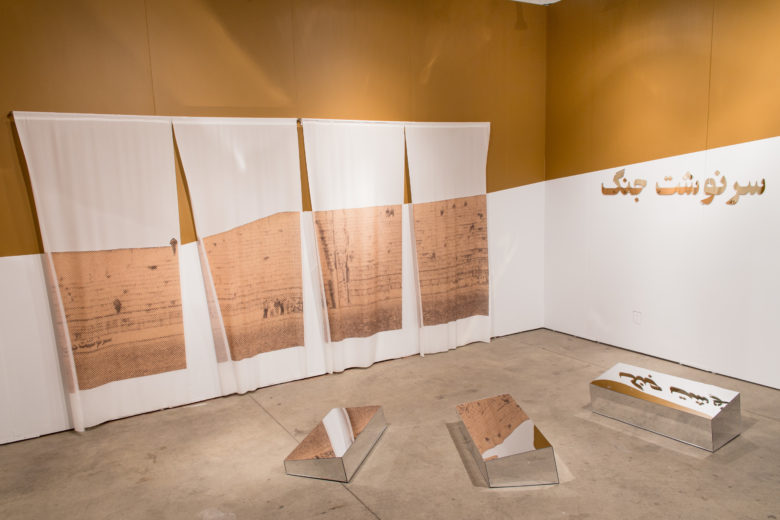 Never miss a thing
Subscribe to our newsletter and get regular updates on news, events, grants, and the latest opportunities for artists
Support Chicago Artists
Make a gift to CAC today and join our growing community of supporters