Voices & Visions; Standing on the Bridge Between Health and Disease
Voices & Visions; Standing on the Bridge Between Health and Disease featuring Ellen Sandor & (art)n BRCA project, A Burst of Hope
August 5-September 24, 2022
The Art Center Highland Park (TAC) is searching for art for our eighth biennial exhibit that expresses how cancer can be a metaphor both literally and symbolically. We invite artists whose works address the many issues pertaining to cancer, from fear and facing our mortality to finding strength and building community. Whether a survivor, previvor, caregiver, or just someone in someway that has been touched by cancer or the fear of it, we are looking for art that helps us find meaning and puts into context how pain and suffering can lead to empowerment and healing. A wide interpretation of the theme will be accepted. Open to all media and all artists 16 years and older.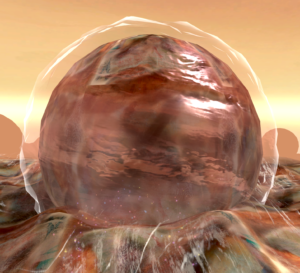 Created by Ellen Sandor & (art)n in collaboration with Caren Helene Rudman
Caren Helene Rudman, Curator and juror:
Caren Helene Rudman has been an artist and curator for over 30 years. She exhibits locally in Chicago and Nationally since 1992, after receiving her MA from NYU/ ICP a prestigious 56 credit program affiliated with the International Center of Photography. Since 2010, she has curated this biennial exhibition and with the sponsorship from Medline, a Chicago based medical supply company, the 2010 exhibit traveled nationally to affiliated cancer centers across the county. Her curatorial and artistic goals have been centered around building the conversation around how art has the ability to heal both the individual as well as the community. She collaborated with Ellen Sandor & (art)n who used her images from the Previving Deries which expressed her own experiences with living under the risk of cancer as a "previvor". Together they demonstrate how art has the power to heal, to evoke change and dialogue, and hopefully save lives.
The entry fee is $35 for up to 3 pieces of work. All entries must be received by July , 2022.
Please label images Firstname-Lastname-title (no spaces and use a dash to separate.)
A limited number of artists who experience financial hardship may be exempt from paying the entry fee; please send us an email to request a fee waiver: crudman@theartcenterhp.org
Open to all media and all artists 16 years and older. No work may exceed 60' (framed) horizontally, or be more than 50 lbs.
All entries must include an artist statement.
All work must be original and may not have been exhibited at TACHP previously.
Important Dates:
July 8: Submission Deadline
July 11: Notifications Sent
August 1: Drop off (Work will be delivered to TAC between 10:00 AM and 4:00 PM on August 1st. (google drop off to follow after notifications. Late entries will not be guaranteed to hang in the exhibit. Shipped artwork must arrive to TACHP by this day. Shipped artwork must be sent in a reusable carton and MUST INCLUDE A RETURN SHIPPING LABEL. DO NOT SEND STAMPS. TACHP is not responsible for damage caused in transit.
Please ship to: The Art Center-Highland Park Voices & Visions1957 Sheridan Road Highland Park, IL 60035
August 5: Opens to the public
September 5, 5:30- 8:00: Artist Reception
September 24: Last day of exhibition
September 26: Removal of artwork (google doc sign up to follow. Artists are responsible for drop-off and pick-up of artwork. TACHP is not responsible for artwork left after September 27th, 2020.
*****Please make sure that your artwork is labeled with your name and the title of the work.
Do not pay until you are finished with your submission. Once you pay, the entry will change to submitted and will be locked. If you have an issue please contact Caren Helene Rudman, crudman@theartcenterhp.org